Anne Fontaine is one of France's most recognized fashion designers of the last 20 years. Originally from Rio de Janeiro, Brazil, she had always wished to experience another rhythm of life to the one the city offered, far away from western traditions and commodities, as well as to discover her country's native tribes. In Brazil, as in so many other Latin-American countries, these indigenous communities have long been marginalized by their local governments, simultaneously rejected by their co-citizens' modernised idiosyncrasy. She therefore left Rio de Janeiro to adventure herself into the Amazon rainforest, where she stayed with the local Canela tribe for a few months.
At her return, Anne Fontaine was decided to leave Brazil in order to pursue another of her passions. At 18, she moved to France, seeking to learn more about fashion and design. After a few years, she created her first collection, one that included her signature white shirt that is still today, is widely applauded. Her success was extensive, opening over 70 shops worldwide, including more than 25 in the United States. Anne Fontaine's work is recognized by those who praise her as being elegant but simple clothing.
Due to her life-long passion for nature, Anne Fontaine decided to go back to her youth dream. In co-partnership with her own company, she created the Anne Fontaine Foundation, an organization aiming to support conservation efforts in the region of the Brazilian Mata Atlantica (Atlantic Forest).
During this interview, Anne Fontaine discloses more about her experiences in the Amazon, as she gives her opinion on subjects concerning the world of fashion.
Where comes the idea of creating a foundation?
When I was younger, I would always be very engaged within environmental causes in my country. I liked being a militant, helping NGOs in anyway I could. As life passed other opportunities came up but now that my own company is mature, I thought it was time to give back,' work with the hope of leaving something for my children and grandchildren. In a way I wanted to plant my own seed and work towards helping this world not getting more degraded. I want my kids to have the luck of seeing the natural beauties that some of us are still able to discover today, that I personally admired.
On the other hand, your company has more than 20 years and the foundation is only a few years old. What was needed to create the foundation?
For me, timing doesn't really count that much. The importance relies on getting things done. I had been very busy whilst taking care of my kids and creating my company. I had thought about the project since a long time ago but when we started the foundation a few years years ago, it really was the precise moment to do so. Today, not only am I capable of supporting the local NGOs with time but also with money. Things that maybe I didn't have before. I just chose the right moment to do it and I'm very satisfied with my decision.
When you were younger, you spent sometime living in the Amazon. What values did you learn from the Canela tribe, while you were there?
Many, even too much to list them. With the Canelas, I confirmed what I had always desired: the importance of living in harmony with nature, land and the forest and acknowledging how wonderful it all really is. I was able to see how every little thing grows by its own, how we don't really need any help from fertilizers or other chemical products. We don't even need the human hand's intervention. I could say that discovering a region where western practices are inexistent, places that are today so hard to find, was an experience I would wish for everyone to have. We all need direct contact with these people and places. It helps us develop our sensibility, consequently our responsibility towards places we often ignore.
Do you think these values are far from being applied in today's "world of fashion?"
(hesitating)It's coming but... it's coming slowly. We can at least be happy that the idea and the values are being introduced. Designers haven't really been applying them yet, but they at least know about it now, they are aware. People are becoming more and more sick health-wise, more and more allergic and this is not really a coincidence. Our actual way of living is dis-balancing us, we have to change our production methods in order to offer something new to our consumers or we are going to end up destroying ourselves. People I know in the fashion industry worldwide now know about these effects. These are statements that 20 years ago would've had made them laugh but they are now more commonly accepted.
There seems to be a strong prejudice towards the idea that the "world of fashion" tends to look away when it comes to social and environmental issues. What do you think about this?
I find that terrible (laughing). I think we are in a universe that is quite magical. There's been actors, designers, singers who have been involved in far away causes that don't concern them directly, people who have changed that 'façon d'être' (way of being). It's true that we work with clients who are not necessarily very sensible towards nature and poverty. It all depends on people like Sting, who are not only an example but they can also lead the way for others. We cannot keep depending on governments. We can see what that has brought on us. I am convinced that we depend on society's capacity to recognize that problem solving is no longer a political affair, but it's everyone's cause. Everyday I can, I try to talk to my clients and plant that little grain I've been talking about. I try to explain to them how these beautiful clothes we buy and wear cannot exist if we do not keep the balance of nature.
Fashion is a trend, it depends on it. Do you think it is possible to create a fashion trend that invites or incites it's consumers towards a major social awareness?
Everything is possible. I'm someone who thinks that if we all work towards something, we can achieve it. The problem afterwards is the longevity of this trend. As you know, a trend itself is transitory. It lasts one season or two, as you said...it depends on it. Personally I would not like to create just one trend about environmental consciousness. I don't consider myself a "maison de mode" (fashion house) in the traditional definition of what fashion can be. I prefer standing by an atemporal philosophy as it is something that will actually last, or at least seems to do so. There are women who are still wearing shirts I designed 20 years back and they fit perfectly in today's sense of what fashion is. I consider the environmental awareness a value that I include in all my collections as an essential part of them. For me, it's the essence of what we do.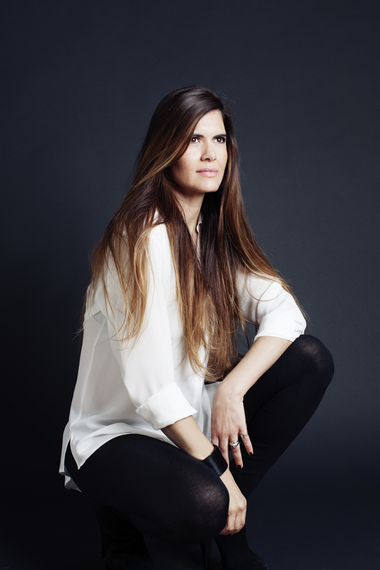 How about "responsible materials", are they easier to include them in your products than before?
There's a few people who have started to apply the use of "organic" tissues, but this hasn't really worked yet. Big industries are not ready to offer it, as quality does truly change and prices for them are not exactly convenient. Before we had craftsmen everywhere, whilst today, the heavy manufacturers have clearly taken over. Personally, I still work with some of those craftsmen here in France, or in Italy. It is important to share their "savoir-faire" (know how) and to make others aware that these traditions have not disappeared, even if they have been largely taken over by larger companies. I'm responsible of what I sell to my clients and therefore, I have to demand a certain number of rules to be respected by those who provide the materials I use. The companies that have replaced the craftsmen don't really assume many of its social or environmental responsibilities, but it's our responsibility as designers and consumers to request them.
It is of common knowledge that the corporate fashion industry has been involved in both social and environmental abusive acts. What do you think about this?
It's true that there's still a lot to improve in corporate fashion. Many kids in Brazil work in these immense factories because they have no other alternatives to feed themselves and their families, but often their payment is so low and the conditions so terrible, that it can easily be confused with slavery. This is a harsh situation. The majority of them have their childhood taken away and if they don't work under these manufacturing plants' orders, they often do under a prostitution or a drug mafia. How can these children choose a better life and not fall under a big corporate's command when the country's government doesn't do much to offer a decent education. It's an extremely delicate situation but clearly not an acceptable one.
What are your Foundation's next objectives?
Well, it's so young, only three years and there is so much to do! We not only wish to preserve what is left of the Mata Atlantica but we also want to restore what was lost over the years. Therefore, we have already too many reforestation projects which are having great results but now, we also wish to grow and join all our efforts for education. In 2014, we have implemented successful partnerships with three schools in Rio. We want to do more in order to create a fascinating mix between their cultural backgrounds and their environmental surroundings. We want to promote creativity and social awareness simultaneously. To teach them how to use the beautiful side of life and it's material art to talk about profound matters such as the protection of species, the importance of keeping the balance of an ecosystem and many other things that need our urgent attention. If we don't educate these kids, we will hardly be able to keep this world as we know it, with it's pristine rivers and virgin forests, for future generations to see.
If you wish to support the Mata Atlantica conservation efforts or have more information on the Anne Fontaine Foundation:
http://www.annefontainefoundation.org/