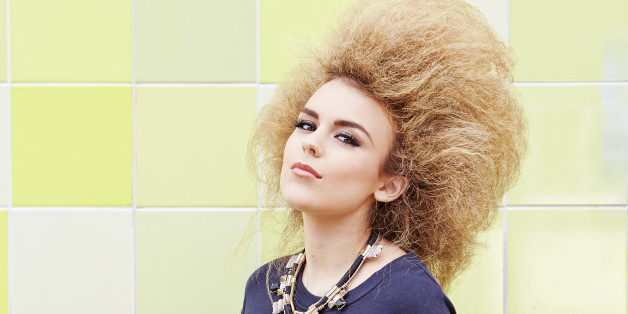 To say I have been waiting some hours, weeks, months perhaps seconds to break this news is an understatement, but here goes: little missy -- a.k.a. moi -- can now reveal that I have signed a record deal (even putting that in print feels weird but wonderful).
Yip, can you believe it? A five-album worldwide deal with Capitol Music Group under their Virgin Records label, signed in none other than the Capitol Tower in the Hollywood Boulevard! (A far cry from the highland cattle in my backyard I can tell you!)
You may recall if you follow me on Twitter or Facebook that I took a trip out to Los Angeles last December and again in April of this year and yip, that's when it all happened. By the time the big guns (my lawyer NYC-based Theo Sedlmayr) completed all the paperwork, soooo much time had lapsed. I was simply bursting but continued to go to school each and every day as regular Tallia. It was my Hannah Montana moment. There I was studying hard for my summer exams and all the time gagging to scream from the rooftops, "Hey, guess what? I've signed a record deal!" But no, I kept my head down, in part due that slightly skeptical Scottish nature of "don't count your chickens until they've hatched" motto. Who could have guessed it would take so long? But I guess it's not every day they sign a minor based in Bonnie Scotland!
I've been signed by the legendary Ron Fair, who has had a career that has spanned 30 years, where he has mentored Christina Aguilera, Keyshia Cole, the Black Eyed Peas, Fergie and the Pussycat Dolls to name but a few. But it didn't start there. As clichéd as it sounds, I feel truly blessed at my good fortune or some might say opportunism, along the road.
Ever since I handed that CD to David Furnish and Sir Elton John who then invited me to sing with him in Falkirk Football stadium some two years ago, life has been pure Disney-esque. I'd go to school during the week and then after school I would become Tallia Storm. At weekends, I would do gigs anywhere and everywhere, travel to fashion weeks around the world, take part in photo shoots, speak at TEDXTeen in New York and continue to build my career, my dream and my goals.
But at home I kept my head down, concentrating on nothing else but my studies and singing. I'd literally sing for hours, rehearse, focusing on the dream and breathe in the pure highland air from the Scottish countryside, whilst at the same time, dreaming of that break, of discovering the world through my voice.
Each time I step on a stage, any stage, big or small, I feel complete, as if it's all I was meant to do. I'm under no illusions that the next part of my journey will be hard, competitive and thrilling along with its fair share of ups and downs I'm sure. But is this any different from a competitive athlete, swimmer, skier or fashion designer, future scientist or future Andy Murray? Do we not all strive for that dream, never relenting? Of course we do. It's what makes us tick. Determination combined with a little good luck does help and I do wonder if my precious nanny who passed last March has had something to do with it?
I've had the good luck of literally bumping into people, singing to people that have opened doors and supported me over these last few months and to that I'm hugely grateful to Randy, David and Adam. But none of this would be possible without my family. My parents are very much part of this journey. Ever since my dad played Dizzy Gillespie, Coltrane, Monk, Ella, Ellington, Washington to the sounds of Motown with Stevie Wonder, Michael Jackson, Chic each and every day on the school run, something stuck. Oh, and let's not forget the ultimate -- Earth, Wind and Fire. This crazy jazz music belonged to me. I got it. I totally got the vibe. At first I would hum along, then at night after school he'd play piano and I'd sing along, developing my thing. It wasn't forced, or pushed it was pure joy, magical almost.
Soon, my mum began writing lyrics and before you knew where we were we had laid down loads of tracks. My friends were playing hockey and I was making music with my folks. I was even asked to leave the choir of my old school as my signature wasn't "soprano" enough! My parents removed me from that private school in Glasgow and put me into a local public school called Balfron High and it was here that I really began to thrive. They were more artistically focused and I took a class in sound engineering, which was awesome. Plus, living closer to my new school allowed to me focus more on my singing.
At the same time, my folks were working hard each and every day in their jobs, looking after my three other siblings as well and continuing to support me. My mum is like a machine. No door is ever closed in her world; she just says its up to us to find an alternative door, always knocking! My dad and I have crafted a sound in our home studio that I'm so proud of. How would I describe it? Well, dare one say a little Ella, fused with a sprinkling of Amy Winehouse with a Tallia twist? It's not that I'm egotistical enough to compare myself to such legends; it's simply that these incredible women inspire me, fundamentally to my soul. Day to day, I listen to John Legend, Frank Ocean, Beyonce, Jill Scott, Erykah Badu, Pharrell, Nerd and many more.
Some people would say, "I never dreamed of this moment," but I did, every day. So we're here now and I intend to give it my absolute best shot, with my family at my side. As they say, the journey is sometimes more important than the destination itself and so far so good.
So here's a little flavor of some of my new tracks. You won't be surprised to hear that we took an old school classic of Gloria Gaynor's "I Will Survive" (ye, I dared) and added some new lyrics and vibes. The other new track I've shared for you is an original song entitled "California" -- it's certainly where my dreams came true! So enjoy, share, discuss, look out for the big hair, follow me on Twitter, chat about it on Facebook -- I'm not shy to ask this of you. I need your support because at the end of the day its all about you -- the audience, this is all for you. Enjoy!