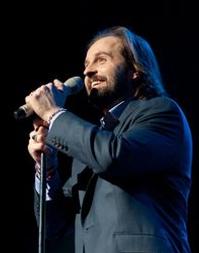 As much as it is possible to give credit to one specific medium for the success of a star, PBS should take a bow for propelling British singer Alfie Boe into so many American living rooms and hearts. The 355 non-commercial TV stations, reaching more than 75 million people, first introduced him in March 2011. Boe was featured in the Les Miserables 25th Anniversary Concert broadcast from London; his soaring tenor voice and ability to cry on cue won him legions of fans on the spot. Although he had been on Broadway in La Boheme and had performed across the U.S., it was that appearance that truly launched him in the States.
"Since most Americans saw him for the first time on PBS, I would speculate that many were Les Miserables fans watching PBS because they knew we were the place for programs like this, and became fans," says Joe Campell, Vice President, Fundraising Programming at PBS. Boe's fans have also heard him singing on the popular PBS show Downton Abbey. Beginning this month, PBS viewers across the country have seen him in the concert Alfie Boe: Live from the Royal Festival Hall, London, during which he performs songs from musicals, as well as The First Time Ever I Saw Your Face and In My Daughter's Eyes.
Alfie Boe was in a car headed to the airport for his trip back to England when I spoke to him. He had arrived in the U.S. after a triumphant appearance at the Queen's Diamond Jubilee concert, visiting eight PBS stations in eight days. He was clearly tired, but exhibited the humor and easy grace that have made so many fans embrace him. He is also very grateful to PBS, saying, "I suppose you can look at PBS as my first time being introduced to America in a big way. Les Miz really put me out there. I'm overwhelmed by the PBS audience -- they are wonderful, enthusiastic about music in general, and especially live performances." He points out that he grew up watching Sesame Street, and claims to look like Oscar when we wakes up in the morning. "My goal in life is to sing with Elmo or Oscar," Alfie laughs.
That goal may not be so far out of reach, as Alfie has a number of well-placed fans at PBS. "One of the most satisfying parts of working at PBS is bringing new talent to our viewers," says Joe Campbell. "Over the last few weeks, Alfie has been criss-crossing the country appearing on PBS stations and meeting his new fans. His show has been a hit for stations. We're so glad he has joined the PBS family."
Several of those stations included tickets to a series of concerts Boe will give in the fall as part of their funding drives. In the Washington D.C. area, for example, Maryland Public TV and WETA (DC) made available tickets to an October 16 Alfie Boe concert at Alexandria, Virginia's 500-seat club, The Birchmere. According to Michael Jaworek, a promoter at the Birchmere, the concert sold out within days. "When someone has a strong PBS special, the tickets go fast," he explains. "It reaches audiences through the media they most pay attention to." He also says the venue got calls from hundreds of miles away for the artist because, he says, "He came up the hard way but found his way to the arts world. It is exciting to see someone like Alfie find success."
And Alfie is excited to perform before American audiences. After performing in Kansas City and Denver earlier this year, he says he found U.S. audiences to be "up for a good time, dancing, making lots of noise right from the start. British audiences often play it all cool, and are much quieter." Those lucky few holding tickets for his October concerts will see something far different than what they've seen on PBS. Boe will be traveling with a five piece rock band and promises a "more dance-y, livelier approach to the songs. We play Bring Him Home on electric guitar and it's haunting."
Boe hopes that his ardent fans from PBS will not abandon him as the self-proclaimed Elvis fan plays more rock songs in his concerts. "I hope they'll stick on the train with me," he says. Adds Boe's longtime manager, Neil Ferris, "I believe we can take the audience with us if we are careful and respectful. I absolutely know we have to be careful as we move forward, but we must move forward. People will get bored and the audience will not grow and expand unless we embrace Alfie's musical sensibility." Alfie Boe fan Mary McFarlane, a 44-year-old mom from Atlanta, is up for the ride. "I absolutely adore the songs that reach past musical theater. Rank Strangers -- whoa, that's a goose-bumper. Jacob's Ladder is a blast. I am dying to get an album of his new rock stuff."
So look out, America, the British are coming in the form of one (currently) bearded singer with puppy-dog eyes who defies categorization. "I'm just Alfie the singer," he insists. "You don't like to put a title on yourself because it puts you in a box." And, at the end of a long eight days on our side of the pond, he was a tired singer heading to the airport and, he said, "I'm just looking forward to being home with my kids and my wife."