Like most small towns, in Sonoma, the heart of California's Wine Country, it's all about who you know. Connections with other people, whether a local chef, farmer, artist or dentist are integral to life in a small town. In order to thrive people help each other out, and the relaxed lifestyle creates a bond among the locals that promotes camaraderie over competition.
Most visitors to the wine country find only the mainstream businesses: large wineries whose wines can be purchased in any grocery store and shops and big-name restaurants easily spotted from the square. It's not that people wouldn't like a more authentic, personal and unique experience, but how do you even know where to start when there are hundreds of restaurants, wineries and galleries to choose from? You find a local, that's how.
I recently went to visit a dear friend, a long time resident of Sonoma, who happens to be very plugged into the Sonoma culinary scene, and I got to see just what makes insider-Sonoma so special. There is an intense mutual respect within the food and wine community of Sonoma. Even while technically competing with each other for business, local artisans are quick to praise and even recommend each other. As one insider recommendation after another turned into a day of cooking, eating, sipping and hiking, and an idea was born. Over a sunset glass of wine and a scratch pad, Access Trips' new Wine Country culinary tour was launched.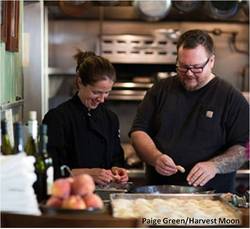 We started the day at Harvest Moon Café. My friend's friends, chefs Nick and Jen Demarest came in on their day off to treat us to lunch. In the process, they opened their kitchen to us and gave us pointers on how to make the most delicious homemade ravioli with seasonally available produce. Speaking of produce, they get a lot of it from a small local farm, which also happens to grow grapes and olives and produce artisanal wines and olive oils. More on that later. After our impromptu cooking class, we sat down for a delectable lunch and conversation that turned into a who's who of Sonoma.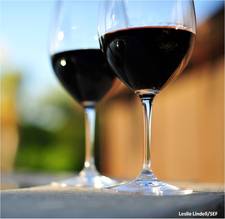 On Nick and Jen's recommendation, our next stop was a chic and intimate tasting room just off the plaza. Welcomed by the tasting room attendant, who knew we were on our way with a heads up from Nick and Jen, we tasted refreshing sauvignon blancs, elegant cabernets and silky syrahs. It just so happens that the owner is a screenwriter turned vintner, and hanging above the tasting bar were quotes from famous movies. One quote that stuck with me, "Wax On, Wax Off" from the Karate Kid, turned into a fitting metaphor for my day, as I followed my friend into insider's Sonoma and let the locals lead the way.
After some delicious food and wine, we needed a walk, so we headed just off the main square to a small trailhead located in the driveway of a historic cemetery. We hiked amongst scrub oaks, ferns and small streams until suddenly we were rewarded with not just a breathtaking view of the entire valley, but also of the San Francisco Bay and city skyline. After watching the hawks swoop and glide against the beautiful backdrop of Sonoma, we decided it was time to eat some more -- and this time something sweet!
On the way to Glen Ellen, a town so tiny you might miss it if you blink, is a small building that houses a couple of restaurants, a real estate agent office and perhaps the best truffle shop in wine country. We walked in and were greeted with a smile and an offer of chocolate ganache. We could see the truffles being made just past a clear window, as we learned how the amount of cocoa affects the flavor of the truffle's creamy inside. It was tough to decide which ones to take home to my husband, truffles filled with wine-infused ganache or the seasonal truffle with pumpkin ganache?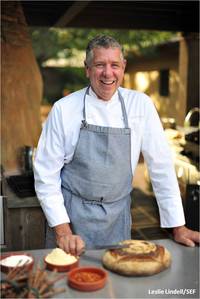 There was one more stop on my incredible insider's tour of Sonoma, a trip to Stone Edge Farm, a local farm which grows organic produce for Harvest Moon Café, the first stop of my day. Culinary Director John McReynolds graciously took us on a tour of the impeccable gardens, olive groves and vineyards as he taught us about organic and biodynamic farming, foraging, canning and harvesting.
This is where that last glass of wine came in, along with the scratch pad, as I realized we were onto something. None of my experiences that day were hidden from the public, but neither were they readily available. Had I come to Sonoma on my own I would not have known where to begin and I surely would not have had access to the insider's Sonoma without a local guide to show me the way. This phenomenon is not limited to Sonoma, though. Anywhere you go, finding a well-connected local expert will provide you with an insider's authentic experience, where you will quickly evolve from tourist to friend.