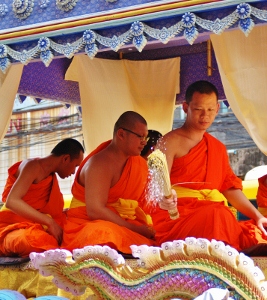 Thailand is one of my favorite places in the world, an exotic gem, where the architecture and artistry are matched only by the friendliness of the people; where every flavor is more pleasing than the last; and where Buddhism binds the culture seamlessly. If you're reading this, you are already probably a fan of Thai food, and for good reason. Thai food is an exceptional combination of exotic sweet, tangy and peppery spices, fresh ingredients, and stunning presentation, and most who try it are hooked for life.
I recently had the pleasure of scouting Access Trips' brand new Thai culinary tour, Flavors & Culture of Exotic Siam. Our cooking tours feature the perfect balance of cultural "must sees" and magical secret spots and Thailand is no exception. When not out exploring, I worked with talented local chefs, learning to cook delicious Thai food that I have easily been able to replicate at home, much to the delight of my family.
From tangy salads to rich, hearty soups and delectable curries, I enjoyed three cooking classes, preparing some of Thailand's most exotically spicy and delicious meals. Riding a traditional long-tail boat up Bangkok's Chao Phraya River to Chef Tam's ancestral home set the tone for the first cooking class. After a tour of her lush herb gardens that overlook a quiet Bangkok "klong" or canal, and an explanation of the various herbs used in Thai cuisine, we headed to an open air kitchen where I learned to prepare Phad Thai, coconut chicken soup, coconut pancakes and sumptuous wok-fried ground chicken with basil. In two additional cooking courses in Chiang Mai, I learned additional recipes, from rich home-style curries to Thai-style banana fritters.
In addition to cooking, I enjoyed warm Thai hospitality and friendly smiles, as I wandered local markets, listened to the monks chant at Wat Po, and stumbled upon a parade celebrating the birth of Buddha. Deep in Bangkok's Chinatown, a single circular banquet table awaited as I passed through the doors of an unmarked Chinese shop house. Within minutes, plate after plate of steaming fresh Chinese food was brought out to the table. I sampled shrimp dumplings topped with fried shallots and garlic, Chef Jok's signature steamed crabs (he used to be a crab vendor), and at least six other dishes. I will have to go back!
While I've been to Thailand many times over the past 20 years, this was my first cooking experience. My home is filled with treasures I've collected on my Thai adventures, and now my kitchen is filled with exotic Siamese aromas and delectable food, the ultimate souvenir. To whet your appetite, here is a recipe for Phad Thai that I brought back from my Thai culinary adventure.
Phad Thai Recipe: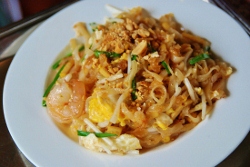 Serves: 2-3 people
Time: 40 minutes
Ingredients:
7 oz Thai rice noodles (about half a package) soaked 15 minutes in water
6 prawns, shelled and deveined (optional)
2 eggs
1 ¼ cups bean sprouts soaked 10 minutes in water (1 cup for cooking, the rest for garnish)
2 Tbsp crushed roasted peanuts
1 Tbsp dried shrimp (optional)
2 Tbsp palm sugar (substitute brown sugar if you can't find palm sugar)
4 tsp fish sauce
2 Tbsp tamarind paste
2 tsp minced garlic
½ cup chives cut in 1 ½ inch length
½ cup very firm tofu, cut into small cubes or strips
2 Tbsp finely chopped pickled white radish, also called preserved turnip (optional)
4 Tbsp vegetable oil
1 tsp chili powder (optional)
To Garnish:
Bean sprouts, lime slices, coriander leaves and chives.
Directions:
Mix fish sauce, palm sugar and tamarind paste in a bowl to create the seasoning sauce, and set aside
In a wok, pour the oil and fry the minced garlic on medium-high heat until light brown
Add pickled white radish, tofu, dried shrimp and prawns; move to the side of the pan when cooked
Add the noodles and stir quickly to avoid sticking, adding water as needed until the noodles are soft
Add seasoning sauce and stir until well mixed
Push the noodles to the edges of the wok; add eggs in the middle of the wok and scramble until they is almost cooked, then mix with the noodles
Add chives, roasted peanuts, chili powder and bean sprouts and stir
Garnish with bean sprouts, lime slices, coriander leaves and chives
Notes:
Do not over-soak the noodles until they are fully expanded and soft or they will get too mushy in the pan. They should be firm but flexible. If you are not sure, it's better to under-soak them. You can always add a bit of water into the pan to soften the noodles if necessary.
For vegetarians omit the shrimp and prawns, and substitute the fish sauce with soy sauce