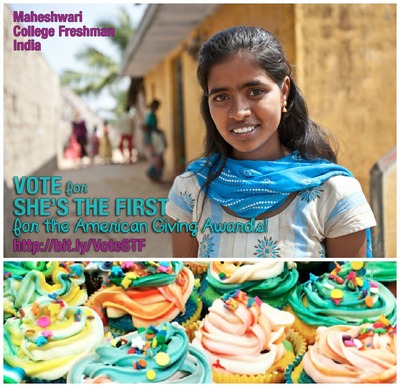 In theory, you could bake a million cupcakes to raise a million dollars to make a social change. She's the First has preliminary evidence. Consider this: With just a couple hundred student teams behind our campaign, we have already raised nearly $50,000 to sponsor girls' education in eight developing world countries through tie-dye cupcake bake sales.
The girls we sponsor (in Ethiopia, Guatemala, Kenya, India, Nepal, South Sudan, Tanzania, and Uganda) would otherwise would be fated to lives of poverty, early marriage, disease and dangerous pregnancies, among other life-endangering obstacles. But we've seen them overcome incredible odds with their education. For example, though neither of their mothers even started high school, Jancy is a freshman in college, studying business tourism, while Maheshwari is studying to become a doctor. One of our first scholars, Elizabeth in Tanzania, was once even a "Greatest Person of the Day" here on HuffPost Impact.
And yes, oftentimes, all it takes to spark this change is a cupcake.
But, this week, we have an opportunity much bigger than any bake sale. You don't even have to lift a spatula. We just need you to lift your finger, to cast a Facebook vote for She's the First in the American Giving Awards. I'm even willing to dress like a cupcake on the streets of New York City to ask you!
The American Giving Awards airs on NBC this December 8th. There are five categories, presented by celebrities; in each one, five organizations have a chance of winning anywhere from $125,000 to $1,000,000 from Chase. But it all comes down to who gets the most Facebook votes! She's the First is in the Educators & Mentors category.
Cupcakes could raise a million dollars, but what we really need now is you. You've got the power to shift a whole lot of Chase money into the girls' education sphere, where it is so desperately needed. (It's a reported fact that less than two cents of every development dollar goes to girls, according to TIME)
We made this silly video to win over your vote:
But, it's for a serious reason: Within the countries where She's the First sponsors girls, the average primary enrollment rate is around 79 percent. But, did you know that number drops to 33 percent when we look at secondary enrollment rates -- and that's without even touching graduation rates, the data for which is often missing or incomplete. Typically, only one in five girls will graduate. And in war-torn countries, the rates are even worse. In South Sudan, only 400 girls made it to the last year of secondary school -- in the entire country.
She's the First itself started out as a YouTube video. Our call to action was simple: Mobilize friends, make small contributions, and collectively, you will raise enough money to send a girl to school for a year. The social media generation, my fellow Millennials (even you perhaps), made this something so much bigger. Will you help us win this million and shape the future of She's the First? Will you consider engaging in and innovating the future of global, peer-to-peer mentoring with us? Will you ultimately join us in equalizing classrooms worldwide?
Everyone can do something to close the gender gap and make education universal. And right now in holiday shopping season, we're pretty grateful that we don't have to ask you to pull out your checkbook. You just have to pull up your Facebook page to give us the greatest gift of all -- your vote.
You can see our nominee page and vote at http://bit.ly/VoteSTF -- and if you're a Chase customer, you can cast a second vote at Chase.com/ChaseGiving.
And here are two more reasons, if I didn't have you at cupcakes: