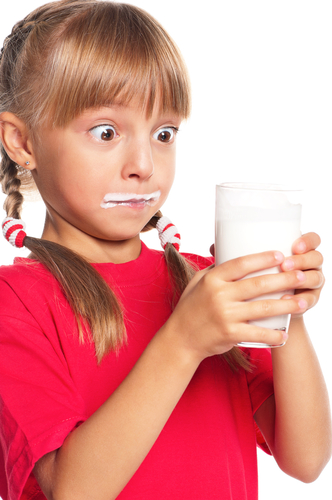 The dairy industry wants to spike your children's milk with aspartame and other chemical sweeteners -- and keep it a secret from parents.
In a truly mind-boggling petition now before the FDA, the International Dairy Foods Association (IDFA) and National Milk Producers Federation (NMPF) contend that adding aspartame, sucralose and other chemical sweeteners to flavored milk (such as the chocolate and strawberry varieties) as stealth ingredients that wouldn't be disclosed on the label would "promote healthy eating" and make dairy products more "attractive" to kids.
Here's one of the more amazing statements in the petition:
DFA and NMPF argue that nutrient content claims such as "reduced calorie" are not attractive to children, and maintain that consumers can more easily identify the overall nutritional value of milk products that are flavored with non-nutritive sweeteners if the labels do not include such claims.
Seriously? I truly marvel at the Orwellian claim that leaving parents in the dark about chemical additives in their kids' milk would help them "more easily" judge its nutritional value. Currently, the FDA allows the dairy industry to include aspartame and other sugar substitutes in its products, but the label must state that the product is artificially sweetened, according to Yahoo Health.
And does the dairy industry actually expect anyone to believe that depriving children who are old enough to read of crucial information about what's in their food is something the industry is doing for the good of kids?
Yet the petition does make that argument. It also contends that putting covert chemical sweeteners in flavored milks that kids drink -- as well as 17 other dairy products -- would "particularly benefit school children" and "promote honesty and fair dealing in the marketplace," presumably through tricking kids into reaching for chemically-sweetened chocolate or strawberry milk in the school cafeteria instead of milk-based beverages that contain sugar.
Another startling snippet from the petition:
As further support for the petition, IDFA and NMPF state that the proposed amendments would assist in meeting several initiatives aimed at improving the nutrition and health profile of food served in the nation's schools. Those initiatives include state-level programs designed to limit the quantity of sugar served to children during the school day. Finally, IDFA and NMPF argue that the proposed amendments to the milk standard of identity would promote honesty and fair dealing in the marketplace and are therefore appropriate under section 401 of the Federal Food, Drug, and Cosmetic Act (21 U.S.C. 341).
What the petition doesn't mention is research linking drinking diet beverages to weight gain, surprising as that sounds. The FDA is seeking public comments on the petition. Click here to let the FDA -- and dairy industry -- know what you think.
Why It's Time to Dump Dairy
While the dairy industry thinks we should embrace chemical sweeteners in our kids' milk to win the war against childhood obesity, in my upcoming book, The Omni Diet, I examine the case against drinking milk at all. There's mounting scientific evidence that consuming a substance nature intended for calves -- not humans -- does more harm than good.
Here are a few compelling reasons for families to consider ditching dairy:
The most important way to get children to eat healthy is to make it a fun experience, and to lead by example. Start with the example of being your own health advocate!
Before you go, make sure to leave a comment below. Let us know you think about the dairy proposal and if milk is healthy or harmful. If you and your kids avoid dairy products, what do you eat instead?
For more tips on how to select the healthiest foods, become a conscious shopper, and for delicious recipes you can make today check out my website. While you're there, sign up for my newsletter by clicking on the link in the upper right hand corner, and I'll send you tips every week that will support your new healthy lifestyle.
For more by Tana Amen, click here.
For more healthy living health news, click here.