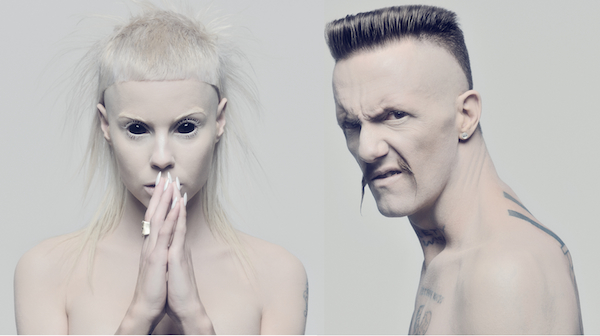 (Photo credit: Ross Garret)
When Die Antwoord first got "all up on the interwebs" back in 2009, the world thought they were just a group of pasty-faced South African hooligans who happened to write good songs. But when the music community began to scratch the surface of their crudely-rendered homemade tattoos, critics and fans alike discovered a much more complex performance at play. Today, Die Antwoord's Ninja, Yo-Landi Vi$$er, and DJ Hi-Tek aren't just a bunch of fame-hungry troublemakers with questionable, politically-inspired aesthetics. Rather, they've proven themselves to be talented artists whose creative vision has helped put South African culture back on the world stage. With a name that translates to "the answer" in Afrikaans, Die Antwoord is a kind of art-rock hybrid that's not just a band, but an exotic fusion of art, performance, and music that has defined a new kind of style, something Die Antwoord calls "Zef."
"Zef's kind of, like, you don't give a ∫♥ᅡᄅk, and you have your own flavor, and you're on your own mission," Yo-Landi Vi$$er told The Guardian in 2010. It's associated with people who soup their cars up and rock gold and $h!t. Zef is you're poor, but you're fancy. You're poor, but you're sexy. You've got style."
These days, Die Antwoord have released TEN$ION, a followup to their highly successful 2009 debut, $O$. They're touring sold-out shows in support of their sophomore album, which they've issued through their indie label, Zef Recordz, after recently leaving Interscope. Meanwhile, Die Antwoord continue to incite and inspire a growing legion of fans who are members of their own ersatz army. Check out the Spring 2012 T by Alexander Wang campaign video featuring Die Antwoord, followed by photos of a few "Zeflings," culled from Die Antwoord's Facebook page. See more pics on Pop Curious.
PHOTO GALLERY
Die Antwoord's Most Zef