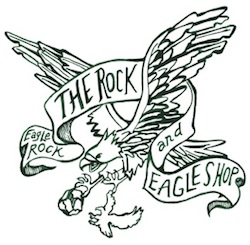 Earlier this year, the Eagle Rock Rock and Eagle Shop opened its doors -- on April 1, to be exact. But make no mistake: there was no fooling' around.
Back in 1964, poet Mason Williams joked with his pal, Ed Ruscha, that if Ruscha never made it in the art business, they could always sell rocks and eagles out of the artist's Eagle Rock-based studio.
Nearly 50 years later, artist and curator Bettina Hubby has turned the long-running joke into a real-life pop-up shop and art exhibition. What was once a tongue-in-cheek "Plan B" is now a gallery and store that's a walk-in art project and a tribute to SoCal's quirky contemporary arts scene.
Since Ruscha's original studio is now a freeway on-ramp, Hubby settled for a space on Eagle Rock Boulevard, where she sells original art along with eagle-and-rock-themed tchotchkes sourced on eBay, Etsy, etc. It's a banquet of kitsch mixed with relics of California culture that reflects the region's ongoing unpredictability when it comes to the arts.
Sunday, June 3, the temporary store, gallery, and exhibition space finally takes flight after a successful two-month run, with a closing party from 7-10 p.m. Featuring live music by Janet Klein and her Parlor Boys; the Keith Walsh Experience; and Sea Leg (Eagle) and Cork (Rock); the Rock and Eagle Shop gets a hearty sendoff, with music videos and artists' projections, along with art-party staples such as snacks, beverages, and yes, balloons. Everyone who buys something gets a picture taken, becoming -- as Hubby describes -- "a part of the installation and history of the piece." There's also live screen printing by Pop-Hop, which transforms patrons' T-shirts into wearable art festooned with band logos or the logo from the Eagle Rock Rock and Eagle Shop.
In the words of Mason Williams himself:
If you're an eagle and/or a rock collector/enthusiast, you should take advantage of the fact that if you were to someday want to search the Internet for things of this nature, for your collection, you would have to spend a lot of time to get it to this level. You can relax, Hubby's already done it for you. All you have to do is go down and see the very collection you probably would have gone to the trouble to collect, and it's all nicely displayed where you can clearly see every item you might have bought as a collector. Since the Eagle Rock Rock and Eagle Shop has saved you so much time and money, perhaps think about buying an Eagle Rock Shop item to remember the collection you never had to bother having to collect... Hubby's done it for you!
The Eagle Rock Rock and Eagle shop closing party is June 3, 2012, 7-10 p.m. at 4765 Eagle Rock Blvd, Los Angeles, California 90041. Hours are Wednesday-Sunday, 11 a.m.-6 p.m., or by appointment. Call 1-800-577-9238 for more information.
PHOTO GALLERY
Eagle Rock Rock and Eagle Shop