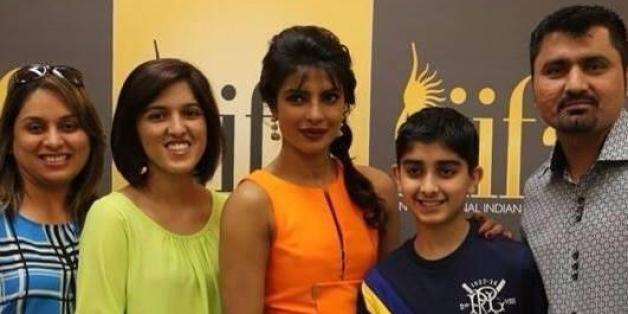 Dear Priyanka Chopra,
When I met you in person in Tampa Bay for the annual IIFA Awards Weekend, I realized how much you've inspired me. So in the aftermath of getting the chance to meet you, I wanted to take a moment to say a genuine and extremely grateful, "Thank you, Priyanka."
I don't think I can say that "I am your biggest fan." It's much, much, much more than that. You've inspired me to be my own-person. You've inspired me to be a game-changer. You've inspired me to pursue my wildest dreams and truly believe in myself to make them come true. You connected with me when no one else did. You're the best PeeCee. And here's why.
I will never forget the night I watched you being crowned Miss World 2000. Though I was just a 3-year-old, I knew I had found my idol in the beautiful and resolute young woman you were. I made myself a paper crown and wore it everywhere for the next week, in a tribute to your victory. Even then, in your baby steps to stardom, you had proven to the world and to me, that even a girl from a modest, middle-class background can make her mark in the world. So thank you Priyanka, for being the role model to my toddler-self.
Your next move took Bollywood by storm. You sparkling debut in The Hero, sealed your destiny as a future superstar. And you captured the hearts of millions as the lovely "Rani" in Mujhse Shaadi Karogi. Aitraaz established you as an actress to be reckoned with, and Don truly proved you as a "woman of action." Your portrayals of the most diverse of characters were the bright spots in my otherwise dull pre-teen life. So Priyanka, your enthusiasm for cinema, inspired mine.
There was a period in your career where a string of your movies were poorly received both at the box office and by critics. But I waited, patiently, for you to align yourself with a script that truly unleashed your potential. And then, my wish came true and Fashion happened. Your embodiment of ambitious supermodel Meghna Mathur taught me three very important things. One, that girls don't have to be extremely thin nor extremely curvaceous in order to be considered beautiful. Second, that the path to success and self-discovery is not always easy and the challenges we face are actually what define us the most. And lastly, the most important: all girls should embrace themselves for whom they are.
Be it in America or India, teenage girls, including me at times, have shed our self-esteem just to "be accepted." The fact that girls are obsessed with dating just the popular quarterbacks, are losing weight to feel "good" about themselves or shunning girls who dress differently than themselves is ridiculous. Priyanka, you've proved with your depiction as Roma in Don and as Meghna in Fashion that a self-embracing individual is ultimately a powerful and confident individual. So thank you Priyanka for being a being a source of guidance to me and all the other socially awkward teenage girls out there.
I've always loved all of your movies, but it wasn't until I was 15 and I saw Barfi, that I realized the magic of a movie could last well past its running time. For me, your character, Jhilmil, an autistic woman who falls in love with the deaf and mute title character, was your best performance till date. You completely discarded your glamorous personality for Jhilmil's simple skirts and headbands. Thank you for being brave enough to show that there is so much more to a celebrity than just her perfectly coiffed hair and designer gowns. Even before Barfi, I'd always sported a simple style and thick headbands. But I didn't appreciate my simple style until you taught me how to do so.
And when I thought you possibly couldn't inspire me anymore, you decided to launch your singing career with your hit singles, "In My City," "Exotic," and "I Can't Make You Love Me." Thank you for proving that with determination and hard work, any new challenge can be overcome. You taught me how to push my limits and try something new everyday.
I've laughed, I've cried, I've danced, and I've sung alongside you in this journey of almost 14 years. And as we both grow in life experiences, I hope that this journey becomes even more beautiful. Thank you for your movies. Thank you for your songs. Thank you for being one of the most humble people I've had the privilege to meet. You rock Priyanka!
Love,
Tanya
Follow Tanya Devani on Twitter: www.twitter.com/tanyadevani