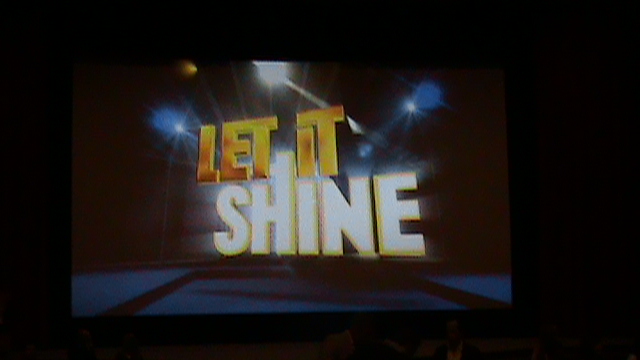 Disney hosted a star-studded premiere of Let It Shine, a Disney Channel Original Movie that airs on June 15, 2012 at 8:00 PM on the Disney Channel. The Red Carpet was filled with Disney stars who have a cult-like following of fans who screamed their names at screeching levels. As an entertainer, I pride myself in knowing who's doing what in the business. However, this night, I didn't know many of the actors and had to rely on my consultants, Tryumph and Whizdom, to feed me information about the stars as they approached my placard. I easily recognized two of the movie's stars, Courtney Vance and Dawn Lewis, but I realized that most of the goggling fans didn't share my enthusiasm in their arrival on the Red Carpet. All of a sudden, I realized that I was out of my element, and yet, I was totally immersed in the world of entertainment -- a huge Hollywood premiere party.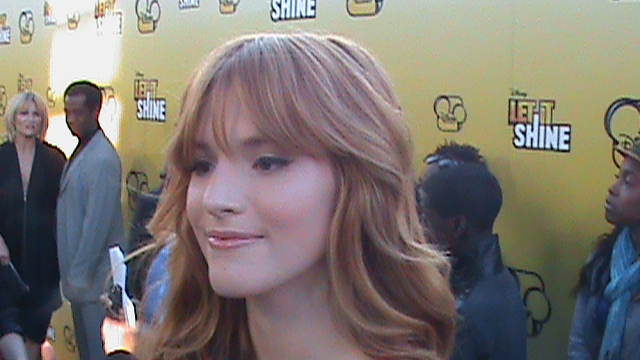 Disney, its huge brand, and its OTT (over-the-top) kid-centric fun activities took over the Directors Guild of American building on Sunset Boulevard. The Red Carpet celebrities were young actors from Disney Channel's hit shows. Debby Ryan and Skai Jackson were there to represent Jessie. Bella Thorne and Zendaya came beautifully dressed to represent Shake It Up. It was clearly a Disney family affair with very few outsiders walking the Red Carpet.
My consultants, who are also my 8- and 9-year-old daughters, knew every show in which the young actors starred. This is very surprising because my daughters don't watch television Monday through Thursday, with limited television on Friday nights and Saturday, and no television on Sunday. I'm wondering if there is a subliminal learning technique within the shows that enables the watcher to memorize the content (if any company were to develop this technology, I would think that it could be Disney). My daughters looked at me with quasi-disdain when I missed an opportunity to speak with Jessie star, Karan Brar; or didn't ask the "right" follow-up question to Red Carpet favorite Bella Thorne, or didn't ask "what can fans expect to see next on" Shake it Up, A.N.T. Farm or Phineas and Ferb. Never before had I felt so inadequate in a professional capacity. I suggested that my daughters take over my duties for the next Disney premiere and they stated that they would do a "much better" job.

Disney knows who they are, what their fans want and how to throw a premiere for kids. In the lobby there was a DJ from Disney Radio playing Disney tunes. The wonderfully enthusiastic Disney teenage dancers encouraged anxious children to dance and sing. There were competitions wherein Disney products were given away as gifts. Some of the food offered was macaroni and cheese balls, mini waffles with a hint of syrup, marshmallows on a stick and fruit.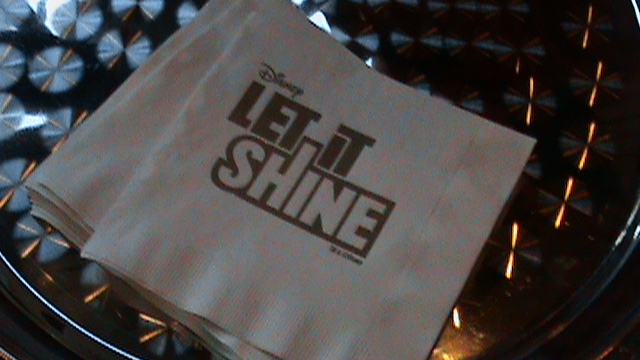 Kids drinks were a tropical flavored spritzer served in Let It Shine cups. They also served Rootbeer floats. There's nothing liking getting kids sugar-rushed and ampted right before watching a movie. For the adults, there were a couple of simple bars with wine and beer. The bar line was very often filled with children asking for soda or water. To my pleasant surprise, the bartenders would not serve soda to the children (way to go Disney!). What was equally impressive was Disney's invitation to about 100 boys and girls from local Boys and Girls Clubs of America. These children were having a great time. They ran from actor to actor and got autographs from their favorite Disney Channel stars. The children were well-mannered and well-behaved.
My daughters have attended other movie premieres and Opening Nights, yet, when I looked at their beaming eyes; frozen smiles; and almost uncontainable joy at "hanging out" with their favorite actors; I realized that Disney had done it again. Disney created Magic! And all of this Magic before we even entered the theater to view Let it Shine.
Let it Shine, Disney's 90th title in the franchise, is a modern, hip-hop take of the classic French story of Cyrano de Bergerac. Let It Shine features an ensemble cast of Tyler James Williams (Every Hates Chris), Coco Jones (Recording Artist/So Random), Trevor Jackson (Eureka), Courtney Vance (Revenge) and Dawn Lewis (A Different World). The movie follows Cyrus DeBargea (Tyler Williams), a shy, talented musician, who writes romantic hip-hop and rap tunes that are loved by rising recording artist Roxanne Andrews (CoCo Jones). Through an innocent error, his best friend Kris McDuffy (Trevor Jackson) gets credit for the work and begins a relationship with Roxanne Andrews, who is actually the girl of Cyrus' dreams. Cyrus didn't have the courage to tell Roxanne how he really felt, nor to let his talent shine.
"Rap music has become the poetry of today for our young viewers," Gary Marsh, president and chief creative officer, Disney Channels Worldwide, says. "It only made sense that when we re-imagined 'Cyrano de Bergerac,' we'd do it as 'Cyrano de Bergerap.' While the story, tone, and world are purely contemporary, the messages inside--overcoming your fears, accepting who you are, and fighting for who you want to be--are classic Disney Channel."
The love triangle of this tale is delicately presented to Disney's audience of children. There is never any lip-to-lip kissing, yet the dialogue and...expressions of the young actors allows the audience to understand the emotional roller-coaster they were experiencing. Disney did not forget that parents watching with their children must also be entertained. The story moved at a good pace. The jokes were funny. The adult characters had strengths, flaws, humor and wisdom to share that resonated with adult viewers. I enjoyed the storyline, the music, the growth of the characters and the predictable, yet, fun-filled climax as much as my daughters. Throughout the movie, the crowd laughed out loud, applauded displays of courage, and clapped to the music.
Hip-hop and Rap are no longer genres primarily associated with African-Americans. In fact, the Disney shows, wherein the majority of the cast members are not African-Americans, are centered around hip-hop music and dancing. The Hip-Hop songs and the Rap messages of Let it Shine are universal. It's of little significance that the cast of Let it Shine is mostly African-American. Let it Shine's story of friendship, love, self-empowerment, courage and dreaming big is colorblind. This is a movie everyone will walk away from "Shining" and thanking Disney for another entertaining family film.
The premiere of "Let It Shine" (8:00 p.m., ET/PT) on Disney Channel with simulcasts on Sprint TV and MobiTV
www.TanyaYoungWilliams.com
Photos: Tanya Young Williams LLC