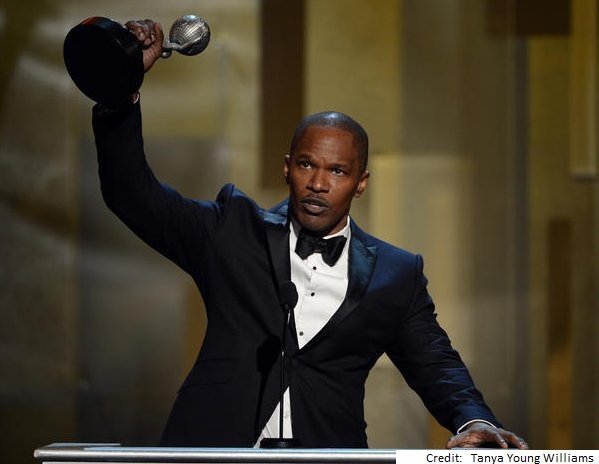 Fred Hammond is one of gospel music's biggest stars and yet, on NBC's live broadcast of the 44th NAACP Image Awards, he was granted a mainstream "coming out party." Hammond was nominated for Outstanding Gospel Album at the Image Awards but was beat out by sister duo Mary Mary. Still, Hammond walked away as one of the evening's biggest winners, and God took the final bow when Oscar-winning actor, Jamie Foxx began to sing Hammond's hit song "No Weapon" as part of his acceptance speech for Entertainer of the Year.
Many of those in the packed auditorium stood to their feet and waved their hands like they were in church. Jamie Foxx was moved to tears and the energy in the historic Shrine Auditorium was electrifying. At most award shows there comes a moment wherein the program takes on a life of its own. Fred Hammond's song, offered as a musical testimony by Jamie Foxx, ushered in that moment for the 44th NAACP Image Awards.
I caught up with Hammond on the red carpet where he sang for me in his velvety tenor voice. We talked of his upcoming musical projects and he shared what his new focus is going to be -- and surprisingly, it's not music. Hammond said, "I need my work to be seen."