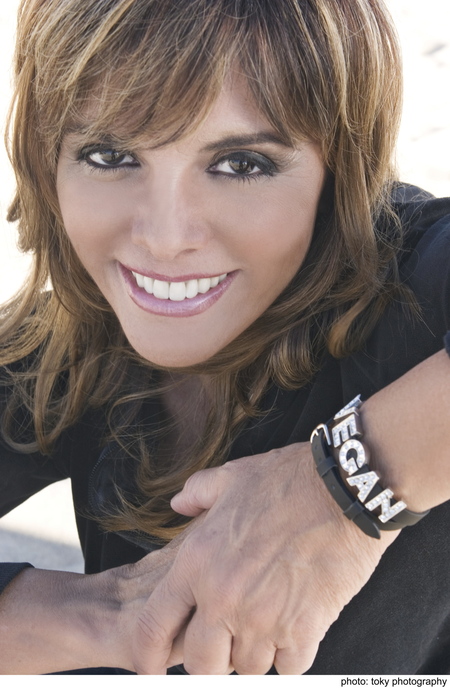 Jane Velez-Mitchell has a passionate opinion about almost everything. After twenty years of having to stifle her perspective while working as a local news reporter in Los Angeles and New York, she jumped at the opportunity to present her opinions, argue their merit and defend her stance on CNN's sister station Headline News (HLN). She agrees that she is brassy; a quality for which she confesses is "something that I've been working on." She is also loud, confrontational, high-strung, competitive and sometimes annoying ("annoying" is not my opinion but those of some of her dissidents). She is exactly what HLN hired her to be and what her large and ever-growing audience expects of her. Her show is no longer titled Issues with Jane Velez-Mitchell, it is merely called Jane Velez-Mitchell because she says, "I have worked out all of her issues." However, as one who has offered commentary on her show a dozen times and watched the tenacity in which she commandeers her set, I would suggest that this is a woman who will always have issues. The question is: Should having "issues" always be looked upon with negativity?
Velez-Mitchell's balanced, yet, "no-holds bar" style attracts a loyal audience. Her viewership soars whenever she covers high-profile events like the Casey Anthony murder trial; Dr. Conrad Murray manslaughter trial; and most recently, the killing of young unarmed, Trayvon Martin by self-appointed, neighborhood watchman, George Zimmerman. Viewers know that Velez-Mitchell will hit the streets, stand in the middle of boisterous crowds and scream questions from the sidelines to gather exclusive information just for them. I covered the Dr. Conrad Murray trial for Los Angeles KTLA as a legal analyst and wrote weekly stories of HuffingtonPost Black Voices. I watched a seasoned journalist gain the trust of the Michael Jackson family by her purposeful, yet respectful daily requests for statements. I saw supporters for each side plot for the opportunity to be interviewed by her.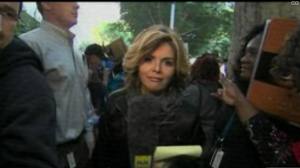 No other on-air journalist worked the crowd and covered the proceedings like she did each and everyday of the two month trial. She was consistent and resilient. She attributes her mother's wisdom and unconditional support as a guiding force throughout her arduous professional and personal life.
As of April 2012, Velez-Mitchell has been sober for 17 years and claims that she "continues to work her recovery program." According to Webster to be addicted is: to devote or surrender (oneself) to something habitually or obsessively addicted to something. Admittedly, she was a high-functioning alcoholic, who was "spiritually bankrupt." Yet, she experienced "a miracle" on her first day at a 12-steps program. She said that her "obsession to alcohol was immediately lifted... In that moment when I realized that I was powerless to my addiction to alcohol, I suddenly became aware that I didn't need to have a drink." Yet, after speaking with Jane Velez-Mitchell for over an hour, it is clear that she is still an addict. The question is: Do all addictions require interventions?
Velez-Mitchell's (a New York Times best selling author), latest book, Addict Nation is being heralded by many as a great read. It has been marketed an a literary intervention for our nation of addicts. She writes, "Americans are being lured into addiction and what we're hooked on isn't necessarily illegal or even hard to come by. Prescription medications are making us high. Fast food is making us fat. The Internet keeps us constantly distracted with everything from gambling and porn to compulsive social networking. Television bombards us with glamorized violence..." She believes Michelle Obama's campaign "Let's Move" is a smart way to address our culture's addiction with food that results in obesity. Velez-Mitchell says, "It's extraordinary because it's sparking a light bulb to go off in the heads of moms... I would love to speak with First Lady Michelle Obama about the addictive component of obesity."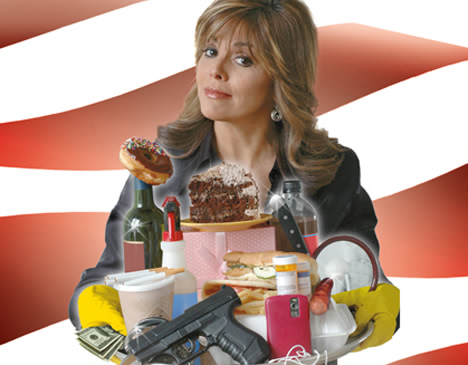 Jane Velez-Mitchell has an obsession for, and an addiction to making a real and measurable impact in the world. This is one type of addiction that does not need an intervention but could use a few enablers. She is committed to her television program serving a societal greater good and not just providing entertainment for some, and a sizable paycheck for herself. She has many issues with complacency within our culture. She is addicted to cultivating change in the way we think, act and live. As an environmentalist, Velez-Mitchell pushes the boundaries, to near obsession, with her devotion to improving the environment by educating the masses and practicing what she preaches. No matter how often she walks to and from work to cut down on pollution (a car service is provided) because she "feel(s) guilty when I take the car;" how she refuses to use paper products at home or at work to reduce waste; or how extreme her vegan diet is, her efforts are still not enough by her standards. She is addicted to the notion that she can always do more.
Velez-Mitchell, who considers herself a person of color (her mother is Puerto Rican and her father is Irish) is dismayed by race relations in the United States, as well as throughout the world. When asked which box she checks off when filling out paper work, she begins a diatribe on the perils of labeling. "Its time for us as a species to move beyond an obsession with limiting ourselves to four boxes. Celebrate our diversity with our millions of people in four boxes." She continues without taking much of a breath, "It is dehumanizing. I dream of a post-racial society that is not categorized by the color of their skin." Velez-Mitchell never wants to fit in any one box. She is proud of all of her personal "life-choices" affiliations. She is a lesbian with a new Los Angeles love interest, an environmentalist, an animal activist, a feminist, a vegan and a recovering alcoholic.
Velez-Mitchell looks at the world through the glasses of a recovering addict and immediately recognizes the characteristics of an addict in everyday people, celebrities and politicians. As discussed in Addict Nation, she believes that John Edwards was an addict "drunk with power and therefore rules didn't apply. He became addicted to the drama he created which is consistent with the irrational decisions made by most addicts." She believes that he "subconsciously sabotaged himself." It was her opinion that he and Rielle Hunter were "love addicts." However, after John Edwards allegedly called Hunter a"crazy slut" and trivialized their relationship, Jane laughs hardheartedly and says, "his latest comments have thrown a wrench in my theory. I must reassess my love addict position." I admire Jane's courage to habitually and obsessively reassess her position in life. I hope this is one addiction she never kicks.