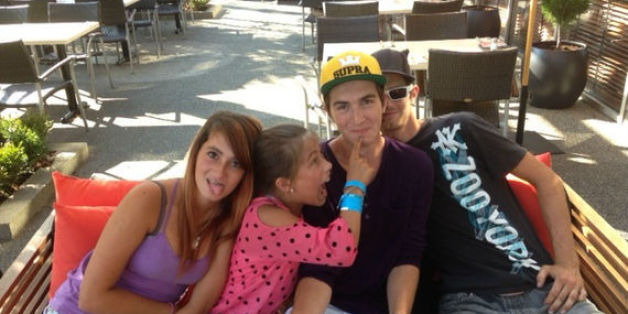 Are you thinking about having children or have small children and think you may have bitten off more than you can chew? Every one has a slightly different experience with raising children but at the end of the day it all feels the same, exhausting. Sometimes I think my experience is unique and other times I realize it's not. There are many moments that make you scratch your head, like when interesting artifacts show up on your mantel, unexplained pictures show up on your camera, or a homemade pie shows up when you haven't even made it to the kitchen yet. If your children are still small take a look at some of the things you don't always hear about or see when it comes to raising kids.
There are some very unique things you learn only from having children:
1. It takes a 6-year-old to teach you when you sign a cast on a leg that says "MOM," upside down it says "WOW." Funny -- when they said WOW after that, we all knew it meant that Mom didn't know how to sign her name. Now it means "like really"?
2. An education on acronyms. Did you know that "LOL" means "Laugh Out Loud" not "Lots Of Love"? I thought I had the sweetest 13, 16, and 19-year-old on the planet -- everything I text them they responded with LOL.
3. Eventually -- let me repeat that -- EVENTUALLY all of those moments you feel like you're wasting your breath at 20 turn into "thank you." Yes I was told, "Thank you Mom for teaching me manners." I thought I may have heard this wrong, I may even let out a giggle. Then he looked at me and said, "I'm serious, you taught me well." A moment that will take your breath away.
4. We can't hide our challenges for our children. Even a 10-year-old will realize when a tub and fruit plate is all that you need tonight.
5. The 10- and 17-year-old may resist volunteering the first couple of times, but they will be the first ones to remind you that "we didn't do our share in the community this season." (Volunteering can be a tricky one to teach -- make it fun and teaching them the real value in the results that their time brings to a community).
6. Even a 17-year-old son pays attention to how much jewelry you have and of what quality it is. He decided to buy me a pair of diamond earrings because I had never had a pair before. He worked hard to save and then took it one step further and included his younger siblings. They all lined up in front of me while I opened my gift, in the mall, in front of everyone. The moment your four children stand in front of you with enthusiasm and anticipation such as this will take your breath away.
7. They do listen! One of their favourite songs was sent to my phone via a text one day because of what the lyrics meant to my son and how he felt towards me. "Hey Mama" by Kanye West
8. They come to know through example. With the right examples they will soon realize that the power is in action. Instead of watching as several cars drive by a stuck car or driving by the debris left in the middle of the road, they want to stop and move it. Kids know that life is better when we aren't just in it for us.
My top three takeaways to remember while raising your children and a sure fire way to ensure that you will have your own unique reasons you were happy you had children:
Emotional intelligence is more important than IQ, especially in our children
People and our community always over things
Don't cry over spilled milk
The chaos comes to end daily and becomes moments that take your breath away.