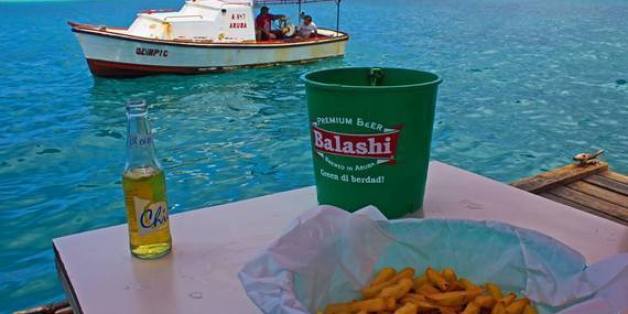 While it's tempting to spend all of your time sipping Aruba Aribas at your beachfront resort, the unprocessed beauty of this Dutch Caribbean isle demands you do more.
In Aruba, you'll find cacti mingling with coconut trees as the island's arid clime accounts for its uncommon coastline, discover the endless azure waters that likely lured you in the first place, and learn that dushi is a term for all things beloved and sweet in the island's native Papiamento.
Aruba is as multifaceted as its people are multicultural. Traces of Amerindian, Dutch and Spanish influence the island's architecture and cuisine, and at least 90 different nationalities call the 75-square-mile isle home.
But it's the raw rugged terrain and untypical adventures that make Aruba a treat. And because it has the most sunny days of any Caribbean island, you won't need to worry much about the weather any time of year, one among main reasons for the country's catchphrase, "One happy island."
Here, seven ways to take it all in.
Savor a seafood spectacle
Seriously fresh catch. All you can eat. King Crab legs. The seafood buffet at the Marriott Resort's La Vista restaurant is one scene not to skip. Aruba's biggest dinner buffet, aptly named "Seafood Sensation," is a carnival of culinary joy. Sample the ceviche station where the citrus cured stuff is made by the restaurant's Peruvian chef, get shrimp and scallops grilled to order, all the crab legs you could dream of, a side of orzo dill pasta and finish with flan and biscotti. Then go for seconds--or thirds. Dine outside to take in the sea breeze.
Take your sun salutations to sea
When you're ready for a challenge, try a yoga class. On a paddleboard. Vela Windsurf, a seaside shack on the white sands of Palm Beach gives core workout a new meaning with its paddleboard yoga lesson. You'll paddle out to sea, fasten your board to the buoy line and practice doing downward dog without slipping into the water; the same tradewinds that make Aruba a top spot for windsurfing and kitesurfing, may up the level of difficulty for your session. Once you've nailed warrior pose on a paddleboard, you'll deserve to spend the rest of the afternoon soaking up some bliss.
Bask in bliss
Nevermind that it's Balinese and you're in Aruba, a Massage de la Aruba at Mandara Spa is just the right reminder that life is dushi. The massage technique used is an Aruban tradition, a combo of strokes that are gentle, and less so, designed to balance the body. If you're staying at the Marriott Resort where Mandara resides, you can take the massage to your private beach cabana. In advance of your treatment, you'll pick from oil scents like Tranquility or Island Spice, and after, you won't be interested in doing much more than sprawling on the sand or disappearing under a cabana at the resort's neighboring H2Oasis adults-only pool.
Get your hands dirty at Zeerovers
The outdoor sink and generous paper towels should be clear indications that Zeerovers is anything but fancy, though any place where the locals dine is where you want to be. At this dockside dive in the seaside town of Savaneta, fish comes fresh off incoming boats and served in a no-frills plastic basket. The only menu you'll find is one scrawled daily on a dry-erase board as the dishes depend on the fishermen's catch, and your order is priced by weight. You'll nosh on barracuda, red snapper or king fish, with jumbo shrimp and a side of pika (onions in vinegar) and pan bati, a corn flour pancake. Try a cold Balashi beer and watch the waves lap against the jetty.
Cool off in conchi
On the island's windward coast, far away from just about everything, you'll find Aruba's greatest unrefined beauty. But only if you know where to look. Almost as if designed to remain remote, the Natural Pool, a secluded pond encircled by volcanic stone and rocks--also called conchi--isn't accessible by car. You'll have to hire a 4x4 or hike, and since even the attraction signage is scarce, you'll make a left at the yellow house and drive off into the undefined rubble. Once there, climb over a few rocks and slide into the clear, calm waters where you'll swim with striped sergeant major fish and watch the sea splash against the rocks. You can venture there with De Palm Tours, but be careful if your driver's got jokes as he may find it fun to turn traversing the uneven terrain into a rollercoaster ride.
Hire a horse
Aruba's northeast coast is a mix of man-made and natural wonders, and you can take them all in on a horse. A Goldmine Ranch tour will take you through the Aruban desert as you take care not to crush brightly colored Aruban whiptail lizards, and past the gold mill ruins which flourished during the island's nineteenth century rush, then to the white-sand dunes of Wariruri beach where you'll get to ride right at the water's edge. And you won't miss any Instagrammable moments as guides offer to snap pics for you.
Booze on a catamaran
Though sometimes cliché, sunset cruises can be a great way to take in the island from a new vantage point, possibly while consuming open bar beverages. Departing from De Palm Pier, Aruba's Simply Sunset Sail takes you on a two-hour catamaran ride. Timed to perfection, the sun falls just as your inhibitions subside, and the onboard DJ starts the dance party with soca, konpa, merengue and a little soul. When Pharrell's "Happy" plays, you'll realize it's the island's anthem. After the cruise, it's time for a three-course meal at Simply Fish where you'll dine with your toes in the sand--shoes are prohibited.