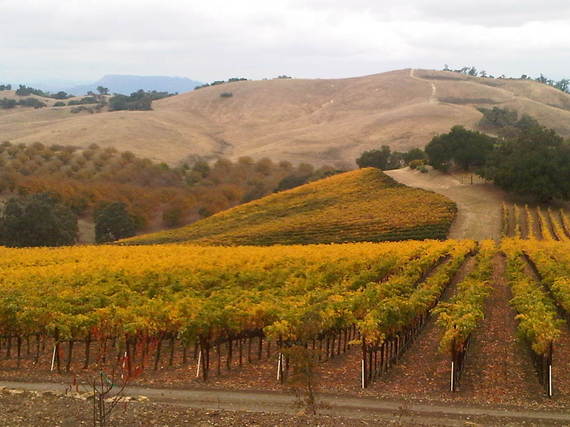 About 4 hours by car north of Los Angeles, Paso Robles is our place to unplug and refresh. On any given weekend, we think about going. Three days though, is just enough time to relax and savor all the region has to offer: from coastal byways; to rolling hills dotted with oak trees draped in Spanish moss; grapevine-hugging hotsprings; viticulture and the enology lifestyle; fine farm-to-table cuisine, and inns for nearly every budget.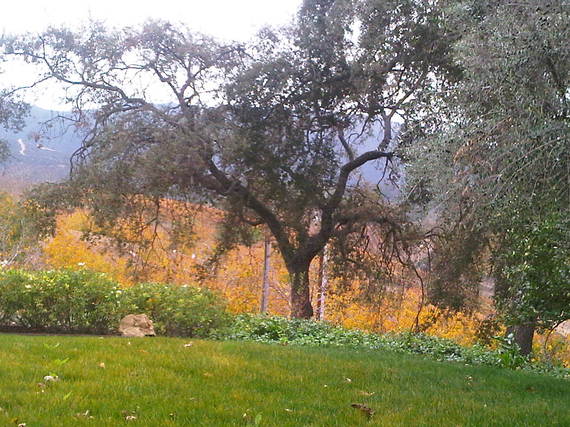 First stop out of LA was Custom Crush in Camarillo where you can pretend to be a vintner. With the help of their in-house winemaker, you create your own wine, complete with a professional looking label. Should you grow grapes, bring in your catch, otherwise they will locally source for you.
The minimum is one barrel, which translates into 25 cases or 300 bottles. Too much inventory for you to handle? No problem, Custom Crush may also sell your creation in their tasting room.
Needing non-liquid sustenance, we sampled the Mint and Basil Vietnamese Cafe nearby. Filet mignon spinach salad, pho and lettuce cups hit the spot. Our rule is, if traffic slows to a crawl, we exit and take a breather.
Next pitstop downtown Ventura, and then onto Los Olivos, beyond Santa Barbara, via the more scenic short cut, Route 154, the San Marcos pass along Lake Cachuma.
Knowing we would miss Poul Palmer the Garlic Guy before he closed shop, we called ahead. He kindly curated a bag of aromatic bulbs for us, and left them for pick up at Epiphany Cellars.
It was the first time we tried Samsara, where the Santa Rita Hills Pinot Noir was scrumptous now, while their Syrah needs to be laid down for 4 years. Eponymous Blair Fox Cellars was closed by the time we got there, so we missed their Paradise Road Syrah. Most tasting rooms close by 5 p.m. with a few exceptions.
Besides, a fine pizza party with a live dance band awaited us at the Martian Vineyard. Their Ufophoric Albarino and carbonic Syrah were yummy. Another time, I might stop back there for en plein air painting offered by Gypsy Studios.
That night we laid our heads down in Los Alamos at Skyview Motel with apricot trees behind our room, ready to harvest at no extra cost. Breakfast is not always provided. This time we lucked out.
We did not do it this time, but on the way to Paso, there is an exit on the 101 for a beautiful view of Avila Bay and a walk out on the pier or dip into the nearby hotsprings.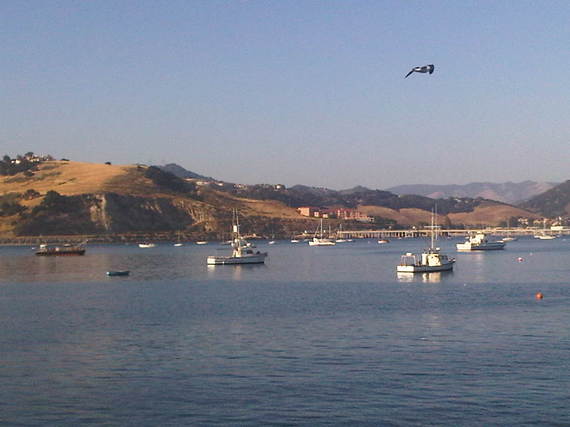 On El Camino Real in Atascadero we were pleasantly side-tracked by a thrift shop supporting pet charities called Cause 4Paws, where we happened upon great bargains on silver and gold jewelry as well as collectible ceramics. A few blocks later we arrived at a sophisticated mom and pop globally sourced coffee bar, Joebella Coffee Roasters tucked in a low-key industrial park.
The Magritte-like fluffy white clouds of Atascadero south of Paso Robles.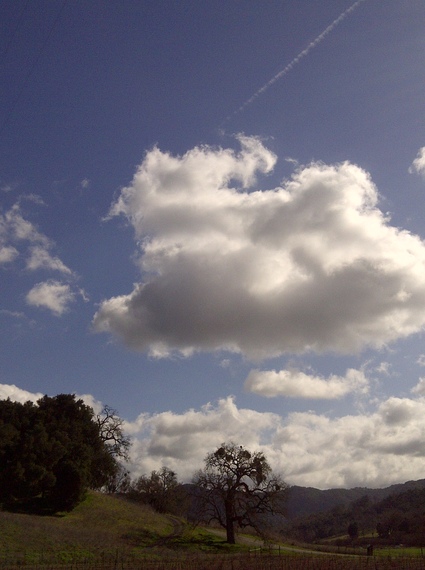 Still too early to hit the wineries and in need of a hat, we found ourselves at the Goodwill Store in downtown Paso, near the central park. We got mighty lucky with the most garish white and gold brocade cowboy chapeau , as well as a conservative black pork-pie to replace the one lost the day before, and another wide-brimmed variety perfect for floating in water without burning.
First wine stop, Alta Colina before a late lunch. Maggie Tillman, who runs the place with her parents Bob and Lynn, shared a wealth of information. The new tasting room is located below the vineyard, which is available to tour by appointment. They poured delightfully blended Rhone GSM varietals and the Roussanne/Grenache Blanc addition to their Viognier is superb, as well as their lush Syrahs.
Close by was Mt. Olive Organic Farms, a perfect place to stock up on spreads and oils, as well as ready-made vegetarian and vegan items for a picnic.
Next place to sojourn was Kiamie wines for their 2009 Cuvee (velvety Syrah with a dash of Malbec and Zinfandel) among other lovely pours to accompany tri-tip with live guitar accompaniment. Sitting in deep chairs fashioned from used barrels, I took a break from reading my new book on working with trauma, and watched a mother and child llama do their thing.
Last call was a visit to Judy Starr, who also had a great tip for lodging at Inn Paradiso. (She raved too about their second location she recently visited in Mexico.) We couldn't resist laying down a magnum of her 2012 Private Reserve Cabernet Sauvignon. If you go when Judy's Hachiya persimmons are ripe in the fall, you are free to pick whatever you can reach.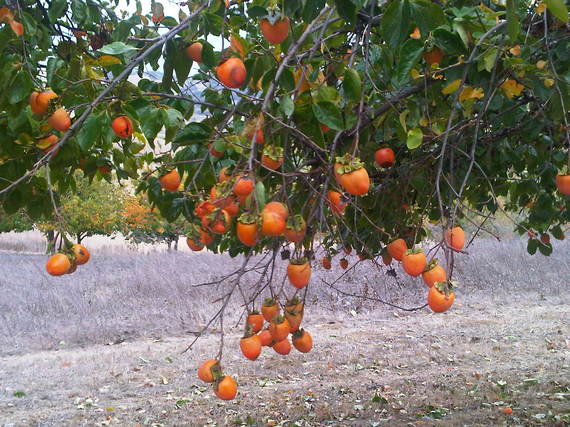 Before we returned to the motel a visit to Franklin Hotsprings was in order. If we had stayed overnight, we could have camped at Windrose Farms. Earlier that day we saw someone in town with their t-shirt, "Make Farms Not Arms." Known for their apples and tomatoes, the Windrose dynamic-duo Barbara and Bill Spencer also supply LA's finest eateries with their micro-greens and herbs.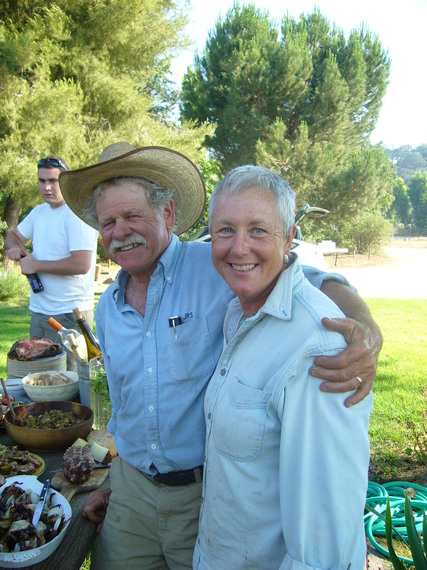 While on the southeast side of Paso we may have also paid a visit to our friends Mary and Philip Hart at their vineyard Ambyth Estate to sample their 2011 Counoise which was mentioned in AAA's Westways magazine, a trusted source of travel finds. If participating in a grape stomp is on your bucket list inquire within.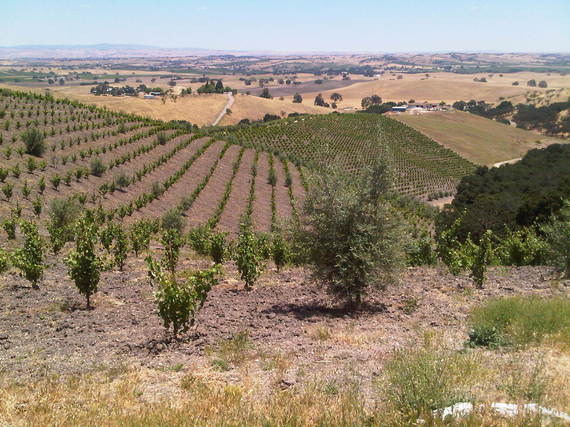 If we had taken Judy's suggestion and stayed in town we could have dined out at a number of places such as Artisan, wonderful if not a tad too rich; Thomas Hill Organics, our current fave, or Lynn's fave, the locals hang-out for Mexican food, Los Robles Cafe.
Instead we picked up a couple of salads for dinner from Trader Joe's. We were back at the motel with guilt-free popcorn, watched my favorite, the Weather Channel, and called it a day.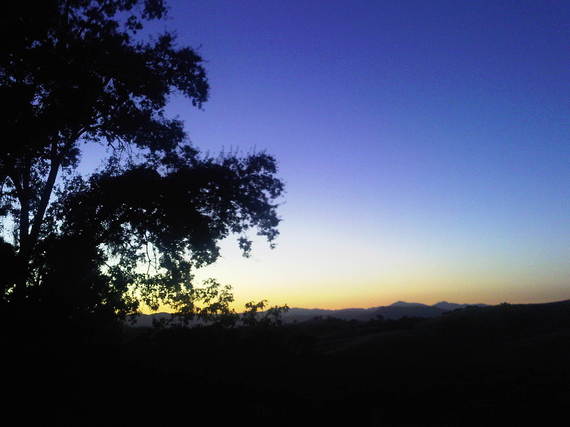 In the morning there was no breakfast to speak of, and our go-to Quackenbush Cafe was closed, so we tried Bob's Well-Bread Bakery, not to be confused with the equally delicious, Bell Street Farm. Also not to be missed is Full of Life Flatbread , only open on weekend evenings for dinner.
Another day in la dolce vita, would have brought us to the eponymous Bedford Winery where Stephan also puts on a good show with regular and fabulous wine and food pairings, for instance mushrooms in season, or his own variation on the theme of Santa Maria style barbecue.
Interested in a head start home before the heavy traffic hit, one more tasting in Los Olivos at Dragonette Cellars. Their Sauvignon Blanc choices were a nice surprise.
There you have it. These suggestions only scratch the surface. Over the last six years we've been going, more has become available and each time we add something new to the mix. May the same hold true for you.
All photos courtesy of Lewis H. Perkins