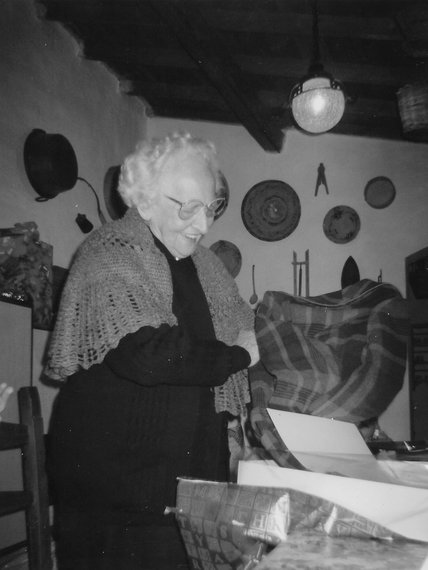 Nonna Eufemia, Italian for good woman, 1992
VACATIONING IN PLACE LIFE HACK
A recent dinner party transported me to another time and place. How convenient an escape. My new Italian younger soul brother, Simone Porcu sparked the occasion. Tech executive by day, chef by night, Porcu cooks to connect with life more fully. This hobby is an act of love, self-healing, and maintains a legacy.
We met Porcu at a Lisa Feinstein underground dinner, and realized staying in touch was necessary. Lassoing in our Italian soul sister, Luisa Bottari Stern, felt natural. When Simone volunteered to produce a 5 hour, 5 course, 12 dish dinner for 7 of us, how could we say no?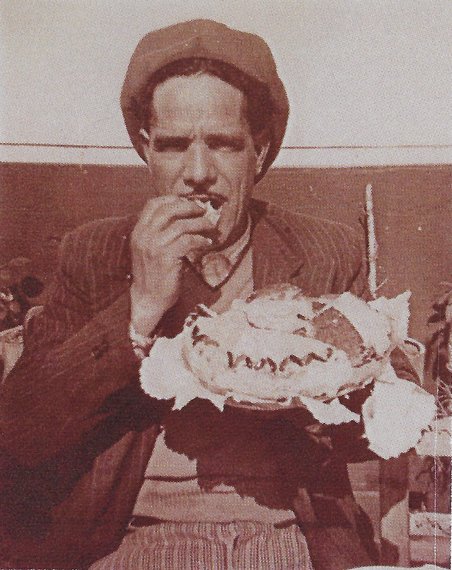 Nonno Mario, Eufemia's husband, eating panada, a salted veggie pie, 1955
DINING TO CONNECT
Breaking bread with others reaches back into what it means to be human. Cross-generational themes are built around food as an aggregator of family, friends and community. These are the roots, and the foundation, upholding us all, Porcu explained. Cooking his mother's, and Nonna Eufemia's recipes, it was if her spirit was in the house, hovering around the table and kitchen.
Porcu's family on both sides were grocers. He gleaned their cooking instructions from watching, and his mother's hand written diary of recipes when he left the island to Milan for university. Simone began cooking for himself, his then wife, their sons, and five years ago for the community. His goal is to, "preserve the simple elements of the Sardinian family cuisine which I complement with natural matches from other regions."
Porcu donates dinners like this at fundraisers, mostly silent auctions for community causes, namely the public schools in his town of South Pasadena, and NAMI. From silent witness and eager diner, the inter-generational transmission from an alert little boy's eyes and ears is reclaimed.
The reclamation project was enhanced by visiting a family restaurant in the Mission District of San Francisco, named La Ciccia a decade ago. Simone became good friends with chef and owner Massimiliano Conti, born in a small town less than 10 miles away from his family's town in southern Sardinia, and his wife Lorella, from Padova. Porcu went back every time he was in the city on business.
"Since then, La Ciccia has gone a long way but those guys have remained as genuine and approachable as ever. Their food was my inspiration, as I realized you can preserve traditions without being a traditionalist," said Porcu.
AT THE TABLE
The legacy lives on in Zoë Spezzano line cook at Redbird for the summer and student of hospitality with her pal forever, Luisa and Adam's daughter, Julia Stern. It is their dream to have a restaurant together some day.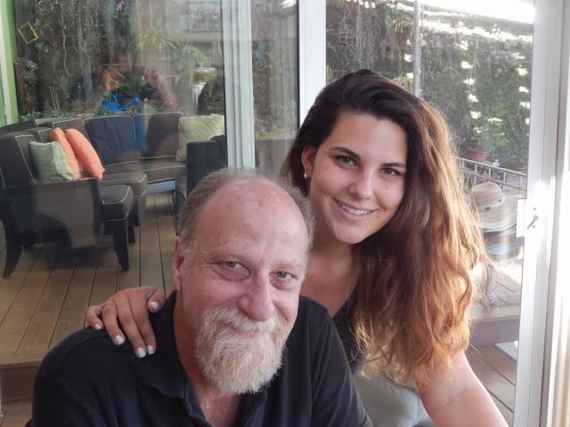 Father and daughter, Adam and Julia Stern
Luisa and her husband offered to host. Neighbor Stacie Hunt, a certified sommelier, provided wines while Hunt's husband, Peter McBride, serenaded us with his guitar.
PREP
We met Simone before the event for a shopping spree at Guidi Marcello, his main source for ingredients besides the care packages sent from home. Tucked in the nondescript section of the shrinking warehouse district in Santa Monica, inside it felt like Italy with nibbles and a yummy wine sampling.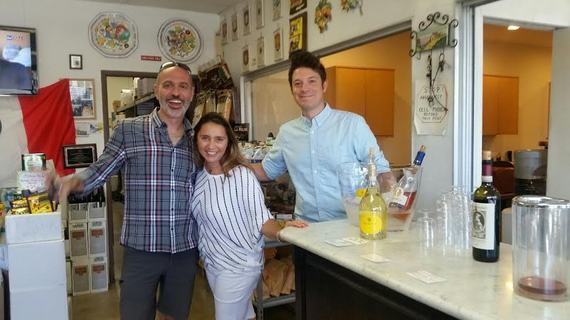 Left to Right: Chef Simone Porcu with Gessica Guidi
Guidi Marcello is a wholesale importer primarily for restaurants run by third generation Gessica. Their retail store is fantastic, perfect for a tavola tomorrow for Lew's visiting kids. Warning, you should shop here only if you possess an awareness, respect, and etiquette for what it means to be invited in. Return of items once purchased are not entertained.
MENU
Simone rolled up to Luisa's with a feast packed inside his car.

Burrata, tomato, basil, fennel, and shaved bottarga a new twist on a favorite dish
* Olive verdi di Gonnosfanadiga (green olives from the mecca of Sardinian olive oil)
* Miele di corbezzolo (strawberry tree fruit honey) goes with ricotta and orange zest simulates Pardula's traditional pastries' filling.
* The Mirto for desert, the Jaegermeister of Sardinia and perfect summer night digestive served chilled.
* The thin crispy bread Pane Carasau goes with everything. The thicker version used in octopus stew is called Pistoccu.
Both are vast improvements on the unleavened bread of our affliction called matzoh, warmed up and drizzled with olive oil from Azzurra, a non-profit organization that promotes cultural exchanges between Italy and Southern California.
Luisa reminds me that olive oil is sacred in Italy. It is, "Organic Olio Extra Vergine Di Oliva from Le Corti Dei Farfensi, selected first cold pressed oil from hand-picked, and carefully chosen from olive groves."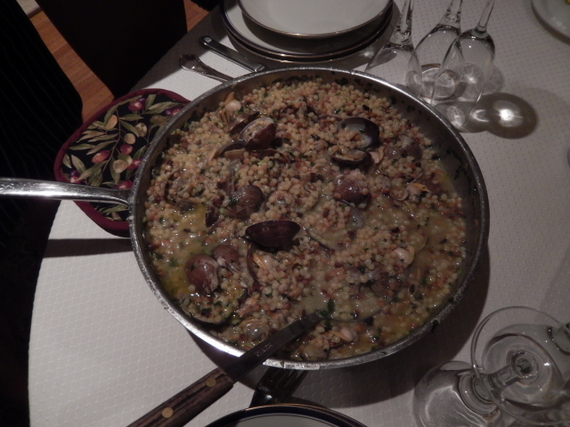 Fregola pasta with baby clams and shaved tuna heart aka black truffle of the sea
These antipasti and the clam pasta are sufficient for a tavola, Italian for brunch or dinner. Luisa's family remarked our meal tasted like Italy, her first home.
Chef Porcu's faves are highly typical dishes:
* Salsiccia aromatizzata al mirto (salami flavored with myrtle leaves)
* Malloreddus al sugo di cinghiale (small semolina gnocchetti with boar ragu)
* Pecorino di Gavoi (sharp cheese from the mecca of Sardinian sheep cheese, made by an elementary school classmate of Porcu's who is now a shepherd
THE GRAPES WE DRANK
Sardinia has been in the news, a hub of longevity, a Mediterranean island off the coast of Italy. She is the stately parent of boho Corsica, according to Hunt. The vineyard areas have excellent calcareous mineral deposits like our hub of good times, Paso Robles. The land once undersea gives the terroir a marine flavor from fossils mixed with mountain runoff.
You will trip over vineyards cooled by sea breezes, says Hunt, who paints the picture as I imagine citrus and olives growing along the coastal areas and plains below mountains. I looked for hot springs - another weakness of mine - but found none.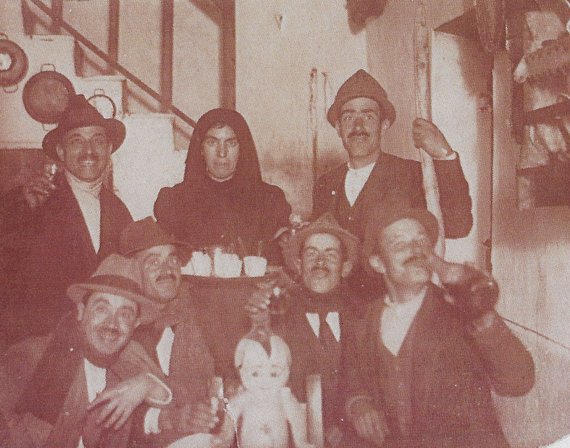 Hamming it up with homemade wine and unknown woman smile suppressed, 1920
CERTIFIED SOMMELIER STACIE HUNT'S CHOICES FROM DU VIN
Du Vin is another vinocultural destination. A West Hollywood landmark for the past 35 years, it is housed in an ivy covered home, set back along one of the oldest streets in Los Angeles, the Spanish divide known as San Vicente Blvd.
Santa Giuletta Rose, Vin de Corse, Corsica 2015
Grapes: Nielluccio (the DNA match of Sangiovese) and Sciaccarello.
Sella e Mosca La Cala Vermentino, Sardegna 2013
Sella e Mosca Cannonau Reserva, Sardegna 2010
WHAT NEXT?
Island life, iconoclastic and thrifty, making do with what is easy to come by. Sardinia is now on the travel bucket list of Sicily for a family reunion in the near future, maybe for my 60th.
Next stop, San Francisco to reproduce this dinner for the 30th birthday of someone special and a trip to La Ciccia. I look forward to this restaurant, a font of old wisdom meets the new, and a place for celebratory meals. The ambiance is legendary, welcoming and gregarious, according to Ms. Hunt. She take students here after conducting sommelier classes in the area.
Organizing around food, an aesthetic is strengthened and good will is too. The legacy of connectivity lives on. Friends are a key to life and it can be harder to make friends later in life. When it all comes together in my own backyard, this is lucid dreaming I can live with.
It would be remiss not to mention a few more shopping resources:
Gioia-Cheese-Company is a Los Angeles family owned company which makes Mexican comestibles and awesome Pugliese-style Italian burrata, ricotta and other authentic cheese ones too.
The Wine House is another local mecca of well-priced wines, erudite classes and a fine restaurant in Los Angeles.
Ranch 99 Markets are primarily Asian supermarkets known for their selection of seafood.
Italian book publisher Ilisso specializes in Sardinian culture and history with fine photography.