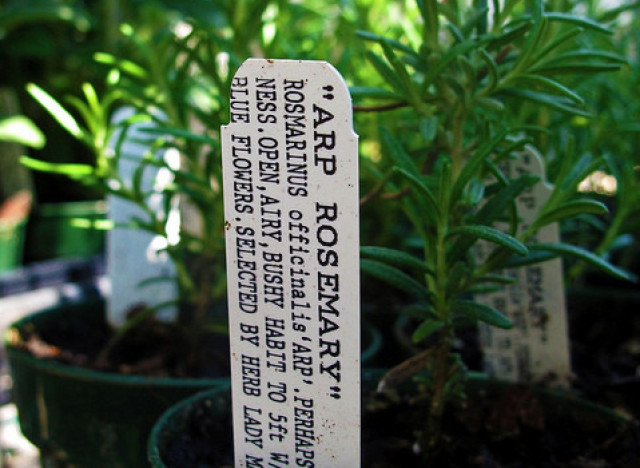 Flickr photo by shaggyshoo
Q: The season of entertaining is starting up strong. I was invited to a dinner party tonight and I want to take a plant as a hostess gift, do you have any suggestions?
A: Try a potted plant from the herb family. Parsley, sage, rosemary and thyme -- not just a Simon & Garfunkel album but also the perfect living hostess gift for the foodie in your life. An herb plant is something that the chef will utilize as a culinary seasoning and will also make a great houseplant. With so many to choose from, stick with the herbs that you think your hostess will use the most (possibly ensuring more dinner invitations to follow).
Q: How do you keep herbs alive?
A: Place your herbs in full sun for as many hours as possible. During warm months you can move them outside to soak in even more of the rays. They like well drained soil so planting them in containers where one can control the watering is a good idea. Pot them in a container that has a drain hole and saucer or try planting them in a self irrigated container. They like having an even moisture content without being wet. One exception is Rosemary which likes to have its soil go dry to the touch in between watering. Re-pot your herbs in the spring to allow for ample room for growth. Herbs are heavy feeders so fertilize spring through fall with an organic fertilizer.
Q: Being an amateur chef myself, I have tried to grow and use herbs for my own cooking escapades but after a while they start to look funny and leggy. What was I doing wrong?
A: If all of the cultural care instructions were followed it is probably a result of how the herbs were being pruned for use. How you pinch your herb plant directly reflects how it grows. When you want to use the herb for cooking pinch the actual stem back versus pulling off the leaves. By pinching the stalk back it lets the plant send out more leaves and maintain a bushy healthy shape. When you start to see flower buds immediately pinch those, the blooms might be pretty to look at but your herb will not create new leaves if it is concentrating on making flowers.
Q: Is there anything to watch out for when growing herbs?
A: Watch out for mealy bug and aphids that might take a liking to your plants. If an infestation occurs make sure you spray with an organic insecticide as to not interfere with your eating pleasure. If the leaves start to turn yellow the most common cause is over watering. If this happens change your watering routine slightly so that your soil is not too wet and make sure there is ample drainage.
Q: I am absolutely set on bringing an herb plant to the dinner party tonight. Any other ideas of something to bring to accompany it?
A: Why not pair it with a cook book that will foster ideas on how to utilize the herbs or a subscription to an organic food co-op for the month? Happy planting...and eating!