Here is a houseplant that boasts both form and flower. What more could you want? Adenium is a broad genus of plants that are native to an East to West swatch of Africa -- just south of the Sahara and into the Arabian peninsula. These exotic shrubs have bulbous bases and branches that thicken as they age and will be mostly evergreen if kept warm in all seasons. In cooler home temperatures they will shed some leaf and can even be allowed to go through a full dormancy of several months in the winter. Even when they are 'naked' I find that their structure holds its own as a beautiful object and should have no reason to be bashful. When kept in warm sunlight and well-watered, some clones of this plant will flower for most, if not all, of the year. Need more convincing? It's also called a Desert Rose, as the flowers, ranging from light pink to bright, scarlet red, are produced in great profusion. Also nicknamed "Frangipani" by some, this houseplant even comes with an endearing nickname, which is convenient as she or he will soon be your new best friend.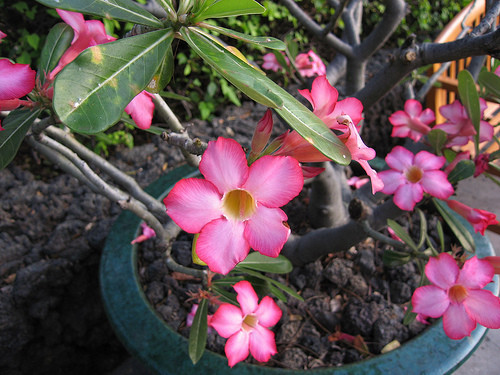 Flickr photo by troymckaskle
Plants are often hybridized and then reproduced from seed or from stem cuttings. There are numerous varieties on the market -- and they all live up to these fabulous qualities. Plants in the wild and those produced from seed mature with a swelling bulbous caudex, or base. Each shrub, in this way, is atop an intriguing barrel-shaped trunk. Plants grown from cuttings, however, will usually not produce this caudex, but still grow ever-thickening branches and roots. These roots can be exposed over time to achieve a similar effect.

This desert rose looks best when displayed alone in a container as a houseplant. Or, for those who live in warmer climates, they can be planted in clusters for a sculptural effect. Either way, Adenium, or desert rose, makes for an intriguing specimen that you will instantly fall in love with.