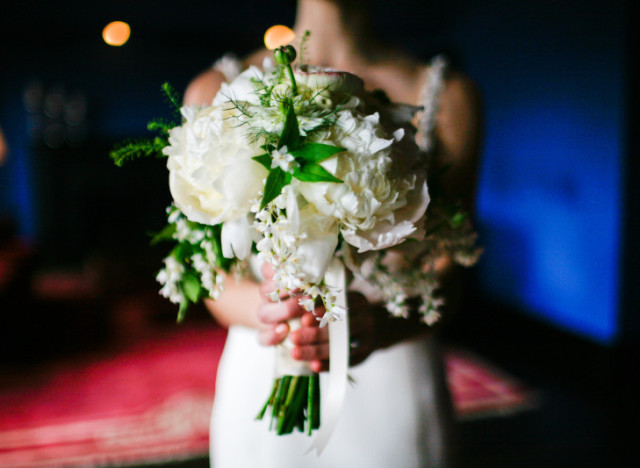 Photo: Ramsay de Give

One thing that I find beautiful about winter is the calm that comes over me when I look at the fresh white snow blanketing the city, so regal, pure and somewhat innocent. It changes the color palette of the world around you for a couple of months which is bound to effect how you see things. Just like the seasonal weather change, my floral cravings can change accordingly. I get excited when an opportunity presents itself to create floral for a winter wedding or a holiday arrangement where the juxtaposition of winter whites can be explored and manipulated. I do not see it as a limited palette but instead a of study of form and texture with tonal contrast. You do not need an abundance of color to make a statement, sometimes less (color) is more.

When you are creating your own floral piece or need to verbalize to a florist about what you are looking for, know that there are various shades of white. Remember the last time you painted something 'white' and you were in awe of how many options there were for white? Some color chips might be completely void of pigment but most have a hint of color which can point to any direction in the color wheel. Selecting floral for your white bouquet can be a lot like selecting from those white paint chips. Keep in mind these hue differences when setting the tone for your arrangement.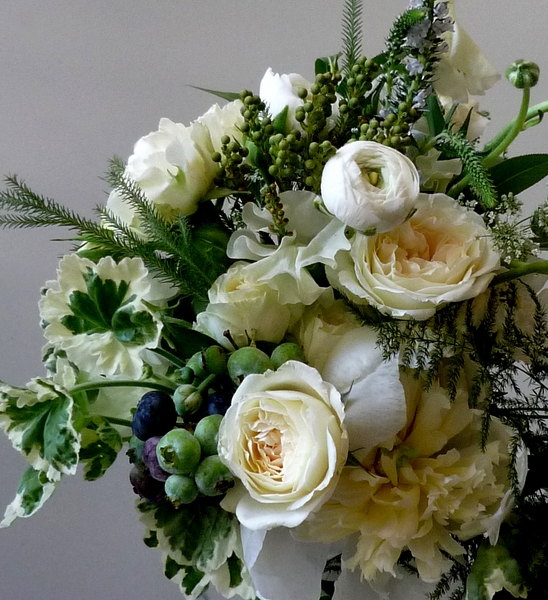 Photo: Sprout Home

When creating a bouquet that does not utilize vivid color as a main focus you have to remember to pay attention even more to texture contrast in both the flower and the foliage. Just like the flower itself, foliage can have different color tones as well as as texture. Think about the variations of that foliage in the grand plan of your bouquet. Foliage does not always have to be one shade of green. Try intensifying the white hues of your bouquet with foliage that mimics the same characteristics. The fuzzy leaves of dusty miller, scented geranium and even sage can soften and compliment your winter bouquet.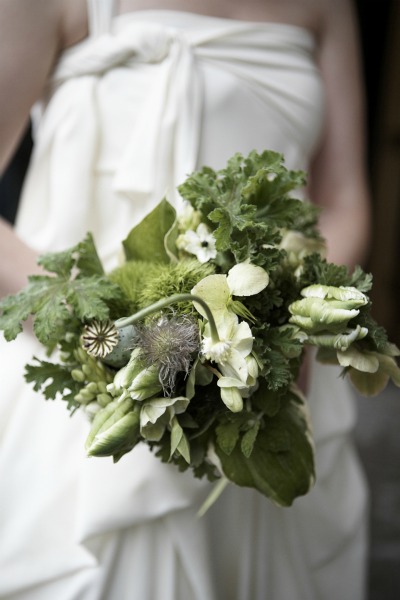 Photo: Ramsay De Give

When you select your tonal language of your bouquet you can then introduce other colors within to compliment your creation. One of my favorite pairings with shades of white is it's complete opposite - black. Contrasting black and white can take a bouquet to its extreme. The combination cant help but draw attention with drama and elegance. Some of my favorite flowers to play with when integrating black within the white palette is Anenome 'Panda', chocolate Cosmos and black Calla Lillies. You will notice that the black Calla's will have hints of dark purple, the Cosmos that of regal burgundy and the Anemone an almost iridescent blue which you must keep in mind.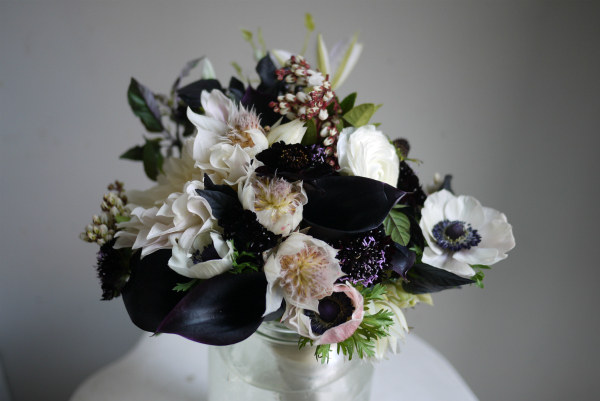 Photo: Sprout Home

Billy Idol was wrong when he said that there was nothing pure in this world. White bouquets can not only be pure but majestic and alluring at the same time. Welcome the winter white bouquet.