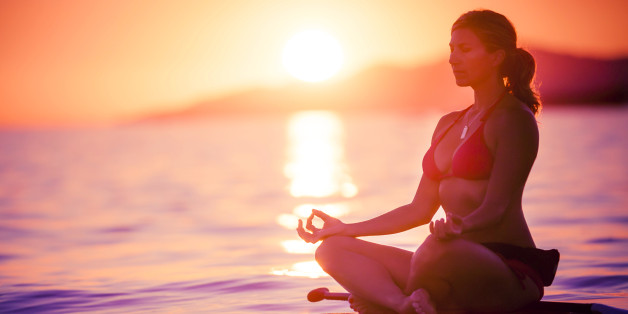 It was during my daily commute home from work on the Metro North train to Manhattan from Connecticut when my boss called. He had never called before, but somehow I was expecting this call.
"Tara," he said timidly, "you're on the list."
"Oh shit," I responded, quite surprised.
"Yes, and I am too," he said sadly.
He was shocked and so was I -- he had recently been promoted.
He then added that his boss and the HR manager were on the list too. He told me to go home and rest and that we'd talk in the morning.
A slight smile crossed my face as I hit end on the phone.
We all knew the layoffs were coming. For a couple of months the energy around the office was potently fearful. Everyone was desperately hoping to keep their "stable and secure" careers.
I, on the other hand, saw it as an opportunity to escape. In fact, this is what I'd been working on manifesting using the Law of Attraction for the past six months.
But truth be told, I was surprised it had actually worked.
I tried to let it all sink in. In one month I would be jobless. After seven committed years and a recently completed MBA in Finance, I would be laid off in the worst job economy my generation had ever seen.
As the train entered the dark tunnel approaching Manhattan, the fear began to envelop me. I had quite an expensive shoebox apartment in the city, and I owned a condo in Connecticut, a car, lots of clothes and shoes, and had a lifestyle to tend to.
What was I going to do?
But this was what I wanted, right?
I had watched The Secret six months prior to this day and the message was eye opening for me: My thoughts create my reality.
The truth was that I was miserable in the corporate banking environment. My creativity was not embraced, my values not considered, and my womanhood ignored, and there was a complete lack of meaning that haunted my soul as the years went on.
I finally admitted that to myself the day I watched The Secret and from that moment on I was committed to letting go of the fear of how, what, and when, and to just visualize the life I wanted. All I knew then was that I wanted to create the freedom and finances to travel the world and find myself. To start I created a big vision, and then a vision board. I got clear on what I wanted, and then spent every free moment while commuting, walking around the city, or at the gym directing my thoughts to how living that life would feel.
And now, that day was here -- the visualizing had worked.
The next morning I walked into a very somber exit interview. My boss's boss and the HR manager were there. They told me that my position was no longer available and that they had to let me go. They explained my severance package and asked if I had any questions.
I smiled.
They looked confused.
I wished them well considering the situation they were in as well, them with 20+ years with the company, families and multi-million dollar mortgages to worry about, and walked out feeling the most free I had since I was a child.
I don't know if I would've ever mustered up the courage to leave the "stable" corporate job my immigrant parents had dreamed for me. But the Universe had a different plan for me, and although this brought up my fears around security and the unknown, the only thing to do was embrace and trust it.
Now, after many years of spiritual growth, I know without a doubt that nothing happens by mistake. Everything happens to take us in a new direction, to lead us down a different path, and to teach us lessons.
Sometimes that's hard to feel in the moment. But five years later, I can say without a single doubt that getting laid off was one of the best things that has ever happened to me.
What I know now is that when you get clear on your big vision and align with that vibrationally, everything (relationships, job, location) that is no longer in alignment with that new vision will fall away, like magic.
The day after my official day of freedom, I boarded a plane to my first yoga teacher training in the Bahamas with absolutely no intention of becoming a yoga teacher. I was just following my intuition. And with a group of 50 others, I meditated, chanted, and practiced yoga every day, and after those 30 days, it had absolutely changed my life.
The fearful thoughts of What am I going to do next? How am I going to make money? What am I going to do next? released. It became clear -- I gave up all of the shoes and clothes, sublet my Manhattan apartment, packed a travel backpack, and flew to Thailand. I spent the next three years traveling the globe on a spiritual sabbatical.
I now live a location independent lifestyle in the seaside Caribbean village of Tulum, Mexico. I've created a business using my unique talents, experiences, and education to coach other soulful women on how to finally leave the corporate world and pursue their true passion and purpose.
What is the voice inside of your heart telling you? If your job doesn't feel like the fullest expression of your gifts and talents, then it's not right for you. Think about what fires you up, what you love to talk about and help people with, the moments of hardship or healing in your story, or the skills you have that are your natural born creative expression. They need to be shared with the world. This is the service. And when your soul is of service, it's happy.
Take a moment to journal about your true desires. Don't let them die deep inside you. Bring them to the center of your heart and express them to the world. Then, allow yourself to dream big and visualize as often as you can the life you want to live. Remember, your thoughts create your reality. Start now. The world is waiting for your unique gift.