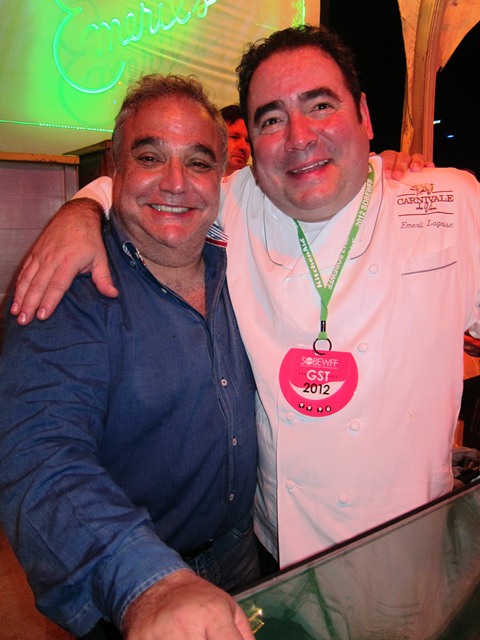 South Beach Wine and Food Festival founder Lee Brian Schrager with culinary superstar Emeril Lagasse at The Q
"Why do mojitos taste so much better in Miami?" mused superchef Bobby Flay, taking liberal sips from a tall, icy glass -- his first of four -- while onstage at the 11th Annual South Beach Wine & Food Festival, which just wrapped a hugely successful four-day, 48-event run.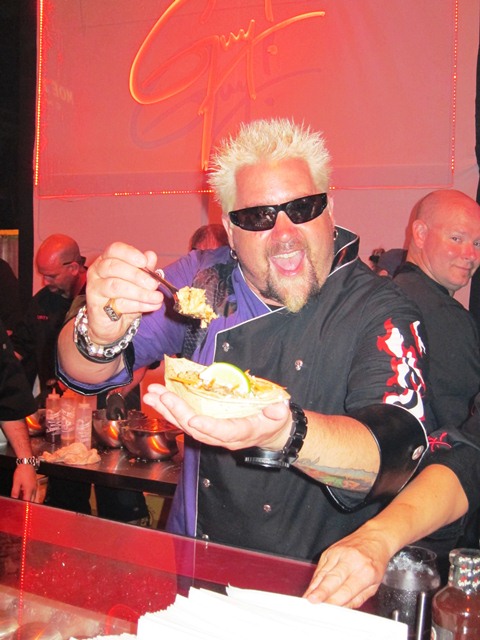 Triple D star Guy Fieri shows off his 'money' Banh Mi taco with BBQ chicken fried rice at The Q
Al Roker serves up a spicy pulled pork slider at The Q
The enthusiastic crowd at Flay's cooking demo on closing day at the Whole Foods Market Grand Tasting Village needed little encouragement, freely interacting with the culinary star and shouting questions and opinions, including one woman who dared volunteer that she didn't like fried chicken. (Once Flay demanded she join him onstage as he prepared fried chicken with honey-lime-pink peppercorn sauce, she reneged.)
Not unlike Mardi Gras for foodies, the South Beach Wine & Food Festival is an unabashed love fest of food and wine in excessive proportions. Moderation was jubilantly ignored at the festival's opening event, The Q, where the winning combo of barbecue and Moet Hennessy bubbly were the order, and local chefs were comingled with Food Network superstars, giving guests an all-access pass. How sweet were hosts Emeril Lagasse and Guy Fieri, hamming it up for photos, making witty banter and feeding us, to boot? Let's just say, they make it look easy.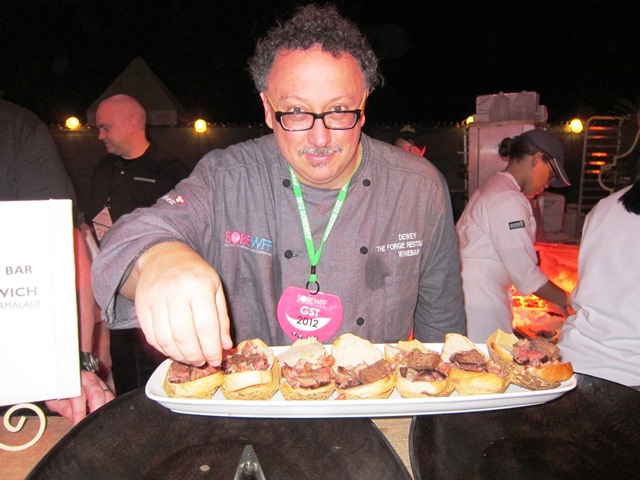 Chef Dewey LoSasso of The Forge plates sliced filet mignon sandwiches with boneless short ribs and lobster marmalade at The Q
Chefs Jason Schann and Michelle Bernstein at The Q
Chef Kris Wessel of Red Light Little River at the Grand Tasting Village
By Sunday, the festival's closing day, we could barely look at another pulled pork slider -- which, of course, didn't stop us from sampling each and every one at the Grand Tasting tents, which Yelp Miami Community Manager Monica Silvestre tweeted as being her version of "heaven's gates." We saw her hours later, still in the tents, almost rapturous. "I don't want to leave," she admitted. We knew the feeling all too well.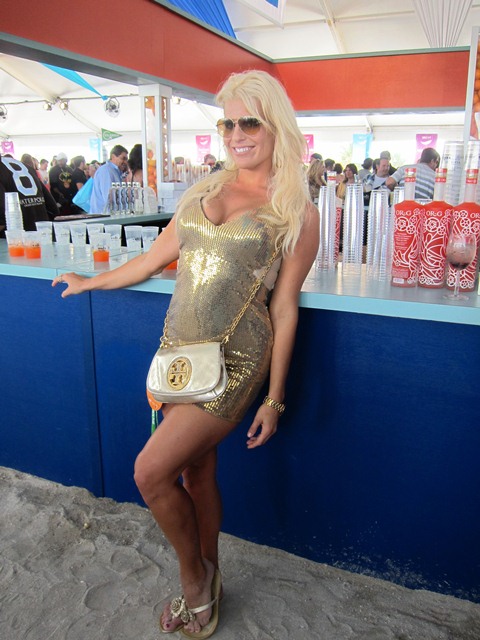 Alissa Edwards shines at the Grand Tasting Village in true Miami Beach fashion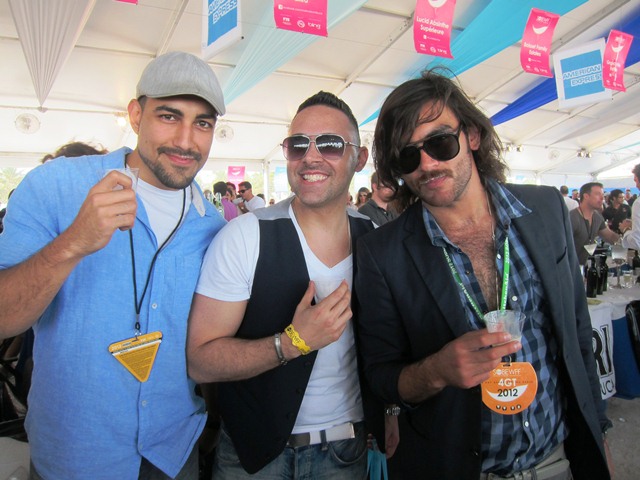 Andres Dalmastro, Silvio O. Zafra and Diego Val with matching adult chocolate milk staches at the Grand Tasting Village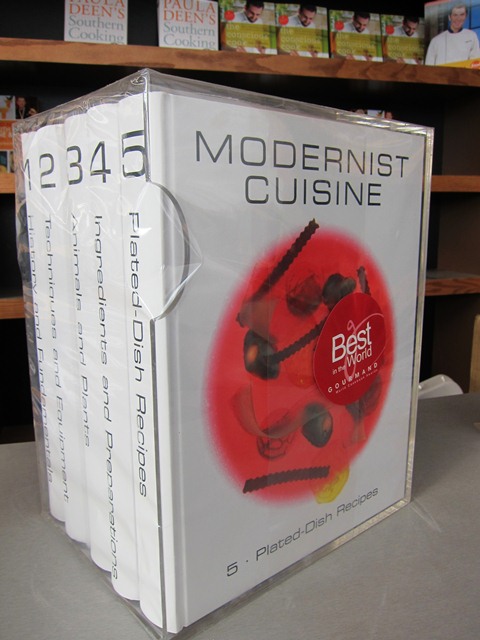 "Modernist Cuisine" book set, which retails for $625, at the Books & Books tent at the Grand Tasting Village
A Festival of this magnitude is, shall we say, more easily digested when broken up into tidbits. Here's a look at this year's SOBEWFF by the numbers:
58,000+: Foodies who descended upon South Beach for SOBEWFF 2012
4: Days Miami was consumed by the annual festival
11: Number of years everyone's favorite foodie fest has been held
$2 million: Estimated amount raised this year for FIU's Chaplin School of Hospitality and Tourism Management
$16 million: Approximate amount raised for the school to date
6,500: Total number of guests, per day, who attended the festival's signature Whole Foods Market Grand Tasting Village
46: SPF we religiously slathered on for a day at the Beach
49,740: Bottles of wine and spirits poured
40: Restaurants, per day, that participated in the Grand Tasting Village
25: Food Network celebrity chefs who participated this year, from Emeril Lagasse to Guy Fieri to Rachael Ray (24 if you count "Down Home with the Neelys" hosts Patrick and Gina Neely as a single entity)
4: Cooking Channel celebrity chefs who participated this year, including Bethenny Frankel, Nadia G., Debi Mazar and Gabriele Corcos
4: The number of mojitos Bobby Flay downed during his Sunday seminar
4: Resulting number of tries it took a flushed Flay to properly pronounce the word 'consistency'
$2,280: Cost of SOBEWFF's most expensive package, the Gansevoort Ticket Package, which included 3 nights' accommodation in a Deluxe King Room, 3 days access to David Barton Gym, 2 tickets to either Wine Seminar A or Wine Seminar C, and 2 tickets to the Whole Foods Market Grand Tasting
$45: Cost of the festival's most budget-friendly event, "MonoArabica: The Root of the Blend by illycaffé Master Barista, Giorgio Milos"
$625: Cost of formidable five-volume set, "Modernist Cuisine: The Art and Science of Cooking," sold at the Grand Tasting Village's Books & Books tent
5: Number of "Modernist Cuisine" five-volume sets sold over the weekend
<30: The amount of votes by which Michael Symon's pork burger beat out Bobby Flay's buffalo-style burger at Burger Bash
240: Number of days we must wait until tickets for next year's festival go on sale October, 26, 2012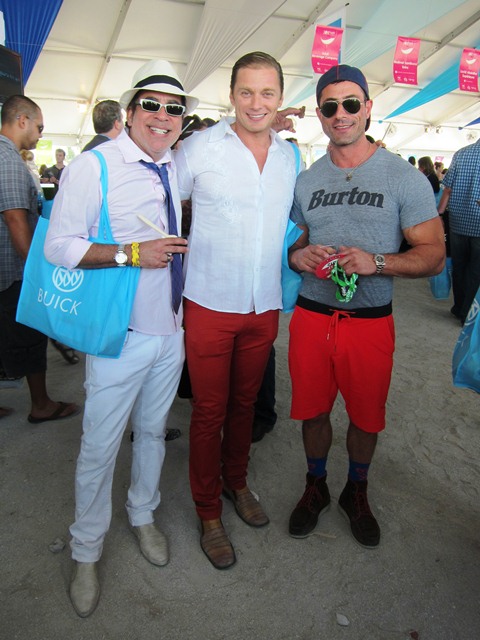 Richard Jay-Alexander, Edison Farrow and Ernie Levy at the Grand Tasting Village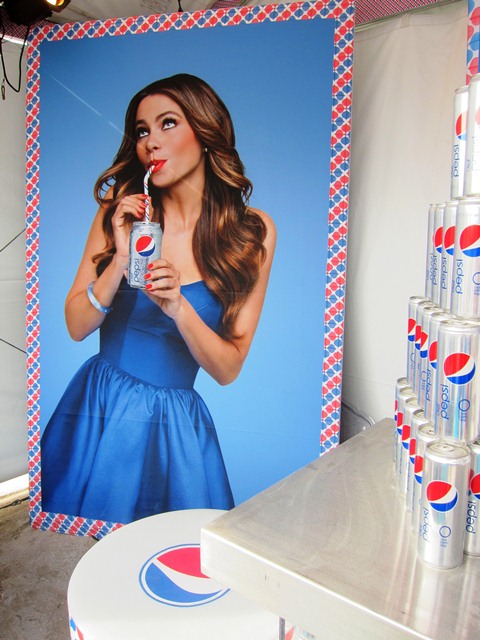 Miami girl Sofia Vergara makes a SOBEWFF appearance, if only in spirit