We really must learn Beyonce's trick for sleeping with a full face of makeup (as per urban goddess Amber Rose in the New York Post), because it would sure come in handy these days. (We, on the other hand, wake up with pink eye whenever we try this, but, then again, we're not Beyonce.)
What with a slew of new hotel and restaurant openings -- The St. Regis in Bal Harbour with Jean-Georges Vongerichten's restaurant, J&G Grill; The Shelborne in South Beach with Vesper American Brasserie, Bar Tanaka and Lucy's Cantina Royale; Bianca and the nip-tuck of Rose Bar at Delano -- it's been even more nonstop than usual.
Breguet U.S. Brand President Michael Nelson and Lea Black at Breguet Bal Harbour
The St. Regis is as glorious as everyone claims, with special merit going to the 1970s-influenced mirrored entry vestibule with its soaring ceilings and Brady Bunch sofas. We got our first look at the property when iconic Swiss timepiece maker Breguet hosted a dinner to celebrate the opening of its handsome Bal Harbour Shops boutique, with guests including Gigi and Randy Whitman (Mr. and Mrs. Bal Harbour Shops), Brazilian Ambassador Hélio Vitor Ramos Filho, Lisa Pliner and Lea Black. Lea, wife of defense attorney Roy Black and one of Bravo's Real Housewives of Miami -- which is rumored to return this season with two new housewives replacing Christy Rice and Larsa Pippen (and, no, we didn't hear this from Lea) -- lamented over returning from the Christie's Elizabeth Taylor jewelry auction in New York empty-handed. "I mourned for days -- I still do," said Lea, who compensated for losing the bids on Liz's cognac diamond, Mike Todd diamond bracelet and Cartier cuff by doing extensive retail damage elsewhere shortly thereafter.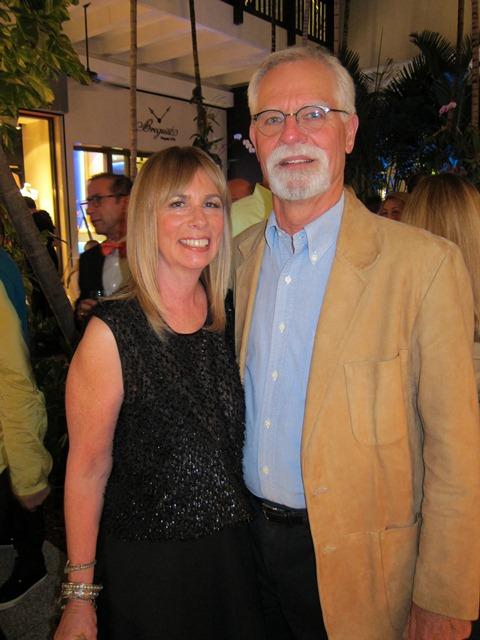 Gigi and Randy Whitman of Bal Harbour Shops at Breguet Bal Harbour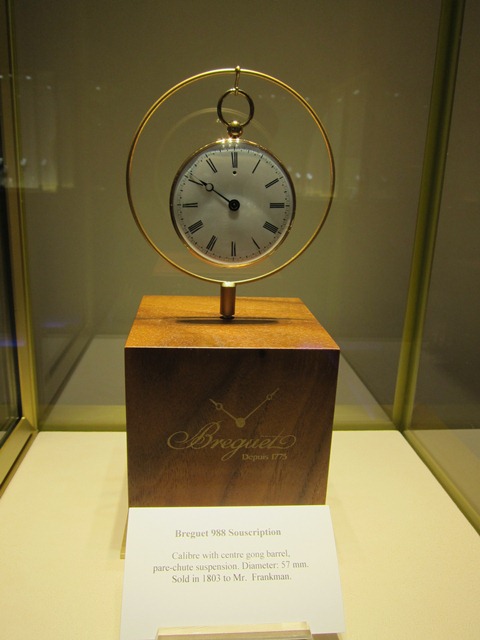 An 1803 Breguet pocket watch from the Breguet Museum in Paris, at Breguet Bal Harbour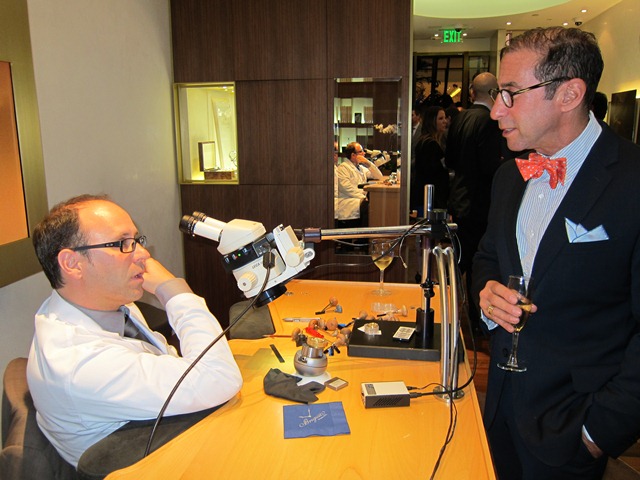 Stephane Aubert, master engraver for Manufacture Breguet, with David Granoff
(Don't even get us started on the Elizabeth Taylor auction, which nearly landed us in therapy. Our consolation gift-to-self, markedly more modest than Lea's, was a vintage YSL necklace from Screaming Mimi's on eBay.)
Jewelry is always a topic of conversation whenever we're around glamazon Elizabeth Kane Beracasa and her doting husband, Alfredo Beracasa, who celebrated their 20th anniversary with a gaggle of VIP friends at Symcha's Restaurant in SoFi. Cozy and dark -- a bit like our favorite retro spot, Melyvn's in Palm Springs, but sans piano player -- Symcha's was brimming with Miami glitterati, including pop artist Romero Britto, Miami Real Housewife Marysol Patton, Yolanda and Jeff Berkowitz, Lily Zanardi, Carol Iacovelli, Nancy and John Batchelor, Linda Levy Goldstein, Sam Robin, Ana Remos and Iran Issa-Khan, the latter sporting the most incredible pair of earrings by Ranjana Khan. Host Elizabeth's lovely white diamond sparklers were a gift from the generous and clever Alfredo to reward her for, she said, simply not going a trip abroad.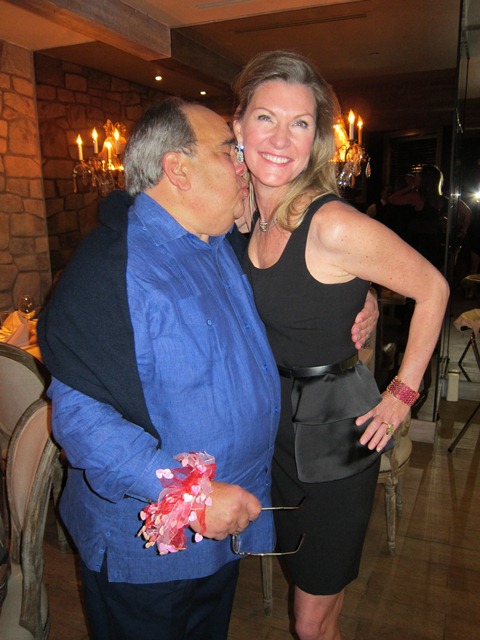 Alfredo and Elizabeth Beracasa celebrate their anniversary at Symcha's.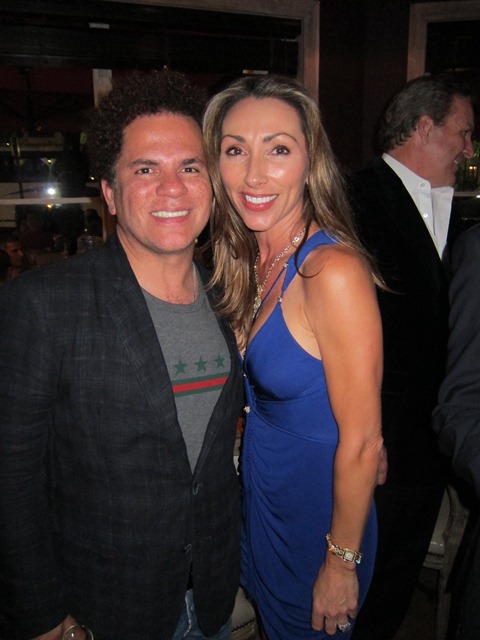 Romero Britto and Carol Iacovelli at Symcha's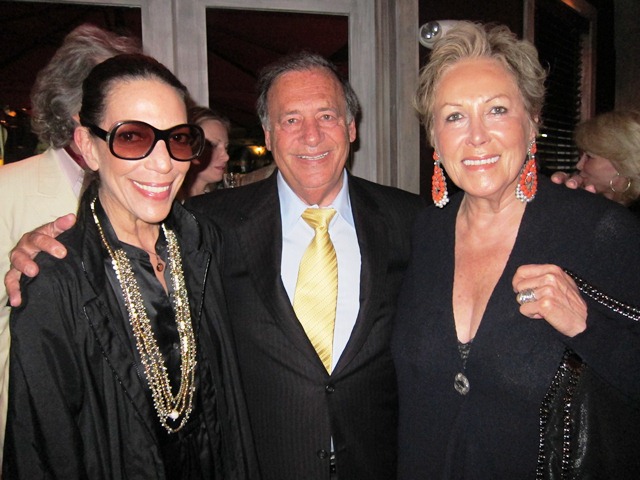 Sam Robin, Jeff Berkowitz and Iran Issa-Khan at Symcha's
On the subject of love, we have to give a shout-out to one of our favorite couples anywhere, Diane and Aristotle Ares. An A-list staple on Miami's charity and society circuit, the elegant couple recently celebrated Aristotle's 88th birthday. When asked his secret to a long, happy life, the genteel philosopher recited a poem he had written: "Kind hearts are gardens, kind thoughts are roots, kind words are flowers, kind deeds are fruit." And how beautiful is that?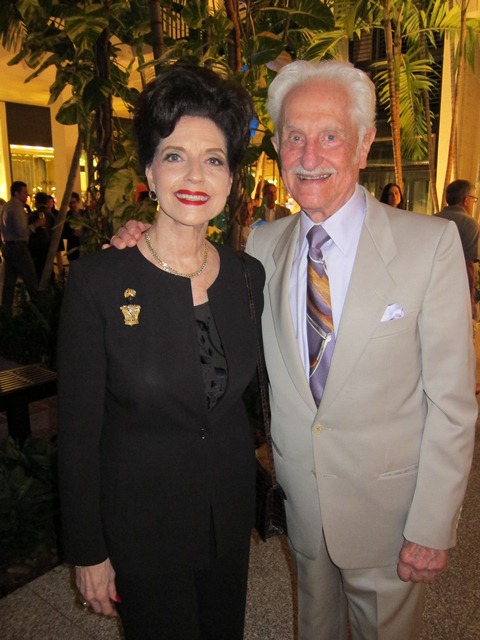 Diane and Aristotle Ares at Breguet Bal Harbour
Any excuse to dress up like a geisha works for us, with Chinese New Year being the ultimate justification. At Philippe Chow Miami, the Year of the Dragon was celebrated in high style, with the back room of the Ocean Drive restaurant packed with a veritable who's who, including Food Network host Ingrid Hoffmann, hotelier Alan Lieberman, real estate power players Alicia Cervera, Jr., and Sildy Cervera, society sweethearts Shari Liu and Alejandro Grimaldi, Criselda Breene, Sam Robin, Iran Issa-Khan, Dana and Gary Shear, Fred Gonzalez, Manny Hernandez, CBS-4's media darling Lisa Petrillo with hubby Bill McCue, and Lisa and Donald J Pliner, along with 7-year-old fashionista daughter, Starr, whose saucy red cheongsam was identical to ours, making for a bizarre who-wore-it-best moment.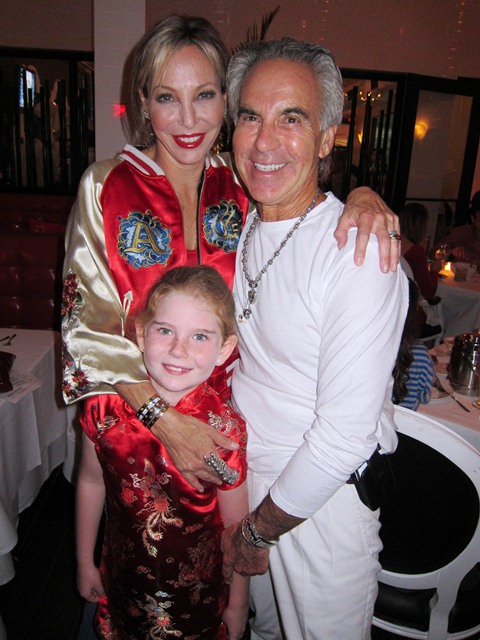 Lisa and Donald J Pliner with Geisha-ed up daughter, Starr, at Philippe Chow Miami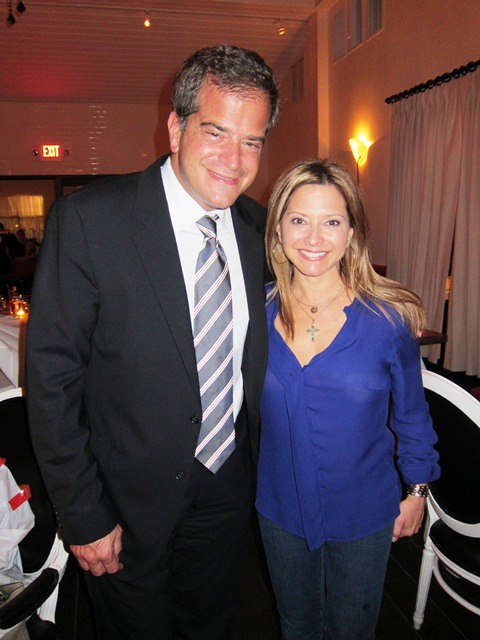 Philippe Chow CEO Stratis Morfogen and Food Network personality Ingrid Hoffmann at Philippe Chow Miami
Sildy Cervera and Alicia Cervera Lamadrid at Philippe Chow Miami
The worst part of living in Miami, as any curly-haired local will tell you, is the humidity, which can be so potent one can morph from silky tresses to chia pet in five minutes flat. This makes us all the more thrilled for the opening of BLO Blo Dry Bar in Midtown, where blow dries are the one and only specialty. The temple of tresses held its grand opening bash at Ricochet in Miami's microcosm of Midtown, home to such urban creature comforts as Target, West Elm, The Dog Bar, Gigi café and PetSmart, where -- good to know -- they sell fresh organic wheatgrass for cats and little Martha Stewart pet poopy bags in a lovely celadon green.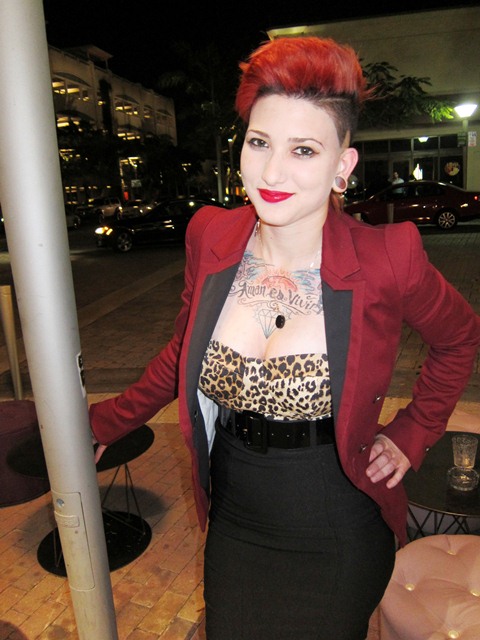 We admired Alex Casanova's super-sized tattoo, "amor es vivir," which means "to live is to love" en espanol, at the BLO Blo Dry Bar Midtown grand opening.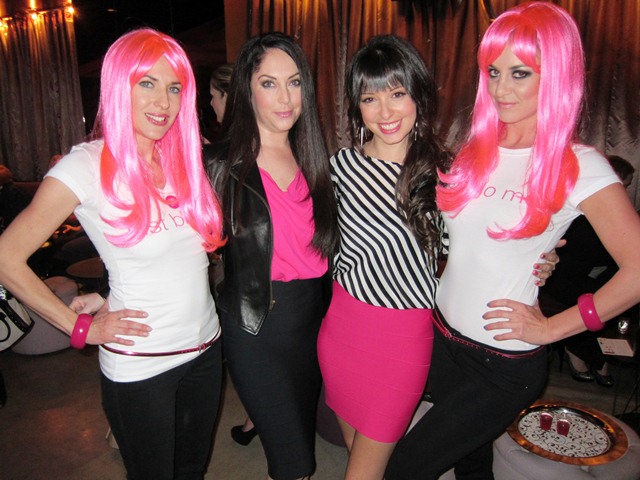 Yolanda Ramirez, BLO Blo Dry Bar owners Sandirose Magder and Kailey Magder, and Vanessa Hoza at the BLO Blo Dry Bar Midtown grand opening
The Sunday drizzle (chia pet alert) didn't keep us or anyone else away from the grand opening of the Lindemann Family Creativity Center at Bass Museum of Art in Miami Beach, where children ages 6 to 12 -- and their parents -- can enjoy art classes and workshops. After the ribbon cutting, the children retreated to a room with state-of-the-art craft tables that were height-adjustable and designed to fold up when not in use, Murphy Bed-style. There, both genders made colorful pipe-cleaner fantasy wands as a few of the older girls, one wearing a lacey fascinator, ran around with clipboards, looking very responsible.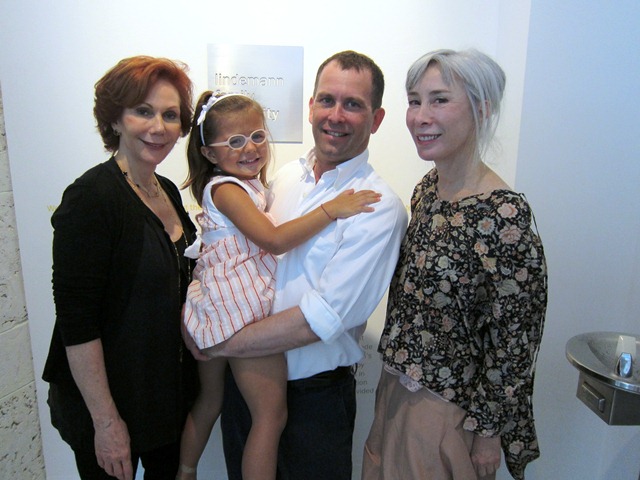 Bass Museum of Art President George Lindemann, Jr., with daughter, Beatriz, and art collectors Cricket Taplin and Susan Bell Richard
We saw the Harrelson Family, as genetically blessed as the Kennedys, and vintage clothing specialist Hollen Rosenberg with her adorable brood. Sagamore Hotel art curator/owner Cricket Taplin told us how she stays so haricot-vert thin (some exercise that has the word "extension" in it, which scares us already), and we got to tour the very funny "Drinking Sculptures" by Erwin Wurm in the upstairs gallery space. (Scrawled in black marker on a vintage cabinet are Wurm's instructions: "Open the cabinet door/ take a bottle of alcohol out/pour it in the glass/and get drunk. Do it/seriously.")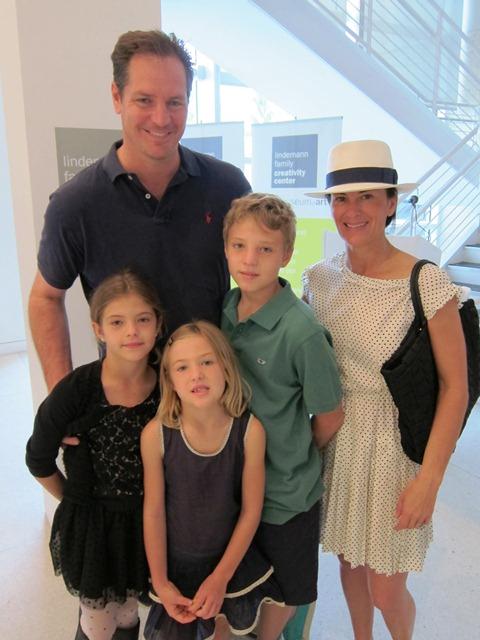 Austin and Sarah Harrelson with their children Audrey, India and Quinn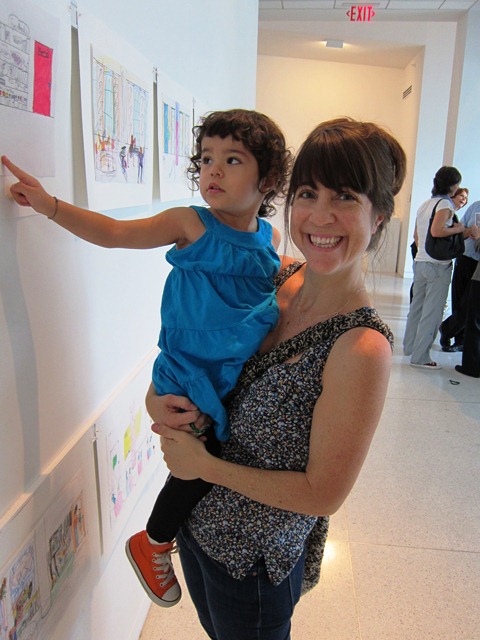 Artist Frances Trombly with her daughter, Penelope
Sated on art, we ventured out into the frizz zone, clutching our zebra-print umbrella for dear life.