Icon worship takes all forms, and this past weekend was rife for paying homage to some of the world's most profound style icons: Elsa Schiaparelli, Yves Saint Laurent, Salvador Dali and Diana Vreeland -- all names we would covet for the guest list at our imaginary deceased legends dinner party.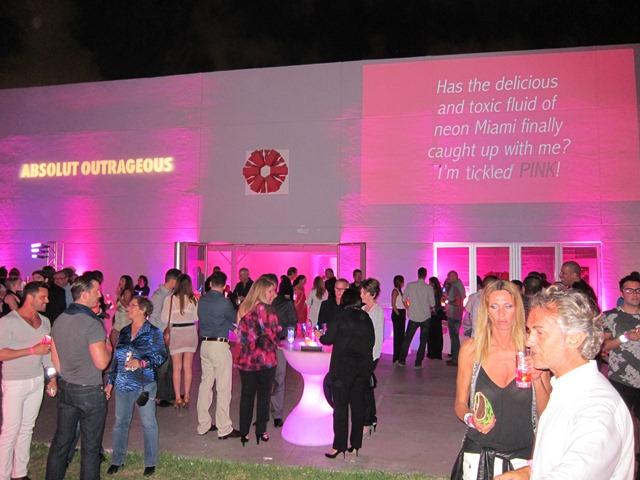 The Carlos Betancourt LET THEM FEEL PINK! installation at Awarehouse had Miami tickled pink
Elsa Schiaparelli was present through the power of her signature hue, shocking pink, at the world premiere of artist Carlos Betancourt's custom installation for Absolut Vodka, entitled LET THEM FEEL PINK!, held at Awarehouse in the Wynwood Arts District. A 25-foot-long waxwork bursting with pop culture symbolism, the work featured hundreds of objects acquired from Betancourt's travels throughout Florida -- flamingos, garden statuary, souvenirs and all sorts of kitsch -- coated in gallons of Schiaparelli-pink resin. Betancourt, whose artwork has been featured in Art Basel Miami and is part of the permanent collections of the Metropolitan Museum of Art in New York and the Smithsonian National Portrait Gallery, wore matching pink shoes for the event -- spray-painted just moments before the artist left the house.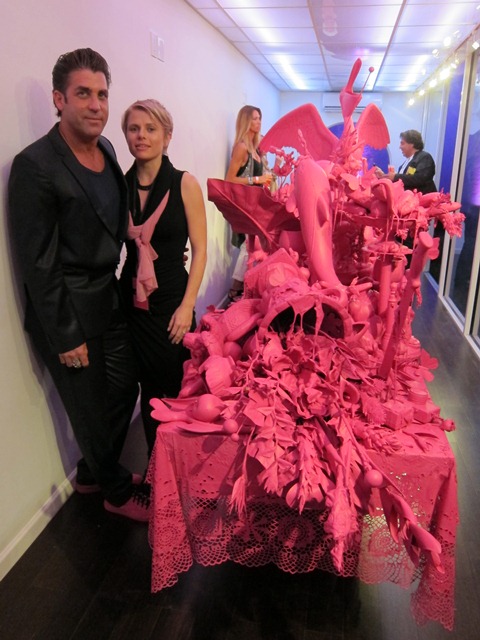 Carlos Betancourt with art curator Claire Breukel at LET THEM FEEL PINK!
LET THEM FEEL PINK! as an installation title is not unlike a hybrid of Marie Antoinette's famous proclamation, "Let them eat cake!" combined with the expression "think pink," the theme of the fanciful musical number in the 1957 cult classic film Funny Face. Which, of course, was inspired by famed Harper's Bazaar and Vogue magazine editrix extraordinaire Diana Vreeland, who was the subject of the documentary The Eye Has to Travel, shown on the closing day of the Miami International Film Festival.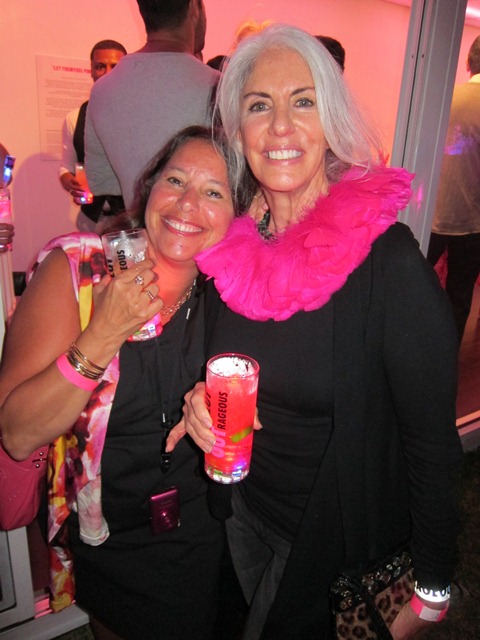 Marissa G. Bogescu and Raquel Vallejo, feeling pink at Awarehouse in Miami's Design District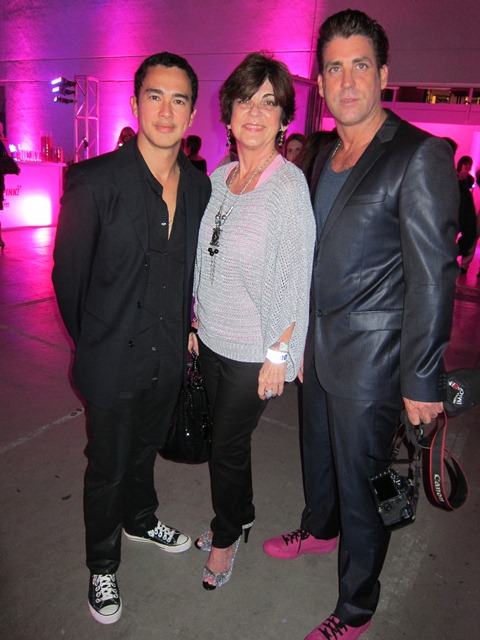 Artist Carlos Betancourt, right, with partner, Alberto Latorre, and mother, Teresa Betancourt
To quote Rachel Zoe, WE DIE when in the presence, if just cinematic, of this legendary woman who retired as fashion editor of Vogue at age 70, and then went on to consult at The Metropolitan Museum of Art, creating yearly fashion exhibitions -- the likes of which shocked the not-so-easily-shockable New York vanguard. The film, which takes the viewer through La Vreeland's life and includes prime vintage film footage, is simply a must-see. (Contact Netflix, like, now.) We were howling -- and scribbling all over our Whole Foods list -- every time she uttered one of her idiosyncratic lines, such as, "Every girl in the world must have geisha training," and "The world without a leopard -- who'd want to live there?" Perhaps the most profound: "A new dress doesn't get you anywhere -- it's the life you're living in the dress." Brava.
Fashion stylist Danny Santiago with vintage clothing specialist Keni Valenti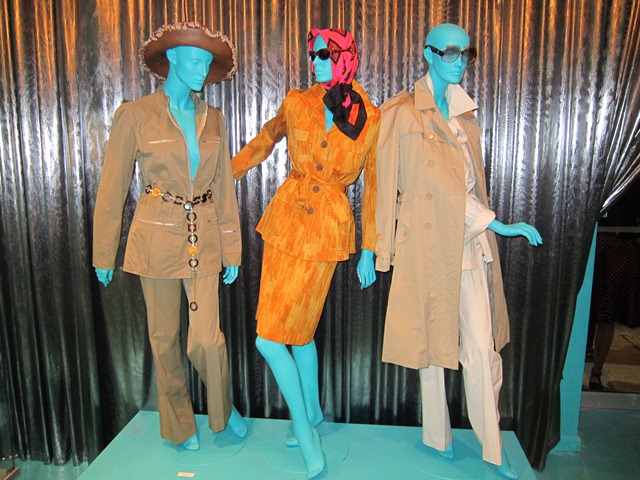 Three decades of fabulous: Yves Saint Laurent Safari looks from the '60s, '70s and '80s, from left to right, at Keni Valenti Collection
We wonder if vintage clothing collector Keni Valenti has any Vreelands? The affable Valenti, who has relocated to Miami from New York, held a party for the opening of his new fashion museum, Keni Valenti Collection, in the Wynwood Arts District. Each month a different designer will be showcased, with March devoted to Yves Saint Laurent. Valenti's collection is enviable, and luck would have it that our favorite, the pale aqua taffeta ball gown with the black rose at the bust designed during Saint Laurent's tenure at Christian Dior in Paris, would have to be a cool $150,000. That said, there were plenty of more affordable looks, including the 1980s Safari ensemble in the $4,000 range.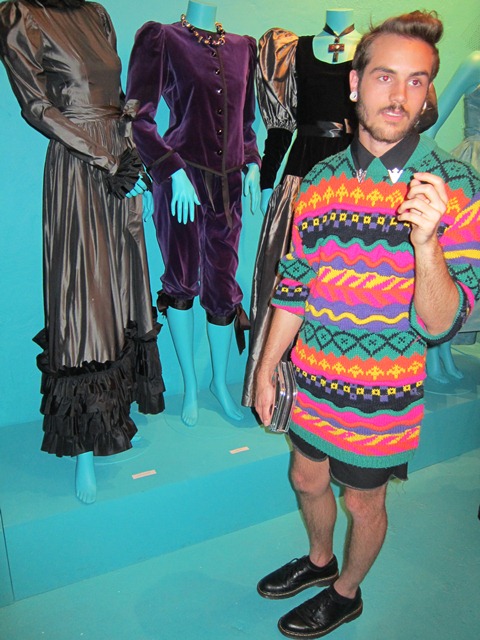 Josh Veasy in a 1980s oversized sweater at Keni Valenti Collection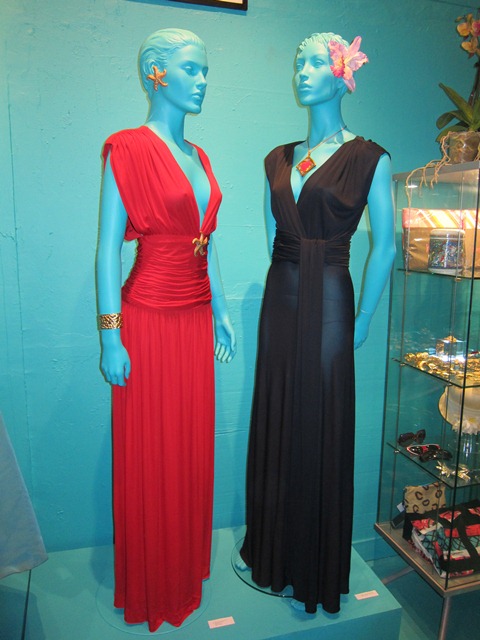 Yves Saint Laurent 1970s disco dresses at Keni Valenti Collection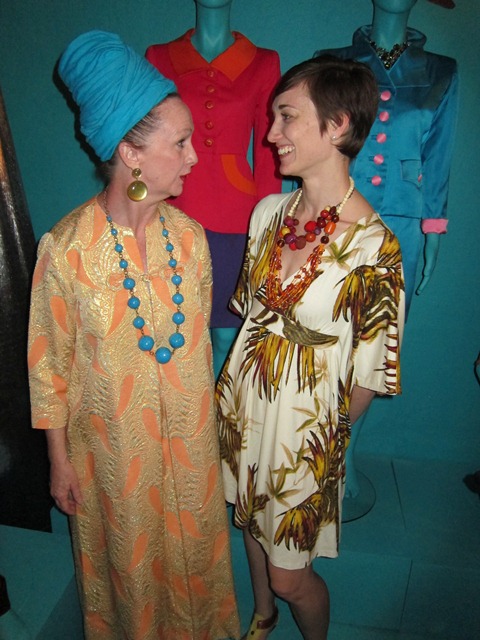 Brigid Baker and Amy San Pedro, donning "anonymous vintage" at Keni Valenti Collection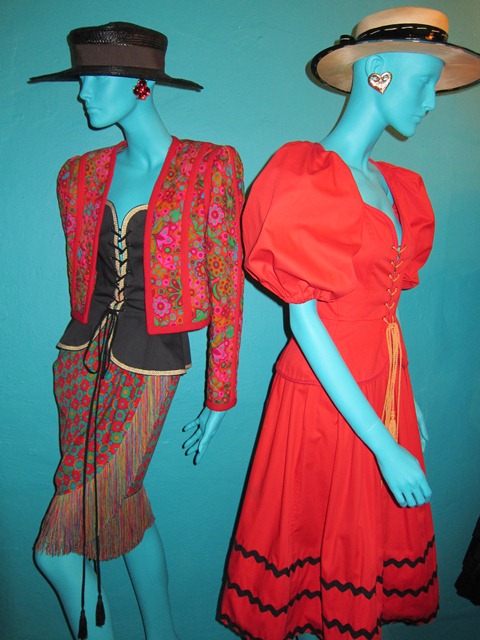 Yves Saint Laurent Gypsy looks from the 70s and 80s at Keni Valenti Collection
Miami was also host to Dali Miami, a five-day event in the Design District's three-floor Moore Building that attracted more than 30,000 people. As longtime Dali fans, we were fascinated by many of the petite bronze sculptures, as well as the entire set of the famous 1948 black-and-white portraits shot by lensman Philippe Halsman.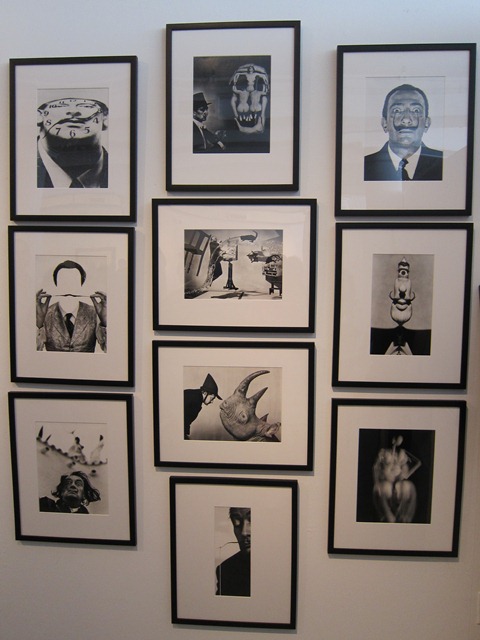 Salvador Dali and Philippe Halsman collaborations, 1948, at Dali Miami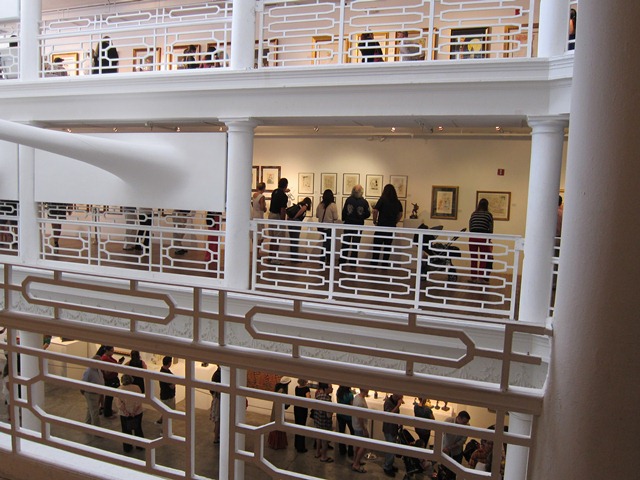 Salvador Dali exhibit at The Moore Building in Miami's Design District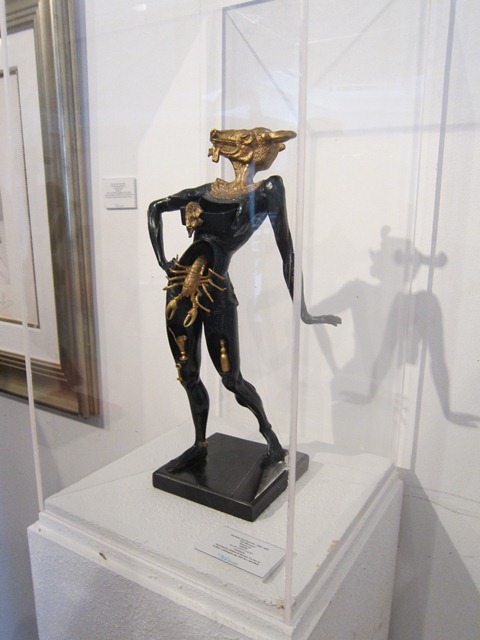 Salvador Dali's "The Minotaur" bronze sculpture, which would look perfect on our nightstand, at Dali Miami