Since I was a child and we started our weekly migration upstate, the same phrases have been used to describe Hudson. At cocktail parties, people remarked on its potential, its innate charms, its undeniable good looks, and its sad decline -- like a promising track star that's dropped out of school to smoke pot behind the local Friendly's.
But on a recent visit, I found that the feral teenager of a town had grown into an elegant and erudite young man, one who holds down a intellectual and well-paying job and eschews Big Macs in favor of local cheeses and seasonal organic produce. Lucky for this new Hudson that it has Fish & Game to satisfy its hunger.
What began with one New Yorker opening an antique store on Warren Street in the early '80s, has become a stampede of cultured and affluent city folk, opting for quieter, more bucolic lives. And if you join that stampede -- or if you merely opt to take the Amtrak line from Penn Station for a weekend away from the madding crowd, then you should book a table at Fish & Game as your reward.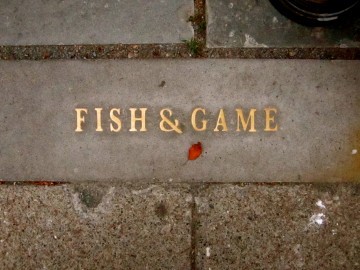 Zak Pelaccio, the chef who made a name for himself with the adored and deafening Fatty Crab and Fatty 'Cue restaurants, decided to simplify (if owning a restaurant anywhere or of any kind can be called "simplifying"), moved upstate with his wife, chef Jori Emde and last spring opened Fish & Game, a collaboration between the couple and upstate neighbor, producer Patrick Milling Smith. There Zak serves more than just local fish and game -- he uses local eggs, beaten and flipped quick for a room temperature "salad" of omelette tendrils, local pork and cucumber, laced with house-made fish sauce, for a result that is at once smoky and refreshing.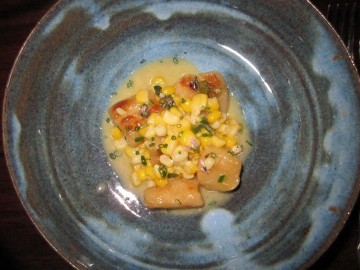 Every night, Zak serves up an ever-changing tasting menu, based on what's available nearby, in season and inspiring to him. The night of my visit two frantic months since, an item called "Potato" on the menu turned out to be seared gnocchi with local sweet corn and shishito peppers and was followed by "Tomatillo," a fabulous concoction of the grilled nightshade, passed through a sieve and combined into a game juice sauce with spices, garlic, pumpkin and sesame seeds, duck legs collapsed into a stewy delight, adorned with edible flowers, shitake and scallion-laden spelt blinis. If it reads like a mouthful, that's because it was, in the best possible way: juicy, nuanced, wonderfully melty on my salivating tongue.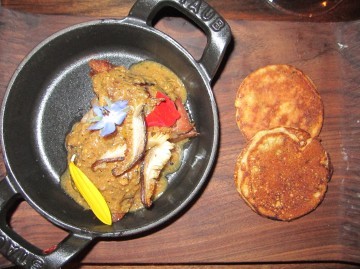 Barely smoked, warm North Atlantic salmon came next, accompanied gracefully by a basil cream, a radish and a beet, and somehow seemed an ode to a simpler time in restaurant kitchens, something a lucky diner 100 years ago might have eaten in Hudson, before the river got so murky that the salmon chose another route from the cold Atlantic waters.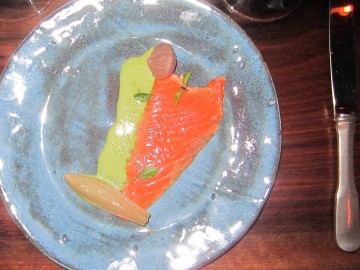 Tomatoes from Zak's garden appeared next with a tomato-water-okra emulsion and bread sauce of homemade bread, smoky for being grilled over oak wood in the restaurant's gorgeous wood-burning stove. Next was pork two ways: as a sausage that was beautifully seasoned but dryer than I would have hoped (if I am going to have a fat pork sausage made from local swine and at the hand of Chef. P, I'd hope and expect it to be unctuous, oozing with a little more glorious fat) and fragrant loin, sliced and pink, with fantastic hakurei turnips served with their greens and local plums. Chef blessed us with an extra course of seared and sliced duck breast, served with gently braised cardoons and elderberries that -- along with the duck and tomatillo stew with scallion blinis -- was my favorite of the night.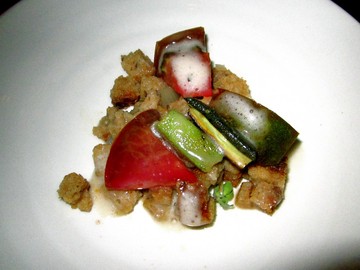 Cheeses from Rubiners in Great Barrington and two dessert courses (one which sadly reminded me a bit too much of fancy breakfast porridge) rounded out our decadent meal. Earnest and knowledgeable staff kept us rosy with endless small pours of bio-dynamic wines from near and far, too many to count or keep track of.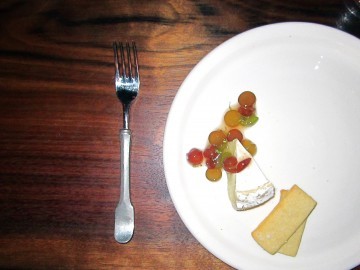 My dinner mate and I -- we were "locals" who didn't recognize our surroundings: the enormous ice cubes surprising in our country (and oh-so-well-crafted) cocktails; unanticipated city friends two tables over staying in AirBnB accommodations up Warren Street; fine auction house prices in the junk shops of yore. Even the chef was an import from the bustle of the Big Apple. Yet there Chef P. was: standing shaggy and happy in his custom kitchen, leading a team of cooks who had followed him to live the country life dream and getting back to what it was that made them chefs to begin with: good ingredients, raised nearby, plucked ripe, cooked with love and served with gratitude and pride. Will Zak ever grace Manhattan with his cooking again? One hopes so. But when I belatedly asked him for details on dishes from my visit months ago, his reply says it all. "It's funny," he said. "We've been through so many menus and we keep evolving sometimes it's a challenge going back!"
Fish & Game
13 South 3rd Street
Hudson, New York 12354
Telephone: 518-822-1500
fishandgamehudson.com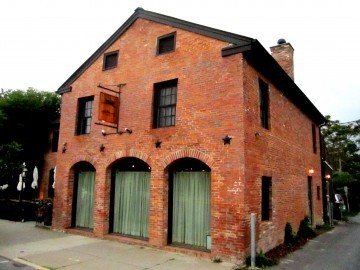 This post was originally published on The Lovage.