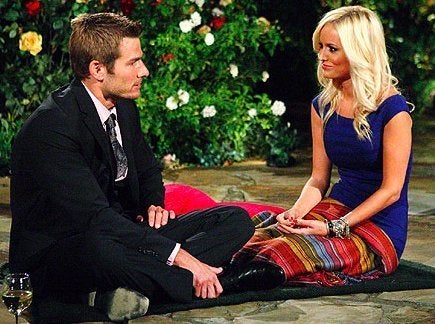 I knew hometown dates were a big deal, but Brad really upped the ante this week. He began the episode by announcing, "I feel very excited, but also I'm thinking a lot." Thinking? Things are getting serious.
Chantal and Her Cats in Seattle, WA
When Brad arrived, he and Chantal ran toward one another and embraced. First, she took him to her house to meet her cats, Jinxy and Bailey, and her tiny sweater-wearing dog, Boca. Brad seemed to bond with Boca the most. Chantal told Brad she'd be game to pick up her life and move to Austin -- provided the menagerie could come. If I've said it once, I'll say it again: Chantal is by far the saddest (or: "most ready for love" if you prefer) of the bunch.
Then they went to Chantal's parents house and Brad was intimated by its size. He mused, "It's an intimidating situation... Walking into this very large, nice home, I'm a little bit nervous. Hopefully her family will accept me for who I am." Um... for the millionaire that he is?
Chantal kept emphasizing how important her parents' approval was, and of course they both loved Brad (or loved that somehow was willing to take their desperate daughter off their hands). Brad was amazed at the "uncanny similarities" he had with Papa Chantal; they both had estranged fathers and started their own businesses. (Also, they're both men!) Chantal's dad thought Brad was "a great man" and gave him his blessing, along with a tender hug.
The date wouldn't have been complete without Chantal crying, which she did while talking to her mom (and emptying a rather large glass of wine). At the end of the day, Chantal said was ready to spend her life with Brad and he said he could "really really see a future" with her. Although that might suggest the date was a success, I'd call it colossal failure. Where was the "accidental" run-in with Jason and Molly at the local Seattle wine store? Seriously disappointing.
The Boonies with Ashley in Madawaska, Maine
The date began with Ashley running toward a not-running Brad. But maybe he was just disoriented because he was so close to the Canadian border. Ash took him to a restaurant where she used to work and they ate poutine. When the waitress greeted them in French, Brad responded in Spanish. (What happened to the whole "thinking" thing?) After Ashley stopped making fun of him, they agreed it was time for her to stop needing reassurance. We'll see how long that lasts.
They went to pick up groceries for dinner and Ashley was full of manic enthusiasm. Brad did some thinking and realized "life is fun for Ashley... which also means life is fun with Ashley". Then he met her crazy energetic family, which involved lots of hugs and jumping. Life is apparently fun (or scary, depending on how you feel about intense hugging) with them too. Brad said, "I immediately feel like I fit in with this family," even though he didn't seem to fit at all.
Brad had a chat with a man in a flannel shirt named Mike, who might have been Ashley's mom's boyfriend, but was never actually introduced. (Brad also spoke to a younger mystery guy who was also never introduced. Was he Ashley's sister's boyfriend? A kid who wanted a free teeth cleaning?) The conversation with Mike made Brad wonder whether he could keep up with Ashley's career goals and drive. But then Ashley's sister assured him that Ashley was ready to "start her life". (Hadn't it already started?)
Ashley's mom loved Brad and saw a "connection" between him and Ashley. Ashley started to think she and Brad were "meant to be" and felt "happy and confident", while Brad still worried he'd hold Ashley back from her "dreams".

Shawntel and Some Creepiness in Chico, CA
First Brad met Shawntel at her family's funeral home, where she works. There was no running toward one another, just walking. Granted, they were in a mausoleum. She gave him a tour of the crematory and made him lie down on her embalming table while she showed him her tools and talked blood drainage. Of this Brad said: "I'm thinking in my mind, how many bodies have been on this table". (He really was thinking an awful lot this week.) Although he didn't seem to be a fan of death, Brad was "highly impressed" with Shawntel's passion for her job.
Then it was time to meet the living, which included Shawntel's mom, dad and 2 younger sisters. Brad was pleased the family was "so full of life" (Was he expecting the Adams family?) and said he could see himself being a part of it. But soon the fun, games and wine drinking were interrupted by family drama. Shawntel told her parents she was falling in love with Brad and that might mean moving to Austin. This was problematic, because she had planned to one day take over the family business in Chico.
Shawntel's dad was upset his plans were being "destroyed" and tried to make her feel badly for abandoning "the community". Meanwhile, Brad told her mom he cared about Shawntel and wasn't there "to take [her] away". In the end, her parents decided to give the couple their blessing. That blessing enabled Shawntel to tell Brad she was "in love" and not just "falling in love".

Emily and Her Wholesomeness in Charlotte, NC
The date began with Emily and her 5-year old-daughter, Ricky, running toward each other and poignantly embracing. Then Brad showed up and he was nervous. He just kept saying hi over and over to the poor kid. Emily wanted Brad to get her daughter's "stamp of approval" and worried because Ricky was being shy. Brad said he wanted Ricky to open up and asked her what she was thinking. (So basically, his approach with children is the same as his approach with women he dates.)
Brad and Ricky flew a kite together and eventually she started to laugh and have fun. Brad said "I would welcome and cherish the opportunity to be a father figure to little Ricky" and Emily said "it just feels really good". Later, the three of them played a board game before tucking Ricky into bed. Brad called it "the perfect image of what I want my life to be".
With Ricky asleep, Brad and Emily had time to awkwardly debate whether to kiss or not. Emily wanted to, but Brad wanted to be respectful of her daughter, sleeping upstairs. He told her than meant "so much more than a kiss" and perfect Southern belle Emily said it was "very very sweet" even though she so did not agree. Brad thought about it some more (too much thinking) and then explained, "I'm just a weird guy, so that's that". But Emily decided to kiss Brad on his way out and he called the experience "perfect". Somewhere in there Emily also told him, "I can totally see myself completely falling in love with you".
Chris Harrison Time!
Brad again reiterated that his feelings were "so much stronger, so much deeper" and "so much different [sic] than they were last time", to keep viewers believing that he's not a ...not nice person.
Rose Ceremony
Shawntel N. wore a dour black turtleneck dress, and a ponytail that left most of her hair in her face. Chantal O. donned a painful pink shiny thing and a huge bun atop her heard. I think she was going for Mad Men, but came off more Sad Woman. Ashley wore a relatively less offensive white glittery dress, but didn't appear to have washed her hair since frolicking in the fields of Maine. Emily won with a green dress that I think one of my Barbies used to have, but at least she bathed.
Ashley and Emily received the first two roses and it came down to the women in the 2 worst outfits (an important moral, if there ever was one).
Booted: Shawntel
I guess Brad wasn't lying when he told her mom he didn't want to take her daughter away. Shawntel told Brad he was "so perfect" and "so great" and "set the bar" because he'd treated her better than she'd been treated before. This concerned me, because she's not the first No Longer Potential Future Wife of Brad to express these thoughts. Who have these women been dating????