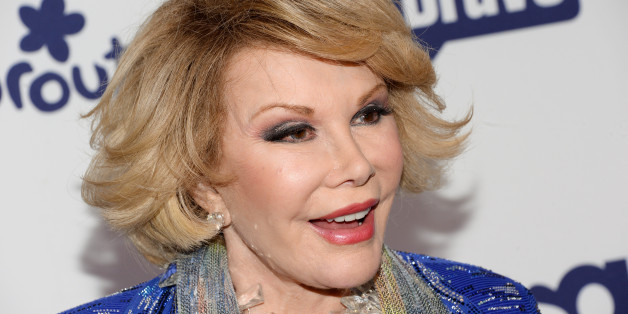 When I was able to sit down with Joan Rivers for my nightly program just two months ago, it was the fulfillment of a 10-year quest to have her on the show. When I first moved to Los Angeles 27 years ago to make my mark, Joan was the very first comic that I ever saw do stand-up. She was performing at Carlos and Charlie's. I was working for Tom Bradley, the late, great mayor of this city and because of the mayor I met the owners of that iconic club. I used to go up to the lounge there to watch, learn, and laugh. So getting the opportunity to talk to her -- represented a full-circle moment for me. Over two nights, our conversation covered many things -- her devotion to her family, her legendary work ethic, her delight in making people laugh -- and then it took on what turned out to be a prescient dimension. I asked her how she would know when the time had come to stop performing. Here's her answer:
*TRANSCRIPT*
Rivers: I will know when I guess I do the same joke three times, I will know. And then I will go offstage and call Dr. Kevorkian. And you're waiting for a joke. There's no joke.
Tavis: No, no, I didn't laugh. I was just about to say I think you meant that.
Rivers: Oh, true.
Tavis: That if you couldn't be onstage, you wouldn't want to be here.
Rivers: Done. I have it in my will or whatever you call it, and the lawyer got crazy. Do not resuscitate if I cannot get up and be able to do 90 minutes onstage in concert. That's it. And my lawyer argued with me about how long [laugh].
Tavis: You wanted 90 minutes.
Rivers: He said, "What about 60?" I said, "90 minutes, Michael."
Tavis: If I can't do 90, don't even resuscitate me.
Rivers: Do not resuscitate. 90 minutes onstage. He's arguing "How about 60? We'll get a really good opening act." [Laugh] He's arguing. My life is crazy.
Tavis: I didn't laugh when you said that because I...
Rivers: Absolutely true.
Tavis: I saw in your eyes that you meant that.
Rivers: Oh, totally.
Tavis: If I can't do what I do, I don't even want to be around here.
Rivers: Don't want to sit down and be a vegetable. I don't want Melissa seeing her mother sitting there singing World War I songs, "Over there, over there..." [Laugh] "Change her catheter." I don't want any of this, uh-uh, mm-mm. Hello, Amsterdam, I'm outta here [laugh].
I've had a great life. If I drop dead right now, nobody's gonna say, "So young." [Laugh]. I've had such a great ride, such a great ride. I'm just so lucky, so lucky.