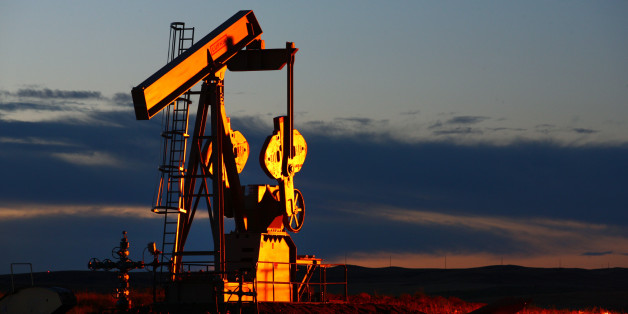 I often think Edward Abbey would be disappointed in me. I've never thrown a wrench into a gear. Abbey died when I was a year-and-a-half old. I never knew him -- but I know his books, and they have shaped the contours of my mind and the resolve of my spirit.
Recently, I moved back to my land of origin, North Dakota, the nation's current No. 2 oil producer, right behind Texas. North Dakota is a land on fire, visible from space, like the world's largest bonfire, due to flaring of natural gas. I moved back because I love the land I come from, the landscape that holds stories of Sitting Bull and General George Armstrong Custer, Meriwether Lewis and William Clark, Sakakawea and her son, Pomp. Theodore Roosevelt stopped for a time in Dakota Territory and Wallace Stegner was born here. The land where the West begins is the land that fired and fueled my imagination.
But since 2007 and the advent of the Bakken oil boom, oil has been the focus of many narrow imaginations. Hydraulic fracturing has made my home a gem in the eyes of the oil industry, and many North Dakotans have bent like a stalk of wheat to seek profit and have become profligate consumers of corporate greed. When I hike in the Badlands south of Medora, the famous mock-Western town, I see no other person climbing the buttes and bluffs of North Dakota. No one seems to care about the land anymore.
For a number of years now the state motto has been, "Drill, baby, drill," not "Wait, observe, deliberate, and proceed." North Dakota has become a place of "progress," as many people will attest, but it is a crude, rudimentary type of progress, one where over 7,000 oil, brine, and chemical spills have occurred in the last seven years, where millions of gallons of freshwater are taken from the Missouri River to feed the drug of fracking instead of the acres of cropland we as a nation depend upon, and a progress that has brought such nightmarish occurrences, like the illegal disposal of radioactive filter socks and the nation's largest inland oil spill.
Largely, we as a nation have turned our backs. We know we depend on oil to get us from our homes to the doctor, to buy groceries and get to our children's basketball games -- but we also know that oil is drastically changing the chemical make-up of the planet we so desperately depend upon. So maybe we, as a country, need to admit something: We are greedy and do not care about the future -- the future biological vitality of the planet, the generations that come after us, or the presence of beauty, like the Badlands, in our cultural landscape. If we would acknowledge these things then, maybe, we would come to understand that certain things transcend economic measurements.
In his 1968 book, Desert Solitaire, Edward Abbey says, "Original sin, the true original sin, is the blind destruction for the sake of greed of this natural paradise which lies all around us -- if only we were worthy of it." I think of this often when I hike in the Badlands of North Dakota, the closest landscape of my home that mirrors Abbey's own desert in Utah.
In America, though, we do not talk about love -- we talk about profits, economic gains, shares, and bottom lines. But the fact of the matter is that the corporate bottom line does not go deep enough -- it does not go deep enough to measure the true cost of the 400-million-year-old dinosaur blood being pumped and pulled from the soil by corporations such as Continental Resources, Inc.
So what might we do? We might start having the hard conversations that force us to shift our perspectives and our pocketbooks away from the dead weight of fossil fuels and into the life-giving technologies of sun and wind. We might realize that riding our bike is just as pleasurable as it was in childhood and follow Europe's lead in putting our feet on the pedal. And we might also realize that infinite consumption on a finite planet comes with a cost too deep for our economic models to measure. In shifting our perspective and strengthening our resolve, we might better see that lessening our consumption of oil begins with looking in the mirror.