by Taylor Marsh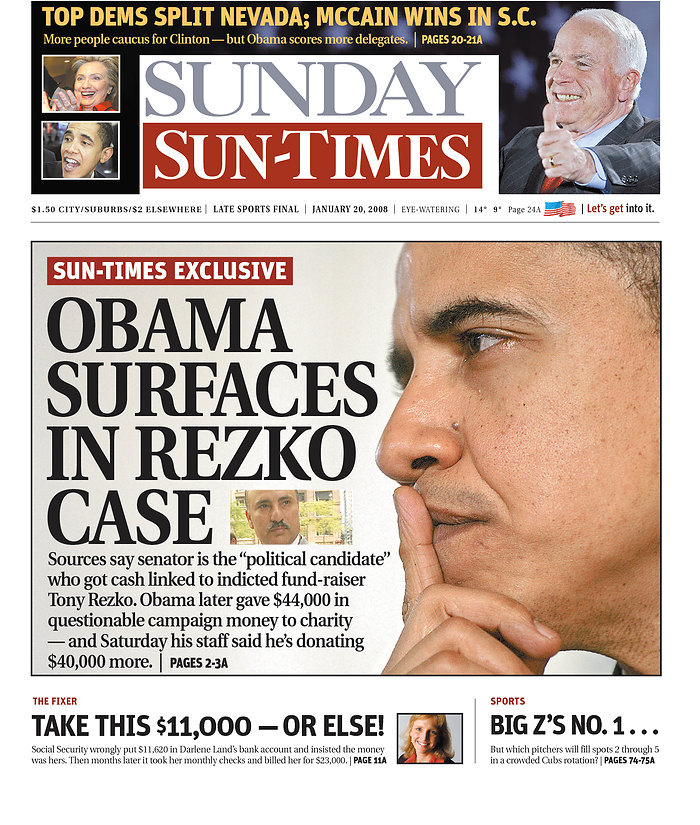 "Their buildings were falling apart,'' said a former city official. "They just didn't pay attention to the condition of these buildings.''


Eleven of Rezko's buildings were in Obama's state Senate district.

Obama surfaces in Rekzo's federal corruption case

Source confirmed Obama is the unnamed "political candidate" referred to in document which outlines case against Rezko
One of the classic lines last night revolved around a subject that the national press has been ignoring for some time. Barack Obama couldn't even bring himself to utter the guy's name. There's a reason for that, which you'll understand soon enough, that is unless you're from Chicago; to you this will be old news. The exchange between Clinton and Obama is not unlike how the national press has been handling the subject. Only the Chicago Sun-Times has had the temerity and investigative spine to go after it. It is nothing short of a political godfather story. The tale of an eager, brilliant, ambitious man wanting to rise in politics, and the man who had the money to make it happen. It's the real true tale of Barack Obama and Antoin "Tony" Rezko and the Faustian political deal made in the quest for power, fame and political prowess, which would eventually lead to a bid for the presidency. The fact that Obama won't mention the name of the guy who made his rise to political prominence possible out loud illustrates the efforts to which Obama, with the aid of a mostly negligent press, has been able to make Rezko a forbidden word to utter, instead of an issue that we all should know a lot more about. Monday night:
BLITZER: I'm going to go to Suzanne Malveaux in a second, but I just want to give you a chance, Senator Obama, if you want to respond. Senator Clinton made a serious allegation that you worked for a slumlord. And I wonder if you want to respond.

OBAMA: I'm happy to respond. Here's what happened: I was an associate at a law firm that represented a church group that had partnered with this individual to do a project and I did about five hours worth of work on this joint project. That's what she's referring to.

--Democratic presidential debate sponsored by CNN and the Congressional Black Caucus Institute on January 21, 2008
This individual? Interesting that now Rezko is facing a federal trial on February 25th, Mr. Obama cannot speak his name. It's also interesting that Obama got smacked with Rezko only after he slapped Clinton with WalMart, even though he's got his own problems on that regard. As recently as April 2007, Obama chose to back an anti-union candidate in a run-off election against a labor-backed candidate for the Third Ward. And never mind that Antoin "Tony" Rezko and Barack Obama are deeply linked throughout his political career and have been friends since 1990.
Mr. Obama has portrayed Mr. Rezko as a one-time fund-raiser whom he had occasionally seen socially. But interviews with more than a dozen political and business associates suggest that the two men were closer than the senator has indicated.

Mr. Obama turned to Mr. Rezko for help at several important junctures. Records show that when Mr. Obama needed cash in the waning days of his losing 2000 Congressional campaign, Mr. Rezko rounded up thousands of dollars from business contacts. In 2003, Mr. Rezko helped Mr. Obama expand his fund-raising for the Senate primary by being host of a dinner at his Mediterranean-style home for 150 people, including some whose names have since come up in the influence scandal.
It's a story of Mr. Hope backed by Mr. Slumlord, who will be in federal court on February 25th on what U.S. Attorney Patrick Fitzgerald calls a "pay to play on steroids."
Mind you, I'm not at all saying Barack Obama did anything illegal, nor is anyone else. He absolutely did not. That's not the point at all. But he's running on "hope" and "change," which does not comport with his record or the people with whom he associated or helped bankroll his political beginnings. For one thing, Allison S. Davis, of Davis Miner Barnhill & Galland, the firm Obama joined in 1993 straight out of Harvard, which specialized in helping to develop low-income housing, is a friend of Tony Rezko, who was one of the firm's top clients. Davis was and is a member of the Chicago Plan Commission, appointed by Mayor Daley. Last year, the Chicago Sun-Times asked Judson Miner, one of Davis's partners, what Rezko cases Obama worked on. Miner said, "We'll put together a list of the cases he worked on involving Rezko/Rezmar in the next day or two." According to the Sun-Times, Miner never provided what he promised. As an aside, Allison S. Davis was appointed by Gov. Blagojevich to the Illinois State Board of Investment, which controls state pension funds, and according to the Sun-Times, "-- one of a series of appointments the governor made at Rezko's request." The firm of Davis Miner helped Rezko's firm Rezmar get more than $43 million in government funding to rehabilitate half of their 30 buildings for the poor. As for the business relationship between Davis and Rezko, it grew exponentially from where it began:
Five years later, having left his Davis Miner Barnhill & Galland firm, Davis invested in Antoin "Tony'' Rezko's final government-subsidized, low-income housing project, state records show, in a deal handled by Davis' former law firm.

Davis and Rezko also went into business together, building upscale homes in the booming Kenwood neighborhood where Davis lives. The legal work on those deals was also done by Davis' former law firm, where Obama was working. ... ..
But Obama refuses to talk about it, which was evident last night when he called a man he's known well since 1990 "this individual."
Though Obama says he, himself, did a mere five hours of work, the 12-person law firm where Obama was a junior partner did significant legal work for Rezko's company which, by 2002, was being sued by the city, state and a bunch of banks for defaulting on loans and doing a downright awful job of providing decent housing. Taxpayers and lenders have lost up to $100 million while Rezko's firm made about $7 million.

There is no suggestion that Obama or his firm did anything illegal. But here's a guy who, according to a recent Tribune profile of his wife, Michelle, was so scrupulous about the details of life that he actually went with her on a job interview just to make sure her potential employer was up to snuff. Too bad he didn't give Rezko the same treatment. ... ..

Obama said while the new allegations about Rezko were "deeply troubling," none of it had ever been "brought to his attention."

So why all the gymnastics to avoid the conversation?

Especially for a candidate who is "open" and "transparent" and "different"?

Being boneheaded is not a crime.

But if it was, charge Obama with a second count.

Obama ducks the questions
Suddenly, our open senator is acting like a dissembling pol
What is quite clear after phone conversations, and compiling pages of research and newspapers articles on the subject, is that Mr. Obama made a deal in his mind with someone who became his political godfather because he could make his dreams come true. It's clear from Rezko's unwinding problems that Obama either didn't care how his patron got the money, or ignored it as long as the political contributions and access to others contributions kept coming. Considering Mr. Obama models himself as Mr. Hope and promises that he'll change politics in Washington, this shouldn't be a minor part of the Obama story. It's his record, which directly conflicts with the image he's selling that many people have not only bought into, but invested their hopes in as well. The fact that Obama and Rezko were friends for years is also not a minor point. Of course, there's certainly no crime in that, but while Rezko was involved in a political "pay to play on steroids," it's alarming that Obama remained, as he's portraying his role, witless about what was going on right under his nose.
Additionally, as a community organizer, then as a state senator, how did Barack Obama not know of buildings in his own district that were in such dilapidated state? As a community organizer Obama had to know what this meant for his district to have such slum areas go untended by a negligent landlord. Was he ignorant, careless, or looking the other way? Or is there another explanation? Obama also accepted donations from Rezko while his urban housing empire was collapsing. Do you know how long it takes to pull apart a housing entity like Rezko's? Where was Obama during all of this?
Fast forward to today. According to the Chicago Sun-Times this past Sunday, Obama is the "unnamed 'political candidate'" referred to in one section of court documents:
Obama is not named in the Dec. 21 court document. But a source familiar with the case confirmed that Obama is the unnamed "political candidate" referred to in a section of the document that accuses Rezko of orchestrating a scheme in which a firm hired to handle state teacher pension investments first had to pay $250,000 in "sham" finder's fees. From that money, $10,000 was donated to Obama's successful run for the Senate in the name of a Rezko business associate, according to the court filing and the source.

Rezko, who was part of Obama's senatorial finance committee, also is accused of directing "at least one other individual" to donate money to Obama and then reimbursing that individual -- in possible violation of federal election law. ... ..
This story is about much more than what Obama has labeled a "bone-headed" mistake on some real estate deal he regrets. It's more like arrogant disregard and personal judgment malfeasance, not unlike Rudy with Bernard Kerik, because some of this between Obama and Rezko transpired when everyone knew Rezko was under investigation by none other than U.S. Attorney Patrick Fitzgerald, at a time when other politicians were running in the opposite direction of Tony Rezko. Like Rudy, there is absolutely no charge that Obama did anything criminal, but as a candidate for president we trust someone running as the "hope" and "change" candidate to have some of that hope and evidence that he can change things in his record. Rezko's business practices and the treatment of his tenants, while allowing investors to profit and politicians to get a piece of the action in order to support his "pay to play" scheme, should have been, at the very least, been noticed. Accountability for the Rezko relationship should be demanded from someone running for the presidency, where criminality isn't the issue. It also needs to go beyond some disingenuous, cover your political posterior "this individual," explanation as he lamely labeled Rezko last night.
Obama answered a series of questions for the Chicago Sun-Times in 2006. His answers contradict his long history with Rezko, which is a friendship going back to 1990. "To the best of my recollection" and "as I recall" jump out, but so does the fact that Obama "always understood" that the other lot would be "developed upon sale." Not a small detail for someone that is claiming the venture was a mistake to begin with and that he cannot recall certain details.
But getting caught up in a land deal doesn't help fill in the story.
In addition to a land deal, Sen. Barack Obama's ties to indicted dealmaker Antoin "Tony" Rezko include an internship the senator provided the son of a contributor at the request of Rezko, an Obama spokesman confirmed today.

John Aramanda served as an intern for Obama for about a month in 2005, said Obama spokesman Robert Gibbs. His father is Joseph Aramanda, a Rezko business associate who was named as an unindicted co-conspirator in a federal corruption case against Rezko. Aramanda has contributed $11,500 to Obama since 2000, Gibbs said.

"Mr. Rezko did provide a recommendation for John Aramanda," Gibbs said. "I think that it's fairly obvious that a few-week internship is not of anything of benefit to Mr. Rezko or any of his businesses." ... ..

Aramanda is identified as "Individual D" in Rezko's indictment. And when Levine pleaded guilty in October, Aramanda again was listed as "Individual D." Aramanda was identified by the Sun-Times as "Individual D," who allegedly received a $250,000 kickback tied to a scheme to steer lucrative state pension deals to firms and consultants that donated to Blagojevich. Aramanda is not specifically named or charged with criminal wrongdoing in the court papers.
So to set the mood of the Rezko - Obama relationship, let"s go back to 1997:
For more than five weeks during the brutal winter of 1997, tenants shivered without heat in a government-subsidized apartment building on Chicago's South Side.

It was just four years after the landlords -- Antoin "Tony'' Rezko and his partner Daniel Mahru -- had rehabbed the 31-unit building in Englewood with a loan from Chicago taxpayers.

Rezko and Mahru couldn't find money to get the heat back on.

But their company, Rezmar Corp., did come up with $1,000 to give to the political campaign fund of Barack Obama, the newly elected state senator whose district included the unheated building.

Obama has been friends with Rezko for 17 years. Rezko has been a political patron to Obama and many others, helping to raise millions of dollars for them through his own contributions and by hosting fund-raisers in his home. ... ..
As this article also cites, while Obama worked as a lawyer and to "improve living conditions for the poor," he took campaign cash from Rezko's slum empire. The reason he's called a "slumlord" is that as the Chicago Sun-Times has reported, Rezko left African-American families in buildings that lacked heat, even in the middle of Chicago's brutal winters, and in buildings that were home to squatters and drug dealers.
But Obama's ties with Rezko go beyond those two real estate sales and the political support, the Sun-Times found. Obama was an attorney with a small Chicago law firm -- Davis Miner Barnhill & Galland -- that helped Rezmar get more than $43 million in government funding to rehab 15 of their 30 apartment buildings for the poor.

Obama role unclear

Just what legal work -- and how much -- Obama did on those deals is unknown. His campaign staff acknowledges he worked on some of them. But the Rezmar-related work amounted to just five hours over the six years it said Obama was affiliated with the law firm, the staff said in an e-mail in February.

Obama, however, was associated with the firm for more than nine years... ..
That's just the half of it:
A longstanding relationship

Rezko is one of Obama's earliest political patrons. Long known as a prolific fund-raiser, the Syrian-born businessman helped raise money for Obama's political campaigns beginning in 1995, when Obama was running for the Illinois Senate.

In 13 years in politics, Obama has gotten at least $168,000 in campaign donations from Rezko, his family and business associates. The Sun-Times reported that figure last June. Obama's "best estimate" seven months earlier had been that Rezko had raised no more than $60,000 for him.

When Obama ran for the U.S. Senate, Rezko held a June 27, 2003, cocktail party in Rezko's Wilmette mansion, picking up the tab for the lavish event. Obama's campaign staff has said it has no records to show who attended that party, or how much it cost.

Obama's relationship with Rezko dates to 1990, when Obama, then a Harvard law student, interviewed for a job with Rezko's development company, Rezmar Corp. Obama turned down the job, instead going to work for a small Chicago law firm -- Davis Miner Barnhill. That firm did work on more than a dozen low-income housing projects Rezmar rehabbed with government funds. ... .
Now let's go back again to Obama's Sun-Times' Q&A back and forth:
Q: How many fundraisers has Mr. Rezko hosted for you? Were these all in his home? How much would you estimate he has raised for your campaigns?

A: He hosted one event at his home in 2003 for my U.S. Senate campaign. He participated as a member of a host committee for several other events. My best estimate was that he raised somewhere between $50,000 and $60,000.
As for Obama's reaction to Rezko's indictment troubles, mentioned this past Sunday by the Chicago Sun-Times, the Obama team rightly points out that Obama returned the donations.
'No way of knowing'

Obama campaign aides said Friday he was unaware Rezko was behind the contributions cited in last month's court filing or that the document referred to the senator. "We have no way of knowing he is the politician named here," spokesman Bill Burton said, "but we returned this money months ago for other reasons." ... ..
However, this isn't just about returning donations. It's about who bankrolled and supported Barack Obama from the early beginnings of his rise in politics, as well as introduced him to other political donors. It's about the man who is interwoven in Barack Obama's Illinois career from its earliest germination. It's about the Faustian deal Obama made with Antoin "Tony" Rezko, spoken or in his own mind, who is at the epicenter of Barack Obama's political career, which has been laid out in article after article in the Chicago Sun-Times.
Barack Obama is campaigning on the politics of hope and changing the tone in Washington. We will never all agree on everything, but one thing should be clear if you take the time to read the articles and delve into Obama's relationship with the man who helped give rise to his political career. It's that politics as usual is at the heart of this man's start and pull into political prominence. Read about Alice Palmer if you haven't already. It brings to mind Obama's whining in Nevada after he lost the caucus. Dirty politics is bad, unless he's the one playing it.
But in that initial bid for political office, Obama quickly mastered the bare-knuckle arts of Chicago electoral politics. His overwhelming legal onslaught signaled his impatience to gain office, even if that meant elbowing aside an elder stateswoman like Palmer.

A close examination of Obama's first campaign clouds the image he has cultivated throughout his political career: The man now running for president on a message of giving a voice to the voiceless first entered public office not by leveling the playing field, but by clearing it. ... ..

MAKING OF A CANDIDATE
Obama knows his way around a ballot
Some say his ability to play political hardball goes back to his first campaign
Through contacts and sources inside Chicago political circles, I'm learning that this story is not only real, but has created a lot of animosity throughout Obama's prior political circles. On the flip side are people who don't want to be found standing in the light of day opposing Obama, though the off the record conversations certainly have been colorful.
"When he went after Bobby Rush he lost a lot of Democratic support. And he had to kiss and make up before his bid for U.S. Senate." - Chicago source with special knowledge of Obama's political rise to power
Rush and Obama have, as they say, "buried the hatchet," with Rush now supporting Obama over Clinton, with whom he has deep ties. We'll see what happens once February 5th rolls around.
It reminds me of another Obama tale I've been hearing about since putting out feelers in Illinois. Remember the Ryan scandal, when Ryan"s messy divorce bombshell was miraculously leaked to the press, with sordid tales of sex clubs and coerced foursomes? It ended up with Ryan having to back out of the U.S. Senate race, leaving Barack Obama virtually unchallenged until Alan Keyes showed up, which made little difference. Obama won in a blow out. No one I've talked to out of Illinois thinks the leak about Ryan's divorce just miraculously appeared, though no one will go near naming who they think did it, at least not on the record.
Look at Obama's record coming up in Illinois politics. At every turn it represents the antithesis of the politics of change and hope. It is at its heart a story about old time, Chicago style political games and money backing from a man now under federal indictment for a "pay to play scheme on steroids." That's not to say Obama isn't gifted or that political opportunism and old style hardball is wrong. It's just not what he's selling today.
Obama had offers from more prestigious, higher-paying firms. But he chose to work for Miner -- former Mayor Harold Washington's counsel -- because of his firm's focus on civil rights litigation and community redevelopment.

Obama was also recruited in law school by developer Antoin "Tony" Rezko, who back then had a reputation as "a star" of the urban renewal movement in Chicago. More recently, Rezko was indicted for allegedly using his clout with elected officials to amass taxpayer funds for self-enrichment.

Rezko was a client of the Miner firm, and Obama worked on some of his redevelopment projects. Miner says Obama put in six to seven hours of work on Rezko projects. He has not produced detailed records of Obama's billings on the cases.

The firm was headed by Allison Davis, who eventually left the firm to become a developer of low-income housing himself, sometimes in partnership with Rezko. Obama worked on some of those projects. ... ..
No one is saying Obama did anything illegal. But teaming with a man like Rezko has nothing to do with the "politics of hope" or "change." It's business as usual in a package put together to seduce everyone that he's the one. Just yesterday we learned that Obama's campaign will be donating more Rezko money to charity, in the amount of $80,000. The Sun-Times reported last year that Obama's contributions from Rezko is triple what he's claiming. The LA Times reported a couple of days ago it's $40,000 he's donating. From the LA Times:
"It is a rule in politics: Early money is very important," said Jay Stewart, head of the Better Government Assn., a nonprofit watchdog in Chicago. "Tony Rezko helped put Barack Obama on his political feet. Tony Rezko was consistently a significant contributor."

In a review of Obama's donations, the Los Angeles Times has identified as much as $185,000 from Rezko-related donors. Sources familiar with Obama's 2004 Senate campaign said Rezko's name was prominently displayed on a white board that totaled the amount his bundlers had raised in the Senate race.

"Rezko was there from the beginning," said a source who had been close to Obama's political operation and did not want to be identified for fear of alienating political associates in Illinois where Obama's support is strong. "He is closer than Obama is putting on. The guy was always raising money." ... ..
It's the drip, drip, drip -- deny, deny, deny that never seems to end, with people taking statements like "this individual" to mean Rezko was some guy Obama didn't know. That is unmitigated political cover your posterior dishonest double talk, but many seem to be sucking it through the same straw.
There's also been a lot of back and forth about the letters Obama wrote on behalf of a project that Rezko owned. One story has Rezko's attorney saying adamantly that his client didn't ask Obama to write the letters. Obama still wrote them. Another letter written by Obama was on behalf of New Kenwood LLC, a company formed by Obama's former boss, Davis, and Rezko.
"I am writing in support of the New Kenwood LLC's proposal to build a ninety-seven unit apartment building at 48th and Cottage Grove for senior citizens,'' Obama wrote in separate letters, each dated Oct. 28, 1998, to city and state housing officials. "This project will provide much needed housing for Fourth Ward citizens.''

At the time he wrote the letters, Obama was also a lawyer with Miner Barnhill & Galland, the law firm Davis formerly headed. Among the firm's clients were several companies owned by Davis and Rezko. The firm did not represent New Kenwood.

Davis and Rezko hired Daley & George, the law firm of the mayor's brother Michael, to help them get $3.1 million from bonds issued by the city of Chicago. ... ..
A review by the Los Angeles Times shows that Rezko, a businessman long active in Chicago politics, played a deeper role in Obama's political and financial biography than the candidate has acknowledged.

For example, Rezko, his employees and business associates -- such as his consultants, lawyers and their families -- have provided Obama more than $200,000 in donations since 1995, helping fuel his rapid ascent in Illinois and U.S. politics. Although Rezko is not Obama's largest bundler, he was there at the start and at critical moments along the way, helping support the candidate when few others were. ... ..
I'm supporting Clinton, a decision that came about over a long process, inspired by the sexist and one-sided media coverage, which has now been proven and in which I played a major role. I've seen her in action many times, as she proved to me she's got the mental agility and intellectual toughness to go through a general election campaign and win. I have disagreed with her on several foreign policy issues, including Iraq, and Kyl-Lieberman, among others and no doubt will again. I also believe we simply must win the election in November. To that end, whom we nominate is critical. I'm convinced Clinton can withstand the onslaught the Republicans are preparing for us, swiftboating, dirty tricks and all. For the record, I could also willingly support John Edwards because I think he, too, can win, though he's not in position to come close to the nomination right now. But last night he got back to the man I believed in when this campaign started and before his campaign team ruined his message. However, I do not think Barack Obama can win, regardless of his unmistakable talents, especially since he's campaigning as something other than what he is, which his record proves and offers the Republicans a treasure trove of gifts. Contrary to what Mr. Obama's unhinged fans are saying, this isn't personal. I just don't think he can withstand what the Republicans will throw at him, and I don't think Democrats should take the chance. I also don't know what his politics portends for Democrats, unlike Clinton (and Edwards), because of Obama's easy willingness to straddle all lines in order to be all things to all people, regardless of ideology. Again, I don't believe Mr. Obama did anything illegal in the Rezko matter. That's not the issue at all. But Antoin "Tony" Rezko was one of Barack Obama's main political patrons going back many years; he backed him; and he's inextricably woven throughout Obama's political career, starting in 1995, though their friendship goes back to 1990. Obama won't answer all of the questions about Rezko, refusing even to name the man in a Democratic debate for fear voters might do a search and find out the truth. At the very least he's Obama's Bernie Kerik on judgment; but that even minimizes the power and reach of Rezko, which we'll be finding more about come February 25th. Outside of Chicago, the press hasn't made Rezko an issue, with some people yawning over the relationship. Obama's Democratic challengers haven't made it an issue either, protecting a gifted politician of their own; that is until it was raised last night by Clinton, but only after Obama threw Wal-Mart at her, even though he's got his own problems on that score. The truth is that I don't trust what we're getting in Barack Obama. The Rezko story is only one reason why.
Maybe it's why John Edwards is committed to staying in the race. He's waiting for Obama's hope facade to fall. Though there's no hint whatsoever that Obama's legions of fans have any interest in the truth and certainly not the record behind Mr. Hope:
Rezko and Mahru also managed the buildings, which were supposed to provide homes for poor people for 30 years. Every one of the projects ran into trouble:

• Seventeen buildings -- many beset with code violations, including a lack of heat -- ended up in foreclosure.

• Six buildings are currently boarded up.

• Hundreds of the apartments are vacant, in need of major repairs.

• Taxpayers have been stuck with millions in unpaid loans.

• At least a dozen times, the city of Chicago sued Rezmar for failure to heat buildings.

For five weeks, the Sun-Times sought to interview Obama about Rezko and the housing deals. His staff wanted written questions. It responded Sunday but left many questions unanswered. Other answers didn't directly address the question.

Among these: When did Obama learn of Rezmar's financial problems? "The senator had no special knowledge of any financial problems,'' Gibbs wrote.

Did the senator ever complain to anyone -- government officials, Rezmar or Rezko -- about the conditions of Rezmar's buildings? "Senator Obama did follow up on constituency complaints about housing as [a] matter of routine,'' Gibbs wrote.

Did the senator ever discuss Rezmar's financial problems with anyone at his law firm? "The firm advises us that it [is] unaware of any such conversations,'' Gibbs wrote. ... ..