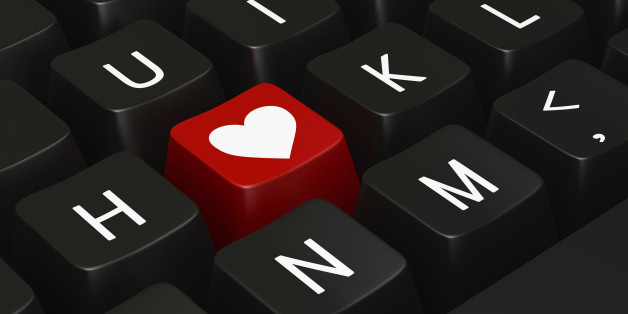 When no one answers your online ad, there is no reason to feel rejected, especially when you're doing all the wrong things.
I'm an expert, having been Relationship Consultant to a large metropolitan newspaper, which included helping women with online ads. I spent 10 years talking to hundreds of men, as well as women, about sex, love and relationships, coaching women on how to attract the right guy. Call me a modern day Dr. Ruth, if you will, because I've got experience in the trenches that backs up my theories about relationships.
A word of caution: The best online ad will not work if you're spending 40 hours a week in a job you hate. Sometimes you're not attracting the right man because you're not in the best place yourself, so when you meet someone, there's no light in your eyes. The closer you get to being fulfilled and happy in your life, at least searching for work that fits your passions, or doing something on your off hours that fills in for what your job doesn't, at least not yet, the more likely you are to find the right match.
If you're on that path, however, there's real reason to hope.
Patrice Bendig wrote, "Online dating has made me feel more alone and rejected than ever." That's because after placing numerous profiles what she received was "radio silence." Ms. Bendig is not the first female I've heard this from and there are obvious reasons why it happened to her.
Bendig posted her ad and it reads as follows: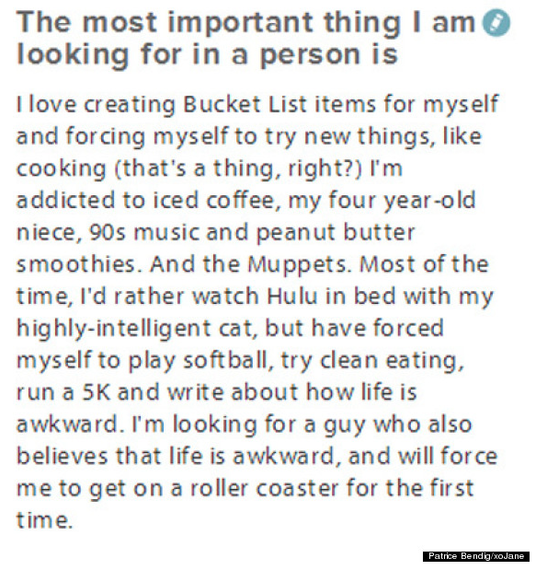 The photos she posted are fine. They're just all wrong for attracting the right guys.
As a feminist myself, when I give advice to fellow liberated females about how to attract a man in an online ad, I'm always greeted with jaw-dropping gasps at my number one criteria for success. Undaunted, I know I'm right, because I've seen it work literally hundreds of times. At the Baltimore Book Festival this past weekend, I spent time coaching women on attracting the right guy, convincing them of what works.
Attracting the right guy begins with asking yourself how you want to be pictured in his mind, because that's where it all begins with men.
The number one mistake women make in online ads is not putting your sensual self forward at the top.
I'll let the noise die down for a minute so that everyone can re-read that sentence. The caterwauling and protests that inevitably arise are predictable, because I've heard them before. That is until a woman takes my advice and sees the results.
There are so many words in the ad above that send the wrong message and picture to a guy it's hard to know where to start. Just say "Muppets," and the picture being sent to a man's mind is sure to trigger a libido lockdown. The last thing a woman wants to happen in an online ad.
The more confident the man, the more ready and eligible the bachelor, the more his ego is engaged. Convinced he deserves the most attractive and desirable woman he can find. All other details that reveal your best self must be wrapped around this mental photo you're sending to the guy you want to attract.
Get creative in your photo. Show yourself in figure-fitting running clothes, curves and all, so you reveal you're comfortable with your body, with a great smile and the outdoors or gym as backdrop. Don't be afraid to show yourself in motion or after a great workout if you can pull that off. Or put your softball shirt, a baseball cap, with your hair flowing, makeup, but instead of pants, wear tight leggings and heels. Enjoy yourself in the picture, because you're in on the joke of what a guy is thinking when he looks at a photograph like this.
The picture he's got of that girl is quite different. It's still wholesome, but it's physical, not sexual. It also means that after this beginning, talking about your beloved niece is a wonderful addition that reveals a woman who loves her family.
If this sounds counter-intuitive and your reaction is that you'll only attract jerks or perverts, then you're not ready for what a modern relationship takes to attract, spark, let alone sustain. You're not selling sex, for Eros' sake, you're fully clothed, sharing how comfortable you are in your own skin and that you have a mind and body connection that creates the whole package.
"Toned, adventurous female wants to get over her fear of roller coasters," beats opening with "bucket list," especially when you're nowhere near the senior citizen bracket. If you have courage, use even more descriptive language.
A guy with a job who is moderately attractive, maybe a little overweight, still thinks he deserves a fabulous female who has it all. Up the ante and think of attracting a handsome man with a prosperous career and options, then a woman, including feminists, have to be unafraid to present themselves fully.
When answering an open-ended question like, "the most important thing I'm looking for in a person is..." you've got to think smartly. Divulging your innermost secrets doesn't work in the first month, let alone in an online ad! Try this: "Someone who wants to hear what I think, because I don't believe in making a man guess."
The rest is about being smart when you meet someone new and taking basic safety precautions, starting with meeting him in the day for a confined time and outside your own neighborhood.
Men are first moved by the picture your ad creates in their mind.
Oh, and once you place an ad, simply wait for responses. The man needs to respond to you, because in any successful relationship the man follows the woman's lead.
As Steve Harvey says, "Chivalry isn't dead, it's just not required anymore."
Only the woman can change this fact and you do it be attracting him to you.
Taylor Marsh is the author of the new book The Sexual Education of a Beauty Queen - Relationship Secrets From the Trenches.