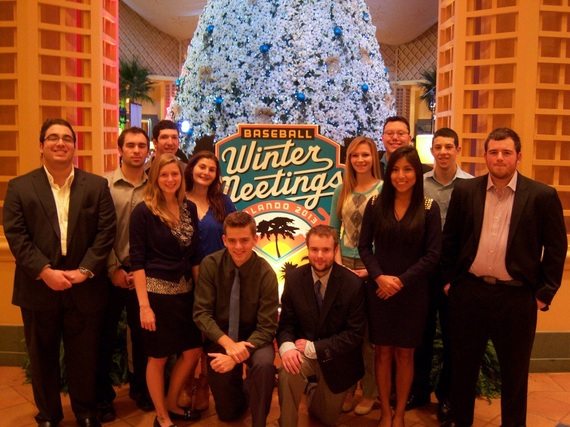 San Diego becomes the center of the baseball universe this week, as the downtown waterfront hosts the Baseball Winter Meetings, the sport's annual business conference. In attendance: representatives from every major and minor league team, sports agents, baseball writers, concessions executives and everyone else related to the national pastime.
The professionals will be joined by some 500 college students and recent university grads, all seeking employment in what continues to be the most-popular sport in America. Of course, millions of fans will be watching as well, checking to see if their favorite teams sign those coveted free-agents. To best enjoy the Winter Meetings, take this lesson in the lingo and, you too, will be ready to kick it like a baseball veteran.
"Bar": Area of the conference's host hotel where former ballplayers gather 'till the early morning hours, tilt back a few cold ones, discuss relevant issues in the sport and embarrassingly attempt to reignite long-since-dormant mojo. As in, "Sparky, I'll meet you at the bar right after I make inappropriate advances to this 20-year-old college student."
"Flip": College student's act of reversing his lanyard-held credential so as to hide the "JOB SEEKER" banner emblazoned across the top. Failure to flip serves as the kiss of death for college students attempting to intervene in conversations with people who already have jobs. Note that women are immune from the need to flip.
"Lobby": Main gathering area on the first floor of the host hotel, where ESPN and MLB Network set up their sets, where old friendships are renewed, where new friendships are forged and where everyone avoids talking to the ever-present college kids.
"Internship": See "Job" below. Just don't tell the IRS.
"Interview": Meeting between a 24-year-old assistant general manager of a small minor league club and a 21-year-old college student. Most interviews are arranged through the eager students' participation in the Professional Baseball Employment Opportunities (PBEO) Job Fair, an official program of Minor League Baseball conducted at the Winter Meetings. No "job" (see below) will be forthcoming until the team's 26-year-old general manager reviews his assistant's interview notes. As in, "Hey, I got an interview as the assistant to the artificial turf greenskeeping intern."
"Job" (also see, "Entry Level Position" or "Yeah Dad Really"): Season-long term of employment with a minor league baseball team at $900 per month in a lovely town located 35 miles from the nearest Target store.
"Press Room": Beautiful large ballroom, converted into an energetic workplace, where brilliant journalists from around the world gather to research, write and file stories about how absolutely nothing is happening.
"Pull tarp": Euphemism for the many roles played by a minor league baseball team intern, from business-centric budget review to the necessary mustard clean-up. And yes, it includes pulling the tarp over and across the field when it rains. You don't like it, try basketball.
"Rumor": Statement that has absolutely, positively no basis in reality, and will be reported as truth on Twitter. As in, "RT @StillLivingInMyMomsRenovatedBasement: My sources tell me the #Yankees are close to a deal that would move the club to Paramus, NJ."
"Suite": Modified hotel room, transformed into a conference area, where Major League Baseball team officials can meet privately and confidentially over whether to sign its backup second baseman to a new three-year, $115 million contract. The term often requires elevation modifiers, as in, "I have to go up to the suite and meet with my owner, because if he comes down here, he risks mingling with the commoners."
"Yasee": Exclamation, usually made by Baseball Winter Meetings first-timers, after spotting recognizable executives or journalists who are just trying to do their jobs. Or exist in the world. As in, "Ya see Peter Gammons walk out of the men's room?!!" Yeah, that's actually really creepy. Don't do that. And enjoy the Winter Meetings!
Ted Curtis, @TedCurtisStuff, is an associate professor of sports management at Lynn University in Boca Raton.