James Brown was at one of the lowest points of his career when I met him in 1980. Perhaps testament to the depths of that decline -- after his disastrous endorsement of Nixon in 1972, his seeming obsolescence during the disco years and his drumbeat of business failures -- was that he had agreed to let an utterly untested 25-year-old white kid like me shop a proposal for an authorized biography of him.

But from what Mr. Brown told me, and as the wonderful new movie, "Get On Up" powerfully shows, whatever frustrations he was dealing with then couldn't begin to match the pain, rejection and daily obstacles he endured as boy and young man. And if his faith in himself had been shaken, I didn't see it.

Only Soul Brother Number One could exude regal dignity and intimidating self-confidence even while poised atop three plush couch cushions, bare feet crossed on a coffee table, clothed in a pair of briefs and a flimsy boxer's robe open to his waist, his head helmeted under the bonnet of a Lady Schick pro-style hair dryer. That's how I met him in his luxurious suite at New York's Park Lane hotel as he shook my hand. I was resplendent in a three-piece suit along with his retinue of lawyers, his manager, valet, and assistants, including Brown's surrogate son, spiritual adviser, and road manager -- and my contemporary -- the Rev. Al Sharpton.
I hope "Get On Up" becomes a hit so more people can know this utterly unique American figure. The rural South and the Chitlin' Circuit of Brown's early years have never been more authentically and wondrously presented on film. All the musical performances are spot on. The film almost always rings true, and that's a real testament to the dream team behind it, including Mick Jagger who was the ideal sympathetic and powerful producer. Chadwick Boseman turns in an Oscar-worthy performance, although his lithe beauty makes JB a good deal more traditionally attractive than the pugnacious, rock-solid, plug of sweating dynamite that was the man in real life.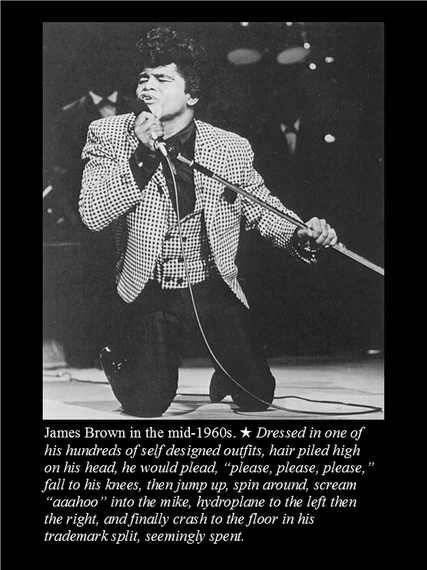 The raging egomania portrayed in the movie, with his relentless drive and determination, and his unfailing belief in himself, was what made his success possible. It also made him impossible to those who came into his orbit.

Adulation seemed his second oxygen when I was around him. A couple of times he and I and his posse decamped to the Stage Deli on Seventh Avenue, not so much to eat, but to experience the wild scene as he placed himself in a window seat facing the street, sat back and just watched the crowd of excited fans gather and grow.
"Brother Fox," he wondered to me, "can you imagine if Muhammad Ali and I were to stand on 42nd Street, me on the corner of 7th Ave. and he on the corner of 8th? They'd almost need a militia to get me out of there! Who do you think would draw the bigger crowd?"
"You Mr. Brown,'' I said. "You would." There was no other answer.
I don't know if he really stiffed his band, as the film shows. But by the time I met him some 70 musicians had come and gone through his band. While Brown lived large at his Uptown hotel suite, his band, including the Reverend Al, longtime M.C. Danny Ray and band director St. Clair Pinckney all stayed at the seedy Hotel Collingwood on the then desolate eastern edge of the Fashion District. I loaned Sharpton 50 bucks one time to help pay the hotel bill when Brown apparently neglected to do so before he left town.
Alas, no company thought it was worth publishing a James Brown book at that time in his life. All felt it was "just a black book" with little appeal to a broad audience, despite his remarkable life story and the undeniable fact that he was one of the most popular and influential musical artists of all time.

Of course it didn't help that that Mr. Brown wanted a million dollars to ensure his complete cooperation.

I went on to write my book, "Showtime at the Apollo," which was published for somewhat less than a million dollars in 1983.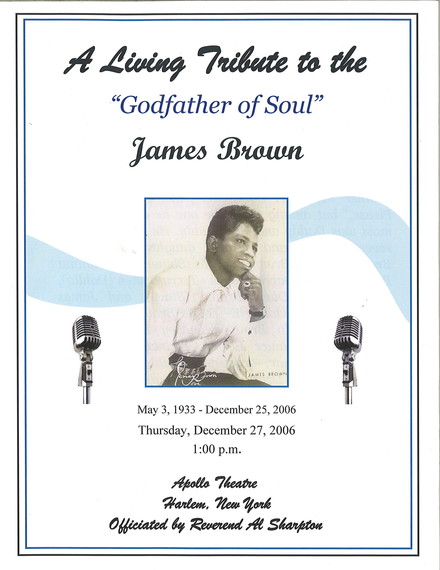 Since then, there have been other James Brown books, a rediscovery by young rappers and headline-grabbing criminal insanity by Mr. Brown. But only upon his death could a film like "Get On Up" get made.
The last time I saw James Brown was on the stage of his beloved Apollo Theater -- laying serenely in his coffin just after Christmas in 2006. Tens of thousands had passed through the theater to pay their respects at a memorial service officiated by Reverend Sharpton.
It may have been the first time since he was a toddler that he had truly been at peace.
TED FOX is the author of Showtime at the Apollo: The Story of Harlem's World Famous Theater, the definitive history of the Apollo which is now a Kindle ebook. He is also the author of In The Groove a collection of interviews with men who have shaped the music industry. He produces and manages Grammy-winner Buckwheat Zydeco and lives in upstate New York. You can read more about Showtime at the Apollo and get Apollo news on Facebook and Twitter, and at Apollobook.com.