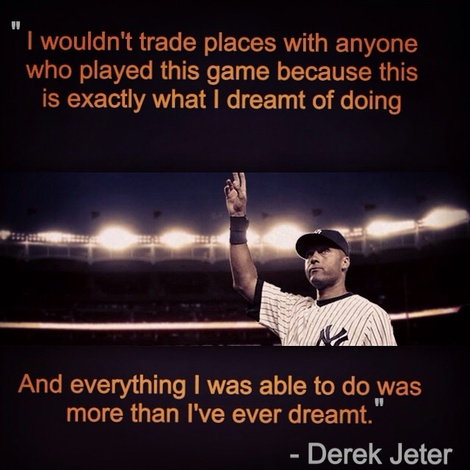 On Thursday September 25 at 10:16 p.m. in the Bronx, New York, a loud and thunderous roar erupted when the team's 11th captain drove in the game-winning run to end his mystical career in Yankee stadium. The fashion, in which Derek Jeter went out as the Yankee shortstop, on his home turf in Yankee stadium, was just an illustrious microcosm of his epical 20-year career.
The 14-time All-Star with 5 championship rings, 5 gold glove awards, all-time Yankee leader in hits, and only player to have earned an All-Star MVP and win the championship in the same season will certainly be remembered for his staggering numbers. Yet remarkably, it will not be the forefront of his legacy, his intangibles will be.
In a time when baseball's reputation had been damaged by players posting statistically-fattening numbers and shattering long-standing records because of juiced-up cheaters, Derek Jeter managed to always play the game the right way while maintaining consistency throughout his career. He held an enormous amount of respect for the game, his teammates and his fans and showed it both on and off the diamond as a true professional.
Jeter's retirement marks the end of an era and elite chapter in Yankee history, and for many, the end of his career had an emblematic feel to that of a funeral. Jeter stated during his final post-game press conference at Yankee stadium "it's as if [he had] died". And rightfully so - no Yankee has ever racked up 3,000 + hits or won nearly as many games as Jeter did. The truth is that, in a way, a part of the Yankee organization has died with Jeter being the last of the "Core Four". It's fair to say that no Yankee in our generation may ever achieve the level of success that Jeter reached and serve as a catalyst for his team like he has.
On the flip end, there are some baseball fans (there will always be a minority in anything) that discredit Jeter, claiming his numbers were not staggering enough to have earned his reputation as the face of baseball. In effect, these fans never gravitated towards his super-stardom repute and boy did they miss out in experiencing the nostalgic moments we all felt during his final few games as a major leaguer.
For those who missed out, I'll do you a courtesy by explaining exactly what Jeter meant to Yankee fans and the majority bunch. He represented much more than his numbers; he was living proof that hard work, humbleness and integrity pay off and he re-defined the meaning of the word "success". He is an example in modern day sports that playing the game the right way can lead you the right way. He instilled optimism and brought back hope to the game of baseball, despite its negative image surrounding the games most popular players using steroids. He usurped the spirit of baseball by being a true team-player, the same way we all were taught and believed the game to have been played as kids during little league - he transcended this into the big leagues. He inspired competitiveness in all his teammates and opponents and made the game more enjoyable for everyone, both watching and playing. He never made excuses about injury or failure and his consistent performance did all the talking on the field. Derek Jeter is a heck of a lot more than a future hall-of-fame ballot; he is the American Dream.
Jeter was a catalyst for the Yankees success between 1996-2014 and led his club into playing 158 postseason games, which is equivalent to an entire season! He is the only player ever with 200 hits in the postseason, and in his 20 year career he had only one meaningless regular season game where his team had been mathematically eliminated. These numbers that his team had put up over the years are so grand and so rare to come by that many Yankee fans deep-down in their hearts know that they may never be inspired ever again the way Jeter's Yankees inspired the world. For those fans who were young children or even young adults when Jeter started in 96', their sentiment for future Yankee pin stripers has perhaps "diminished" as they've now grown-up to realize that [the Yankees] "won't pay their rent" as Chazz Palminteri humorously puts it.
On a serious note, Derek Jeter is the quintessential role model and deserves every bit of respect that he's received during his celebration goodbye because he represents so much more than numbers and baseball; he brought fans hope. Jeter was and will always be an ambassador 2 the game of baseball and his legacy will be remembered for future generations as "Captain Clutch". #re2pect #farewellcaptain