In American business, the mission statement is viewed as the core declaration that determines the course of a company. Much intellectual sweat pours from the foreheads of the leaders of businesses in their efforts to get their mission statement right. The trouble is that, in most companies, the statement ends up a somewhat colorless piece of business cliché. For example, the statement of one of America's largest fast-food chains says this: ""To provide the fast food customer food prepared in the same high-quality manner worldwide, that is tasty, reasonably-priced & delivered consistently in a low-key décor and friendly atmosphere." This statement plods. It is dull. After reading it, I would hesitate to enter one of their stores, for fear that their food would be as plain as their prose. But this sort of statement is the usual in American business. Any random sampling of the mission statements of Fortune 500 companies will be very similar in style. A San Francisco agency named
Butchershop Creative
has a different take on the mission statement. Here is theirs:
"We promise to promote love forever and ever and ever. We are yours in partnership, in the total destruction of fear and disapproval. In the movement of love and joy, we celebrate success through the service of creativity and the annihilation of inner baggage that keeps us shut down, complacent, and afraid to move."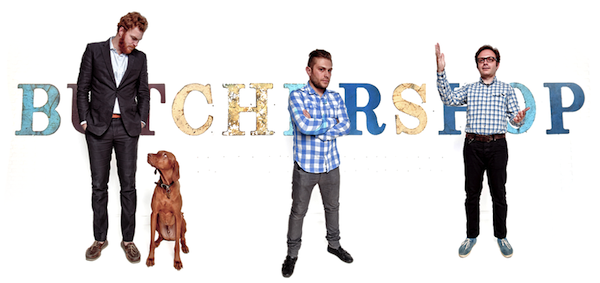 (L to R) Trevor Hubbard, Jackson, Misha Vladimirskiy, Aleksandr Vladimirskiy. Used courtesy of Butchershop Creative.

Butchershop was founded in 2009 by Trevor Hubbard and brothers Aleksandr and Misha Vladimirskiy. I spoke with Hubbard recently, and asked him to elaborate on a remark he had made, in a previous conversation over coffee, that was almost a throwaway. Yet I had never heard it before, and wanted more detail. He had mentioned the importance of "passion and profession."

"When you're young, it's everyone's goal or dream that, if you do what you love, you'll have a life. Do what you love, and the money will come. But we were sold a little short on that, because it doesn't mean you can sit back and relax. Doing what you love involves great participation, and to the degree that we participate, we formulate our values ... our principles, and we find the things we love. And equally important, we find what we don't love."

Most of us know what we are passionate about. But Hubbard reminds us that simple passion is not enough. "Many wonderful people fall short because they don't understand the profession of it all. Any creative endeavor that you seek ... you have to run it as if it's your own miniature startup."

Actual startups are cool, in Butchershop's estimation, because you can see the personalities of the people who founded them coming out in the startup businesses themselves. "That's why you relate to them," Hubbard says. "The best things are coming out right there, right in front of you."

Hubbard and the Vladimirskiys try to translate that notion into very real creative relationships with their clients. They eschew the idea of being the kind of company in which the client comes to Butchershop with a developed set of ideas and simply says to the crew -- as the Butchershop team call themselves -- "Do it!" What they like to hear is where you think you are, what your thinking is, where you think you can go, what roadblocks you are encountering, where things are going wrong.

"From that," Hubbard says, "it's our job to cultivate a package that is a recipe for success, that emphasizes what we call 'the main idea, the singular thing.'"

After being in business for some time, Black Star Beer's owner, Minott Wessinger, wanted to give the company a home, and he chose Whitefish, Montana. He built a brewery there sixteen years ago. Simple as that. No focus groups. They made good beer.

They had a stellar re-launch in 2010, for which they brought in Butchershop Creative. "Minott did the singular thing," Hubbard says. "Build the brewery and make the best product you can. If you want to sell that beer, then sell it yourself! Hustle, make it work, share the story." Hubbard describes Black Star as nothing less than "an American tale. It is one person, one at a time, hand over fist, winning people over. It's a struggle. It's a journey. And that's the kind of client we like." Passion and profession.

Butchershop seeks a 50-50 relationship with its clients. The client gives Butchershop the main idea, "and we give them our minds," Hubbard says. Butchershop insists on a relationship in which they are not simply doing the client's bidding. The agency was founded on the principle that "we say when, we say how much, we say how often, we say where."

"We're not prostitutes," Hubbard grins. "People want to work with us because we offer partnership. We try to understand where the client is coming from, and to provide an honest, no bulls**t solution that works for them."

There is, to be sure, an irony to be found in startup success stories. Growth can lead to bureaucracies that often lead, not so ironically, to a slowdown of real creativity.

"All big companies started out quick and nimble," Hubbard avers, "and the good ones don't lose site of their original culture. They're the ones that are wonderful to work with."

Few companies, however, when they are successful and growing, retain that quickness. "You have what I call 'The Iceberg Syndrome,'" Hubbard says, his head shaking back and forth with considerable chagrin, "in which a company gets so big -- still turning out good products, mind you -- and somehow, somebody loses the reins, and they end up on an enormous iceberg, floating on the dark, deep blue."

Trevor Hubbard realizes the importance of this with regard to Butchershop itself. "We're doing very well. And we could say in a clipped monotone, well, 'we're a boutique agency in San Francisco that specializes in design, innovative technologies...' Things like that. But that has nothing to do with the annihilation of inner baggage or being shut down or afraid to move, like our mission statement says. It's much more honest to say, as we do say, 'Butchershop is the coolest company you've never heard of.'"