After living in New York City for a decade and roughing it in the icy cold winters that never seem to end, the idea of spring is beyond exciting. This past March, I looked at a map of the U.S. to see where I could travel to shed the winter blues, where there was guaranteed sun, relaxation, good food, and fun. My one requirement was that it be a place that I had not previously visited, so South Beach and most of California were not options.
I looked at the west side of the U.S. map and Scottsdale, Arizona jumped out at me. Scottsdale is in the desert and in the spring, the weather is perfect. It is warm, but dry, and in the evenings it is cool and the ideal temperature to gaze at the starry sky. Scottsdale is a 20 minute drive from Phoenix and is filled with luxury resorts and spas, amazing restaurants, golf, and shopping, which makes it the perfect destination for springtime travel.
WHAT TO DO:
Spa: To relax, pamper yourself in a spa treatment at one of the many spas in Scottsdale.
At the Phoenician's Resort & Spa Centre for Well-Being I needed relief for my dry skin, so I treated myself to an 80 minute Shea Butter massage with a honey avocado foot therapy treatment. It was so relaxing and my skin felt amazing for days after.

Relaxation area at the Phoenician Spa
Other spas to consider are: Joya Spa at the Montelucia Resort & Spa and Sanctuary Spa on Camelback Mountain.
Hike: On this ecologically diverse terrain, it is easy to feel like a child while spotting rabbits, lizards, and unusual plants while traversing the many trails in Scottsdale and Paradise Valley. I suggest walking the Cholla trail on Camelback Mountain. It's 1.5 miles one-way and goes from the tail of the camel to the second hump.

Pool: If you like a good pool scene / daytime party, go to the W Hotel on Saturday afternoon. Get there early for good real estate and be prepared to see people who really want to be seen.
Golf: It's not really my thing, but the Phoenician has the most incredible mountainous backdrop and manicured greens that made me want to pick up a golf club and tee off.
Shop: Scottsdale Quarter and Biltmore Fashion Park

WHERE TO STAY:
Sanctuary on Camelback Mountain Nestled in Paradise Valley, Sanctuary on Camelback Mountain Resort & Spa is a breathtakingly beautiful place surrounded by mountains that has the most colorful sunset in all of Scottsdale. Visitors from other resorts come here to watch the sunset on the Edge Bar deck where you can see the sun set between Camelback Mountain and Superstition Mountain. You can also clearly see how Camelback Mountain got it's name and the cute iconic praying monk that kneels so perfectly on it.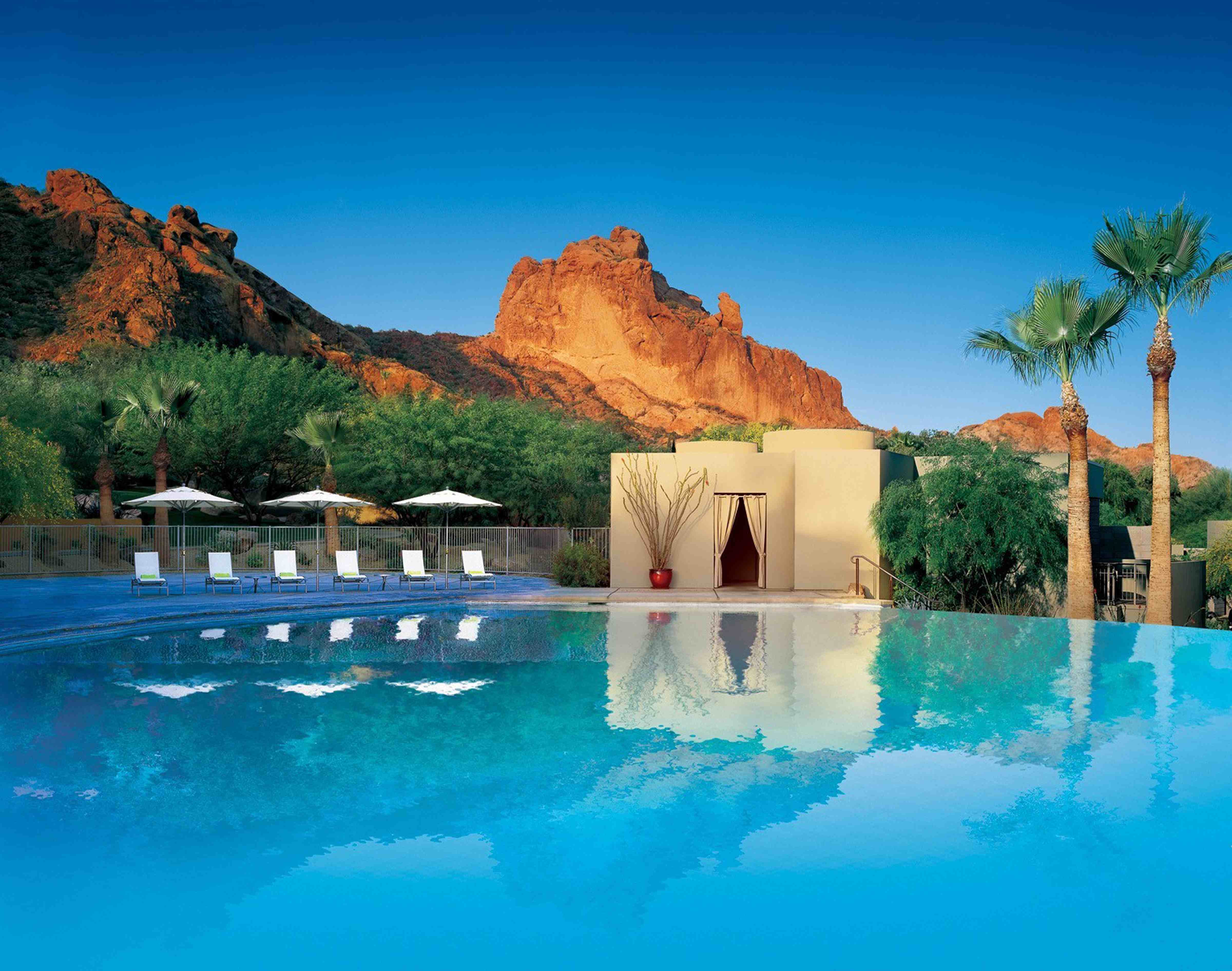 Infinity Pool at Sanctuary on Camelback Mountain Resort & Spa
Appropriately named Sanctuary, all of the casitas and suites on property are modern, luxurious, and have amazing views of the desert, mountainous landscape, or scenic property views. There is a reason why Condé Nast Traveler magazine named Sanctuary the number one resort in the Southwest in 2013 and why Jay Z and Beyoncé honeymooned in one of the private casas here.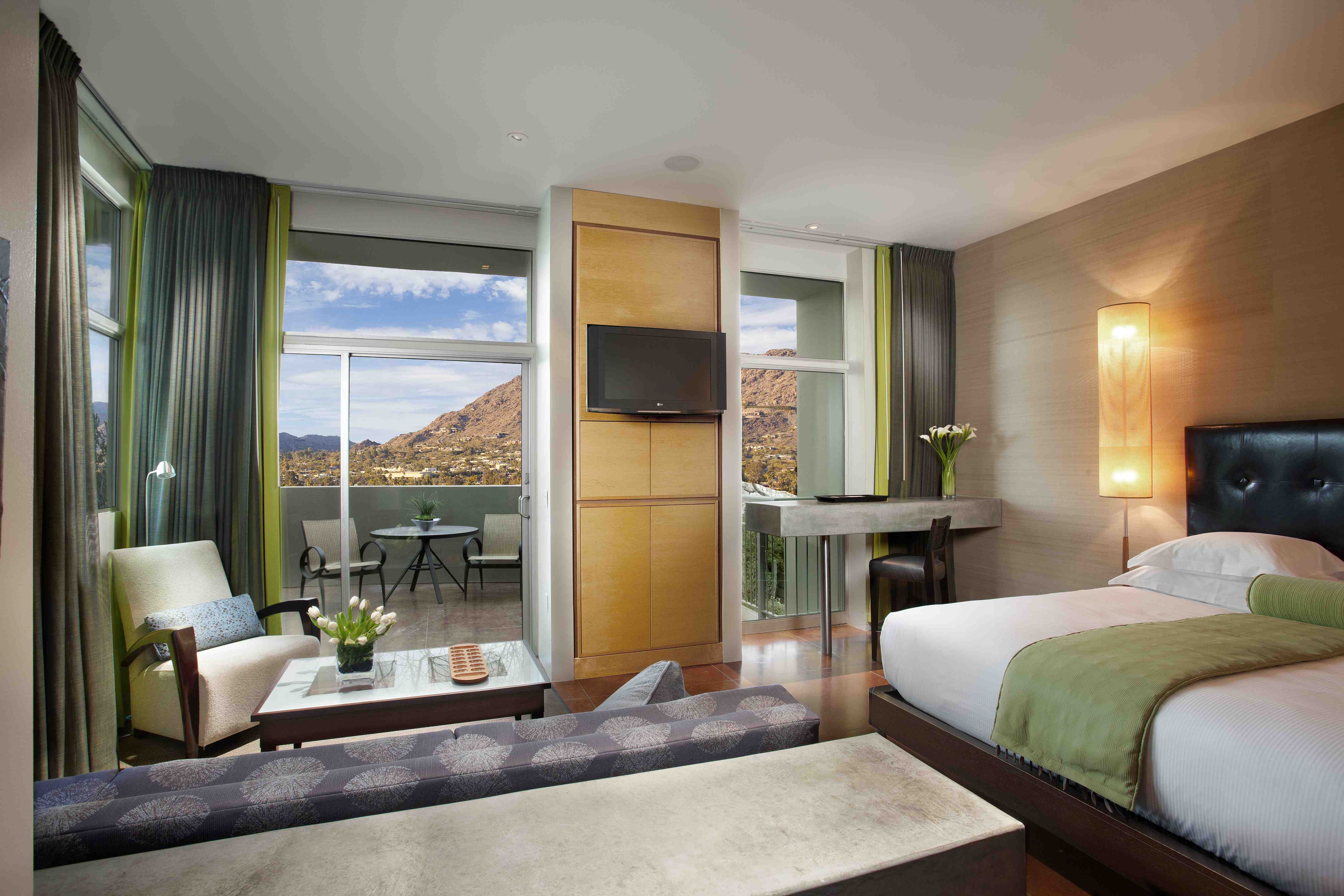 Spa Casita Room at the Sanctuary on Camelback Mountain Resort & Spa
This place is hard to leave, especially because of just about everything here. From the Red Flower lotion and bath products to the comfortable beds, here you feel at home at peace. The service is world class and the staff is friendly, knowledgeable and very helpful.
If you like tennis you're in luck. The Sanctuary on Camelback was previously a tennis club frequented by Hollywood elite and there are five tennis courts and tennis pros waiting to rally.
The Phoenician is another property that exudes luxury at every angle. As part of the Starwood Luxury Collection Resort group, this mega resort and spa caters to business travelers, families and girlfriend getaways.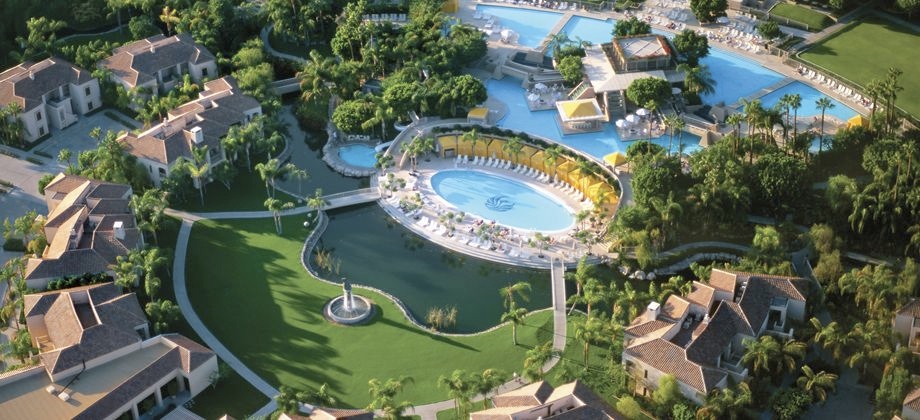 View of the Mother of Pearl Pool at the Phoenician
Positioned on 250 acres, it's no surprise that the Phoenician has over 600 guest rooms, nine pools, eleven tennis courts, three golf courses, restaurants galore and a 25 million dollar art collection consisting of French tapestries to native American bronze structures. You can come here, never leave the property and have an amazing time. For you nature lovers, they also offer cactus garden tours where you can explore the 250 types of cacti and succulents. Be sure to keep your eyes open for the Chuckwalla lizards and roadrunner birds that call this place home.
If you're an early riser, inquire about feeding the koi fish located in the Necklace Lake lagoon. Although it's an activity for kids, as an adult I thoroughly enjoyed watching the fish jump out of the water, battle with the ducks, and elbow the turtles for food.
The Montelucia Resort & Spa is the perfect blend of Andalusian and Moroccan design for the exotic southwestern desert. The beautiful property sits on 35 acres at the tail of Camelback Mountain with gorgeous views and landscaping at every turn. It is a beautiful and popular place to get married and the Kabash pool is quite popular among guests.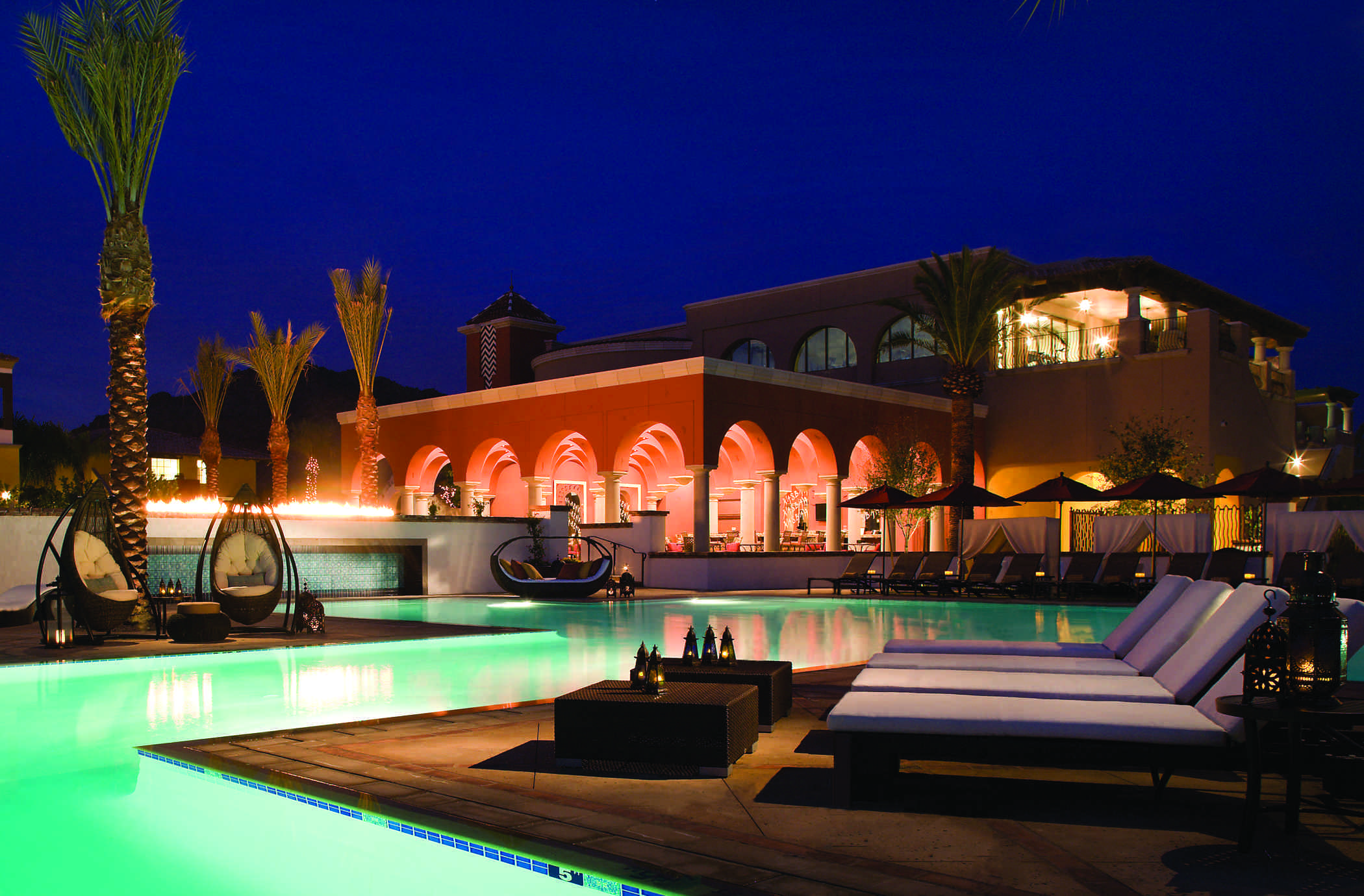 Kabash Pool at Montelucia
WHERE TO EAT:
Elements: Don't miss the opportunity to dine at dinner at Elements, the signature restaurant at The Sanctuary on Camelback. Executive Chef and Iron Chef America Winner, Beau MacMillian, uses fresh local ingredients and is genius at creating perfect dishes. If available, try the sea bass and pork belly. Don't forget to ask the sommelier to pair your meal with one of the 1000 bottles of wines they carry and save room for the mason jar desert that is a delicious blend of chocolate cake, vanilla gelato, and caramel crunch.
Prado: Have lunch or dinner at Prado at the Montelucia Resort & Spa. This contemporary Italian cuisine is exquisite and the warm focaccia bread made with the Executive Chef, Michael Cairns's special recipe, is the best I've ever tasted. It is well worth the calories.
Julio's Two: This no frills Mexican joint is great for quick hearty tex-mex cuisine. They serve a variety of tacos, burritos, enchiladas, and tamales that are perfect after partying at the W Scottsdale (located right next door).
The best time to travel to Scottsdale is January til May. Once summer is in full swing, get ready for the heat and resort deals galore. This is their low season and the resorts have amazing deals that keep visitors coming. The Phoenician has an offer beginning May 30th - September 30 where your get every second night for $25.