Out of 30 U.S. cities named Greenville, it's the one in the heart of South Carolina's upcountry that stands out and makes you say, "Yeah, that Greenville". As one of the fastest growing cities in America, Greenville, South Carolina has a flourishing and revitalized downtown filled with boutiques, restaurants, art galleries and more.
With it's perfect mix of southern hospitality, great weather, art and a thriving culinary scene, Greenville is simply delightful. During my recent three-day experience there, I tried my best to explore everything that makes this city so charming, loveable and worthy of a weekend getaway.
Here is a list of my Top 10 Things to do in Greenville, South Carolina.
1. Go Biking
Rent a bicycle, explore downtown Greenville and cruise along Swamp Rabbit Trail, a former railroad corridor, that links to the cool town of Travelers Rest. Rent at bike at Reedy Ride located at 12 West McBee off of Main Street.
Biking along Swamp Rabbit Trail
2. Eat
If you enjoy discovering places through their culinary offerings, then the "At the Chef's Table" tour is a perfect way to eat your way around town and meet the chefs as you sample offerings from some of Greenville's top restaurants.
Book with Greenville History Tours.
3. Stay
Located in the heart of downtown, The Hampton Inn & Suites Greenville is in the perfect location for a walk along the river or down Main Street for dining and shopping. This new hotel has guest rooms and suites with balconies that overlook the Reedy River and the Peace Center for the Performing Arts. With free wifi, hot breakfast, and a friendly staff, the Hampton Inn & Suites Greenville is the best hotel option in town.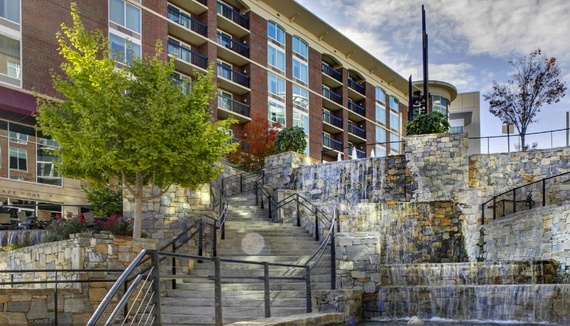 View of the Hampton Inn & Suites Greenville from the Reedy River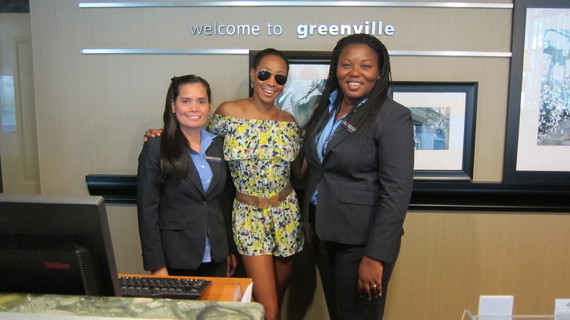 With the friendly staff at the Hampton Inn & Suites Greenville
4. Shop
The easily walkable downtown has great retail therapy, especially for women. The Traveling Chic Boutique has stylish yet affordable designer dresses, necklaces and bags.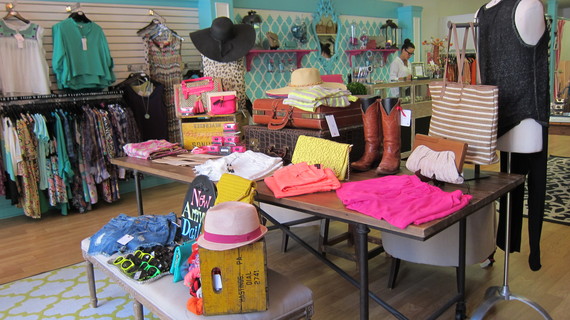 Inside the Traveling Chic boutique
For comfortable jeans that fit and flatter all shapes, try Bejia Flor, (Portuguese for hummingbird). The jeans are inspired by the style and cut of Brazilian jeans that flatter women of all shapes. Beija Flor jeans are sold in over 400 stores in the U.S., but the Beija Denim Salons are only in Greenville.
Drop into Cone & Colleman boutique for a variety of clothing and accessories artfully curated by owners Janna and Jennifer. The luxury shopping experience under their seven-foot antique chandelier is world class.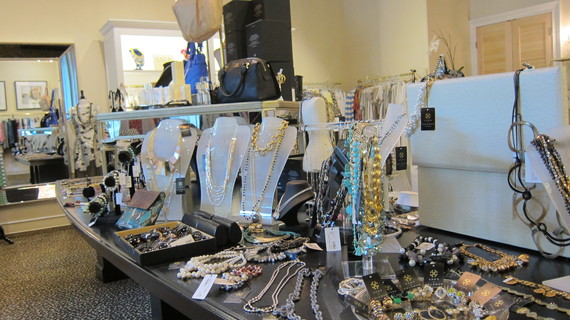 Accessories table at Cone & Colleman
5. Music
Check out the Greenville Heritage Main Street Friday concert series with a band playing jazz, blues, soul, oldies, etc. Head to Main street and NOMA Square for the two sets that begin at 5:50pm and at 7:40pm. This will run until Sept. 26, 2014.
6. Fine Dining
Enjoy dinner at High Cotton restaurant where Chef Adrian Carpenter combines the region's finest produce and fish with international flavors. Request a table by the window for a view of the Reedy River. High Cotton is located on 550 S. Main St.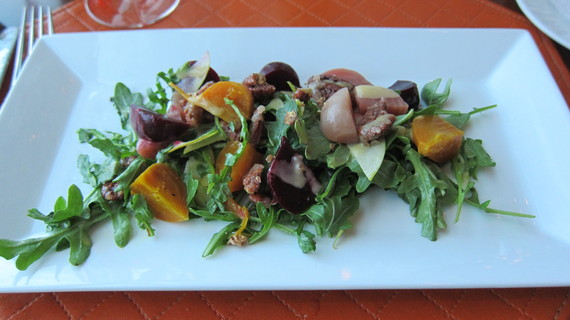 Summer berry and beet salad at High Cotton
7. Art
Visit the Greenville County Museum of Art to view the largest public collection of watercolors by artist Andrew Wyeth. The museum also has an impressive collection of American art (from a southern perspective) of the colonial period to the present.
8. Outdoors
Visit Paris Mountain State Park to hike, canoe, swim and explore nature. Located a few miles from downtown Greenville, the park serves as a wonderful retreat from city life and the southern heat.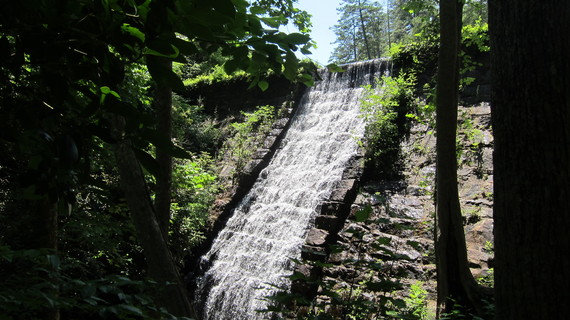 Paris Mountain State Park near Sulphur Springs Trail
9. Market
Stroll through the Market on Main Street on Saturday mornings from 8:30am until 12:30pm. This farmers market meets block party has fresh produce, flowers, food, and crafts from local farmers and vendors in addition to live music, cooking demonstrations and friendly people. The market is located at Main Street at McBee Avenue and lasts until Oct. 25, 2014.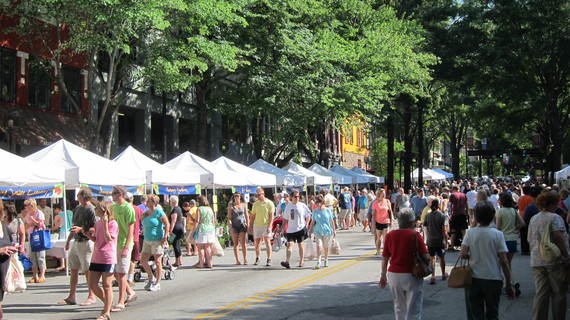 Market on Main Street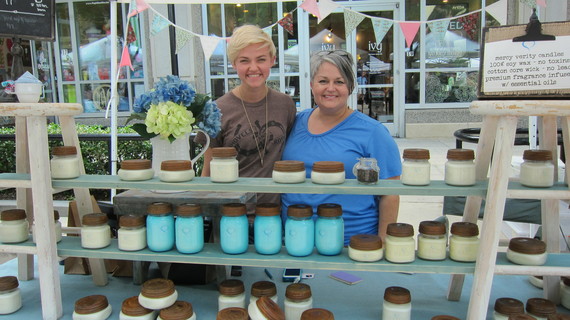 Right: Lisa Summers, Local Vendor and Owner of Mercy Verity Candles
10. Drive
Greenville is home to the U.S. manufacturing for BMW with a free museum (BMW Zentrum) where you can explore the cars and BMW's history of innovation. You can take a guided factory tour to experience the birth of a BMW or if you are true speed and performance junkie, book a driving tour with the BMW Performance Center well in advance.