VS.

For the last few years, several actors and other frequent travelers have told me that when it comes to flights between LA and Manhattan, they choose between two carriers: JetBlue Airways or Virgin America Airlines. A weekend trip to New York last month gave me a chance to fly them back to back to see how they measure up.
The good news is that both have upbeat crews, good on-board individual entertainment systems and very comfortable seats. Here are my observations in flying JetBlue to New York and Virgin America back to LAX. I sat in the seats on both airlines that offer more leg room (i.e., greater seat pitch). Seat Guru defines seat pitch as "the distance from any point on one seat to the exact same point on the seat in front or behind it." For example, a seat pitch of 34 inches offers more leg room than a seat pitch of 31 to 32 inches, a typical seat pitch for many coach seats.

JetBlue - LAX to JFK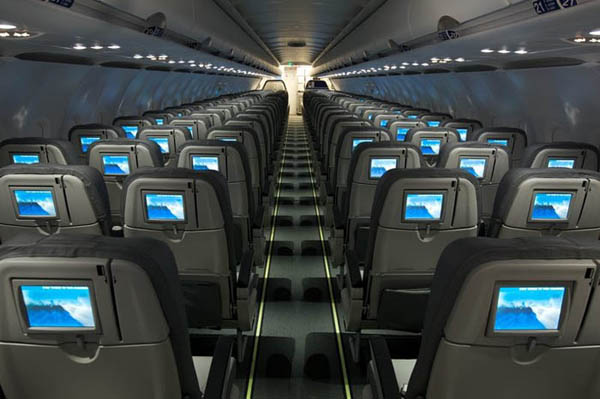 JetBlue's new Airbus A320
My 10:30 p.m. night flight to New York boarded a few minutes early and very efficiently. My aisle seat was an "Even More Legroom" (EML) seat which costs an additional $50 on the New York/Los Angeles route. The 38 inch seat pitch of EML was so roomy, I felt a bit guilty being only 5' 5 (and a half). JetBlue's regular 34 inch seat pitch would be more than sufficient for me.
A very amply padded woman had the window seat, a big guy sat next to me in the middle seat, and yet I was very comfortable. Although Seat Guru lists the seat width on the A320 as 17.8 inches, JetBlue advised me that it's actually 18.5 inches (which is wider than most airline seats). Despite three ample butts (my own included) in my row, none of us were forced to fly pressed thigh to thigh. (As is so often the case.)
The buttery leather seats are comfortable and include some lumbar support and better head support than many airline seats. I wish the seats had greater recline than 4 inches, however, for sleeping on a night flight. Nevertheless, the lights in the cabin were dimmed and I slept two to three hours of the flight.
JetBlue's entertainment system offers a wide variety of free entertainment choices including 36 channels of DIRECTV programming, a selection of first-run movies, and more than 100 channels of XM Satellite Radio. Like Southwest, JetBlue offers free snacks including a Munchy Mix that could make me crave a prescription for medical marijuana if it was accompanied by JetBlue's Munchy Mix.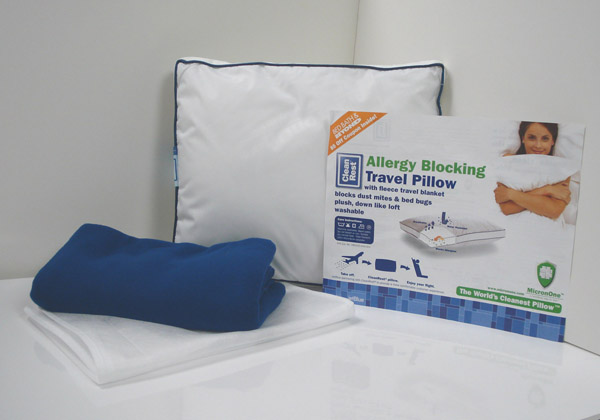 JetBlue blanket and pillow
Although JetBlue sells a fleece blanket and a pillow for $7, it gives guests on a night flight a complimentary "snooze kit" with a sleep mask and reusable foam earplugs. The mask helped shut out stray light in the dimmed cabin.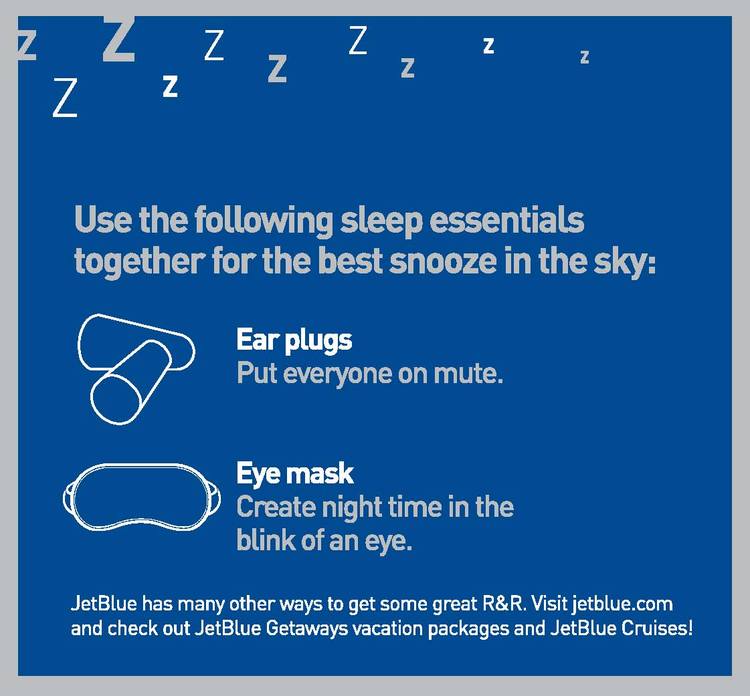 JetBlue Snooze Kit with eyemask and reusable earplugs
My Six Favorite JetBlue Things
1. The legroom and seat room.
2. One free checked bag (even though I traveled with carry-on only on this trip).
3. The free sleep-mask.
4. The Munchy mix.
5. The upbeat flight team.
6. The refreshing hot towels distributed to all the passengers shortly before landing. It gives you the first class experience for a coach price.
Mateo Lleras, a spokesman for JetBlue also advised me that recent on-board improvements on JetBlue including;
lightweight, all-leather Recaro seats, offering more comfy cushions and increased personal space created by thinner seat profiles, new sculptured sidewall paneling, adding inches to the cabin's width and allowing more shoulder room for customers seated at the window, 10 percent more overhead bin space and LED cabin lighting, creating a cool white tone that produces an open and more spacious ambiance.
I had no trouble stowing my bag in the overhead bin, and definitely felt the seats provided more personal space than I get on other airlines, unless I have upgraded to business or first class.
Virgin America - JFK to LAX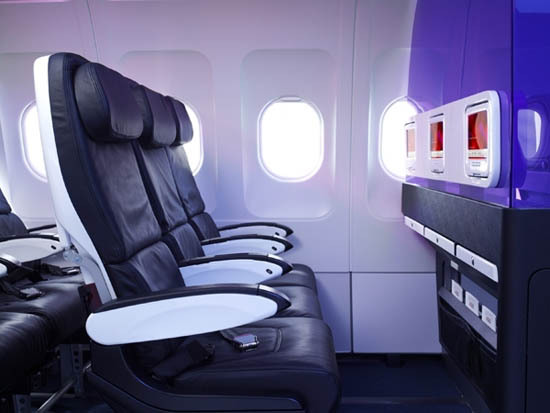 Virgin America Main Cabin Select seats
My 4:30 p.m. flight boarded early. I flew in "Main Cabin Select," a $110 upgrade from the main cabin on the New York/LA route. Main Cabin Select offers more leg room (seat pitch is 38 inches rather than the 32 inch seat pitch in Main Cabin), free food and alcoholic beverages and one bag checked for free. I have previously flown Virgin America from LAX to SFO and found the 32 inch seat pitch comfortable. Virgin America spokesperson, Abby Lunardini says the knee raise is higher on their seats than on other domestic carriers, so even their least expensive economy coach seats have a "more ergonomically correct design and pitch. "
Nothing beats leaving the harsh lights of the airport behind and boarding a Virgin America plane with its mood lighting.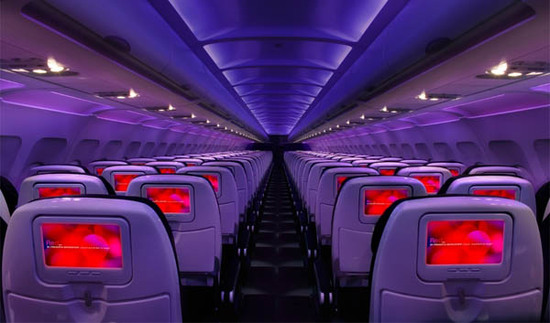 Virgin America's Mood lighting creates a mellow atmosphere
My Main Cabin Select aisle seat was 3D, a bulkhead seat, so the 38" seat pitch seemed even roomier. The seat width is a generous 21 inches, and the lumbar support of Virgin America's seats make them comfortable fully upright without any recline. I was comfortable and so was the woman by the window with a very well-behaved baby named Chloe.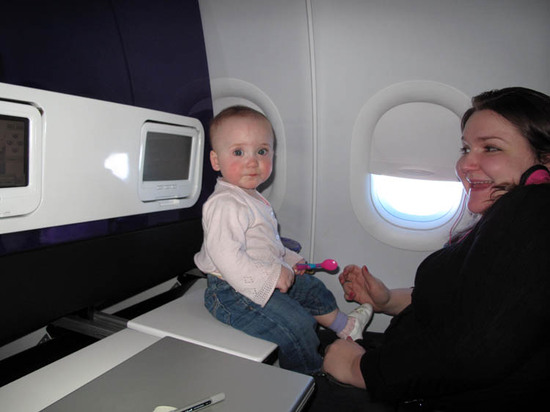 Young Chloe, a well behaved young Virgin American flyer (Photo by Terry Gardner)
Despite coming down with a miserable cold in New York, my flight back was pleasant from the soothing effects of the mood lighting to the magic of Virgin's RED Entertainment system. RED lets you order On Demand food and drink, which are complimentary in Main Cabin Select, so I tried several items. I wouldn't recommend the Cubano sandwich (which had soggy bread), but the Fruit, Veggie and Cheese and Mediterranean Tapas trays were very good. (I ordered the Fruit/Cheese tray to take it home and try.)
RED's entertainment choices are free in Main Cabin Select but premium movies cost $4 in Main Cabin. I enjoyed watching "The Blind Side" and half of "Twilight: New Moon," before RED conked out about an hour before landing in my row and several rows behind us.
Although I didn't sleep on my return flight, Virgin America offers a Virgin America Nap Pack from Cleanrest® for $12 that includes a pillow, a blanket, a sleep mask and ear plugs.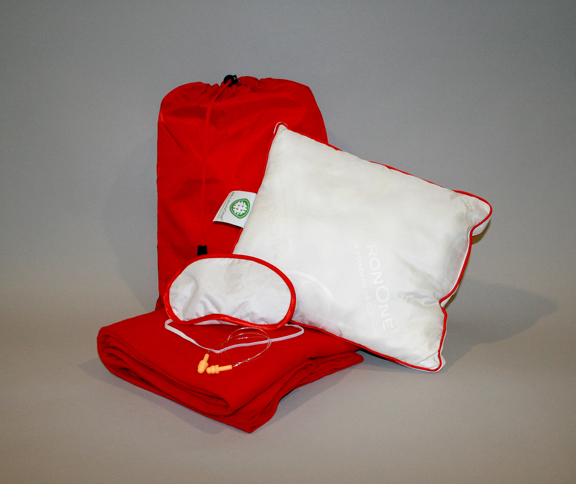 Virgin America Nap Pack from Cleanrest® with an allergy blocking MicronOne pillow, eyemask, soft fleece blanket, reusable silicone ear plug with a reusable travel pouch
My Six Favorite Virgin America Things
1. The mood lighting;
2. The legroom, seat room and lumbar support;
3. RED Entertainment System and the option to buy amenities from aspirin to sleep kits;
4. Upbeat flight crews;
5. Virgin flights begin with the Captain delivering a welcome annoucement outside the cockpit rather than our meeting him as a disembodied voice from the cockpit; and
6. The flight safety announcement - it's refreshing, entertaining cartoon that makes the announcement worth watching. (Only Air New Zealand's domestic "Nothing to Hide" announcement tops it.)
The Baggage Issue
I love JetBlue's one checked bag for free policy and wish Virgin America didn't charge Main Cabin passengers $25 to check their first bag, but the airline lets the bag weigh up to 70 lbs., 20 lbs. more than most airlines, including JetBlue. With its weight limit of 50 lbs., if your bag happened to weigh 51-70 lbs., JetBlue would charge you $50 for the excess weight.
Chris Vollmer, a publicist friend of mine, swears by both airlines. He wrote me: "While Virgin America and JetBlue are the only airlines I like to fly domestically, I choose flights on each one for different reasons. Virgin America is a workaholic and coffee-lover's dream. Every seat has plugs for my laptop and all I have to do to stay awake is order a quick cup on the TV screen in front of me. How convenient!
Jet Blue, however, is a must on any morning flight to California from New York. Why? They have ESPNU, which broadcasts my favorite talk radio show - The Herd with Colin Cowherd. With an 8am departure from JFK, I get to enjoy Colin's wit and humor from Indiana to New Mexico - makes the trip quick!"
Bottom line: It's a win/win situation with either airline. Both make flying fun, if both have the same fare, your legs might shout "Pick JetBlue for the legroom," while your eyes plead "Choose Virgin America for the mood lighting." Or split the difference like I did, flying one each way.
Disclosures: All photos except the shot of Chloe were provided by JetBlue and Virgin America. Both flights were complimentary with a media credential. No editorial content was guaranteed, and I was free to write about my observations.