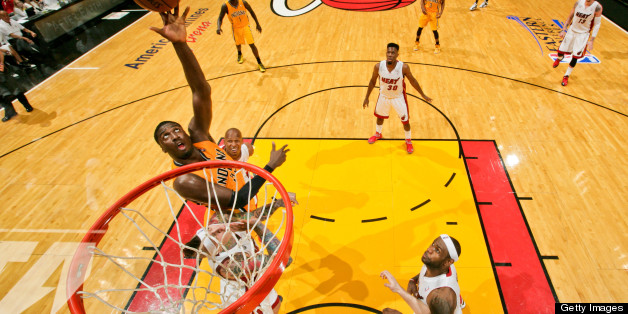 Roy Hibbert, an emerging NBA star on both the offensive and defensive ends of the court, now needs to work on his all-around skills and that should start with his interviews, media relations, social skills and his off-the-court game. He can start by knowing some of the facts.
While Hibbert sat at the NBA's version of the highest pulpit -- the globally televised official post-game media news conference table -- he decided to use what can be referred to as an immature reference, a "gay" slur in his response to a simple question. Earlier, he ripped the media for neglecting to recognize the Indiana Pacers team because of its lack of nationally televised games or national print/electronic media attendance and attention devoted to attending Pacers games throughout the year. The whole fiasco was in response to a legitimate question about why he wasn't thought of more highly and voted upon more frequently for NBA Defensive Player of the Year.
In essence, in his replies to the national/international press, Hibbert was far too ... well ... defensive!
Hibbert issued the obligatory apology and was subsequently fined $75,000 by the NBA -- nearly all of it due to the gay slur and a bit for calling the media one of comedian George Carlin's "not acceptable" words.
I'm giving Hibbert the benefit of the doubt on the immature slur. He apologized and was fined and paid a pretty heavy cost. But, on the basketball and media criticism side of the equation, I'm sending up a flare. Truth be told, Hibbert received more support from the media than he did from the NBA's head coaches when you compare the voting for the NBA Defensive Player of the Year to that of the NBA's All-Defensive first and second place teams.
In the media voting, Hibbert earned 3-5-6 or 14 selections from some 120 media members who regularly cover the league (note: 3 first place votes; 5 second place and 6 third place). That was good enough to rank 10th in the voting by media, well behind winner Marc Gasol (from small market Memphis) who finished only on the second team All-Defensive when the coaches voted.
In a more "in-depth" analysis, one might look to the NBA's All-Defensive team voting for some perspective. In that voting -- conducted by the league, administered by an independent accounting firm but decided by the head coaches of the 30 NBA teams -- Hibbert garnered 2 of 29 first team votes but totaled only six voting "points," meaning he received only support from two other coaches in the league, both for the second team. That means, he impressed four coaches, not including Indiana's Frank Vogel.