"What is the square root of racism?" These words rang out last Thursday in Detroit's historic Orchestra Hall as Kennedie King, Justin Rogers and Arzelia Williams of InsideOut Literary Arts Project's Citywide Poets opened Wayne State University's annual tribute to Dr. Martin Luther King, Jr. Their poem received a thundering standing ovation as they raised their arms for its concluding lines: "Just/ Don't/ Shoot."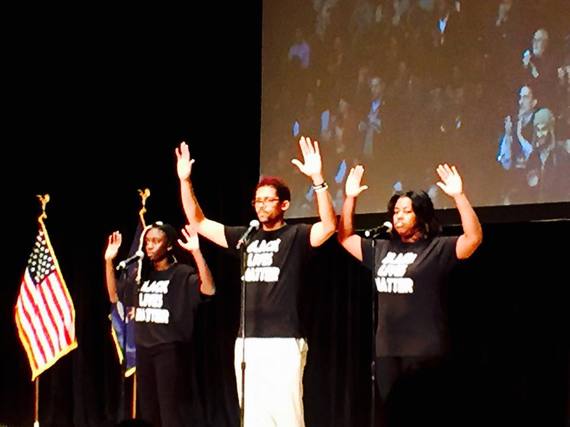 L - R: Kennedie King, Justin Rogers, Arzelia Williams. Photo credit: Nichole Christian

The poets carried on iO's six-year tradition of presenting an original Civil Rights themed poem honoring of the great Civil Rights hero. With a program of youth vocal music and dance, the Arthur Johnson community service awards, and the "Three Doctors" as keynoters, the morning brought Dr. King's dream to life in myriad ways.
But if we celebrated present day heroes for giving of themselves, overcoming enormous odds, and adding joy and beauty to the world around them, the iO poets added a sobering note. The litany of names in their poem "Body Count" -- from Renisha McBride to Eric Garner, Tamir Rice, and more -- shows how far from the dream we still are. Later that day, I went to see Selma and was moved to tears more than once by the tragic losses, by King's powerful oratory, and by the courage and love of all of those standing strong in the face of the viciousness of Jim Crow.

Our young poets embody that same love and courage. I am grateful that WSU has given them such good audiences (there were over 1400 in attendance on Thursday). Each January I look forward to this event that brings together many Detroit community leaders and supporters and encourages us all to recharge our commitment to Dr. King's dream. To hear them read and discuss their poem, tune into WDET's "Detroit Today" program, 101.9 FM, starting at 9am on MLK Day.

As a long time Detroit educator and director of a program that brings the courage of self-expression to thousands of Detroit students, I ponder the state of the dream here at home, especially for our young people. Despite the dizzying pace of innovations and renovations, we all know that without strong, effective schools the current renaissance will not serve the needs of all of the citizens and families of our city.

At this watershed moment for K-12 education in Detroit, I hope that our elected officials, community leaders, and the appointed coalition that is looking into solutions will not forget the dream, the dream of educational equality that began over fifty years ago with Ruby Bridges and the Little Rock Nine. Let's not forget the brutality that the marchers of Selma endured or the blood of the martyrs who fought for freedom. James Meredith, now in is his eighties, was one of those freedom fighters, and in the spirit of Dr. King he is moving the fight for Civil Rights to the next level by launching an American Child's Education Bill of Rights. I urge our leaders to heed and follow Meredith's vision - that we deserve...

... a nation where children and teachers are supported, cherished and challenged, and where teachers are left alone to the maximum extent possible by politicians and bureaucrats to do their jobs - - which is to prepare children for life, citizenship, and careers with true 21st century skills: not by drilling them for standardized tests or forcing a culture of stress, overwork and fear upon them, but by helping them fall in love with authentic learning for the rest of their lives, inspiring them with joy, fun, passion, diligence, critical thinking and collaboration, new discoveries and excitement, and having the highest academic expectations of them.

Meredith's plan calls for a broad, enriching curriculum, which -- thankfully -- includes the arts. In summer 2012, I attended a panel on innovation in Detroit education sponsored by one of the local think tanks engaged in defining the D. To my astonishment, none of the speakers -- who represented local foundations and other policy institutions -- had anything to say about arts in education. I had just come back from Washington, D.C., where I had presented for the President's Committee on the Arts and the Humanities at a training program for that year's National Arts and Humanities Youth Program awardees on how to make the most of their upcoming award -- iO had received the award in 2009 -- so I rose to speak about this glaring lack.
None of the panelists responded to my points until a young man rose to support "the sister's" comments. He was a recent graduate of Detroit School of Arts, now an artist, and spoke passionately about the influence of specific teachers whom he had "worked with." "Worked with," I thought. It implies an artist-apprentice relationship -- confidence, mutuality, support, inspiration; and I recalled how humbled I was when a student had transferred to the last DPS school where I taught specifically so he could "work with" me in my Creative Writing program.

Young people respond best when they are inspired, when they know that their voices matter, and when they are challenged to rise to the highest levels of learning. Not when they are drilled or hectored or threatened or tested into compliance. Take as proof the words of this test-weary second grader.
Meredith's Bill of Rights calls for schools that any leader would send their own students to. Some of the planks include Experienced Teachers, Effective Teachers, Equity of Resources, Transparency, and my personal favorite: Quality of Learning which envisions

a nation where educators and officials collaborate to identify the best evidence-based practices; a nation that rigorously tests classroom products and reforms before spending billions of dollars of taxpayer funds on them,

a nation that that does not spend billions of taxpayer dollars on excessive, unreliable and low-quality standardized tests that displace and damage authentic learning; and an education with an absolute minimum of standardized tests and a maximum of high-quality, teacher-designed evaluations of student learning and progress.

I hope our leaders can, as iO's mission states, "think broadly" enough to let go of rigid, behaviorist notions of what education means. I hope they will heed the many stories like this one that prove the dramatic, turn-around impact of the arts on "under-performing" schools. Most of all, I hope they will engage and listen to students like Kennedie, Arzelia and Justin, young people who know firsthand the power and importance of giving creativity and the arts their rightful place in every school. In Detroit, let's make the dream of educating the whole child real for every school now.