What is our heritage? What do we do with the inheritance we receive? This core question came to mind as I attended the screening of Wayne State University guest faculty Julie Dash's The Rosa Parks Story last weekend at the Detroit Institute of Arts Film Theatre. With Angela Bassett as Rosa, Cicely Tyson as her mother, and Robert Francis James as "Parks," her beloved husband and life partner, the film gives a close look at the love and courage that wove through Rosa's entire family. It was the kind of strength that allowed her as a first grader to speak up in class and assert the "dignity that no one could take away from her." That dignity, learned at an early age and held tight in face of the vicious indignities of Jim Crow, made Rosa Parks the quiet but determined activist whose 100th birthday we celebrate this month.
One of the characters who most intrigued me in this exquisitely produced film was Rosa's grandfather, a peripheral but significant figure. He appears in flashbacks that are almost dreamlike, glimpses of warmth, love, humor and also, in a few horrific seconds, comfort as he shields Rosa from the sight of a lynching victim hanging in the woods. We learn that he spent half of his life in slavery but never talked about it. He taught Rosa to fish, and it was he who imparted those early lessons about dignity. One Huffington Post blog mentions her grandfather, who kept armed vigil on their porch during nights when the Klan was riding -- a stance of self-defense that puts me in mind of Civil Rights activist Robert F. Williams (1925-1996). Of Williams' funeral in Lake County, Mich., which she attended, Parks stated that she was glad to have known a civil rights activist who died peacefully at a ripe old age and in his own bed.
Many of Detroit's youth arts organizations are intentionally carrying forward the inheritance that we honor by remembering figures like Dr. King and Mother Parks, as she is affectionately called among Detroiters. In my last post I wrote about InsideOut Literary Arts Project's newest cadre of Citywide Poets, who were about to take the stage at Orchestra Hall, opening for WSU's annual Martin Luther King Day Tribute. The youth received a standing ovation for their forceful message of hope despite the harsh realities of the world around them. The following Saturday, during an InsideOut Citywide Poets letterpress workshop at Signal Return in Detroit's Eastern Market, I asked Arzelia Williams about the MLK poem as she laid out moveable type and took a turn at the press to produce her handmade broadside. Her favorite part of the 4-minute performance had been her group's lines about reaching their full potential. Reflecting on King's dream they concluded their performance with notes of powerful self-affirmation.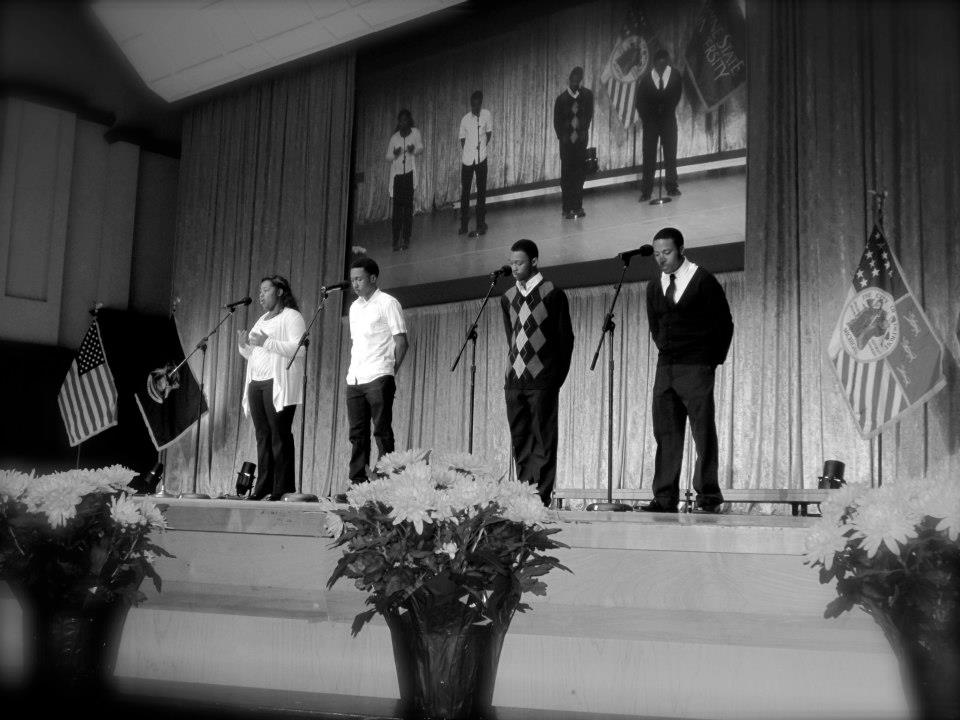 Arzelia: We are higher than King's mountaintop,
Higher than the limbs on grandma's apple tree
Koron: I sprouted with dreams
until my hope was with the wind
Arzelia: I am not alone
Jonathan: Hope is still alive with every breath,
Koron: A hope for change continues to live.
Matthew: As I bloom into the sun of our creator, I see Oprah's
Jonathan: Mandela's
Koron: King's
Arzelia: Obama's
Matthew: Matthew's
Jonathan: Jonathan's
Koron: Koron's
Arzelia: Arzelia's
All: and oh so many more.
Jonathan: Like that lone dandelion breaking soil to be the first of the season's many,
All: we grow,
Arzelia: and like god's gift to the world,
a soft-skinned kicker and screamer waiting to breathe fresh air,
All: we grow.
Koron: And like a bud on a shady willow tree,
dying to become a full, noticeable leaf,
All: we grow.
Matthew: From the soil poisoned, stomped on, spat on, and lied to,
All: we grow, and dare to imagine.
All: We will create our own growth through the oblivion of darkness
Like the activists before them, these students are not, in the words of U.S. Poet Laureate Natasha Trethewey, "passive recipients" of the largesse of others but creators, who gain personal, self-expressive agency through poetry and the arts.
InsideOut Literary Arts Project collaborates with many Detroit organizations such as Signal Return in helping young people to "create (their) own growth" in this manner. I am especially proud that we have been invited into a collaboration called "Intersections" that honors Mrs. Parks' 100th birthday. The project spearheaded by Heritage Works will bring African dance, visual art and poetry together to create community and awareness in celebration of Rosa Parks' legacy.

Funded by the Erb Family Foundation, the Kresge Foundation and Michigan Council for Arts and Cultural Affairs, "Intersections" uses the arts to reinforce important themes about citizenship and lessons of history for fifth and sixth graders at Burton International School. Burton is an appropriate location for this project. Rhonda Greene, founder and director of Heritage Works, comments: "What better place to commemorate Ms. Parks and her contributions than the intersection of Rosa Parks and Martin Luther King, Jr., Boulevards. Because of the intersections of these two streets, we have a unique opportunity to talk about both their legacies here in Corktown." Reflecting on theses legacies, and Mrs. Parks' refusal to give up her seat, Arzelia further wrote, "Like Rosa my belief in the future remains stationary and undying." I like to believe that Dr. King and Mother Parks would both be proud.
And in another shout-out to our brilliant guest filmmaker, on Friday, February 15th, following a reception at Detroit's N'Namdi Gallery, Julie Dash will present a screening of selected short films. Well worth the visit!