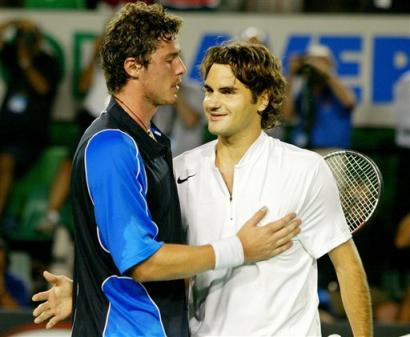 With the U.S. Open beginning this week, and all the online tennis chatter being about Federer's chances, I thought I would do a bit of a change and write today about a topic everyone loves discussing, The Greatest "..." of All Time, in this article I will discuss what I believe to be the greatest match.
It may be a surprise to many readers that this is not the '08 Wimbledon final, or '06 Rome, or the 2012 Australian, or even the 1996 Sampras/Becker year-end showdown. Nor is it any of the Women's games like Serena Williams v. Maria Sharapova 2005, or Hingis v. Graf French 1999. But my favourite and it has been for almost a decade now, is the 2005 Australian Open semi-final between Roger Federer and Marat Safin. I have read many of the complaints about this match, and that it was not a high quality throughout, etc. But what I will first do here is discuss many of the other matches often labelled with the 'Greatest Match of All Time' status. Beginning with the epic Nadal/Federer clashes.
Now why I am ruling out the Nadal/Federer clashes is that I believe Nadal has always (from their first encounter) had a psychological edge over Federer. This was established with their first match in 2004, which Nadal won principally because Roger was ill at the time. The Rafa dominance continued because they met on clay far more than any other surface. Rafa's game suits clay, Federer's game doesn't do so as much. If Rafa had reached many of the other surfaces finals against Federer in the early years, as he does now, Federer would have not gone onto have such a psychological disadvantage in all of their 33 matches. Concerning their big games, especially Rome 2006 and Wimbledon 2008, there were obvious moments when Federer was clearly ruffled mentally. At Rome these moments were on his two match points late in the fifth set, when he could have won it with some more patience. But instead he hit an unforced error on one of them by going for a big shot. At Wimbledon 2008, the moment when he let himself down was not in the fifth set (which he lost 9-7), but in the second, which he lead 4-1. He meekly let Rafa win five games on the trot and take the set 6-4. That was the big moment in that game, not the fourth set tiebreak or the fifth set.
Federer's second set at Wimbledon 2008 against Rafa is similar to Andy Roddick's second set tiebreak meltdown at the 2009 final. Roddick had a clear psychological disadvantage to Federer in this game and in their careers. He stood at 6-2 up in the second set tiebreak; poised to take an unassailable two sets lead, but he blew it. In the Sampras/Becker match, the same thing was sort of at play. Sampras was such a cold-blooded killer that Boris Becker was unable to ruffle him in that match. Whereas, although Becker played the best he played in the decade (I believe) he just couldn't break the Sampras spirit. Sampras just got better and better and emotions and whatever was happening around just didn't faze him.
The reason I am ruling out the women's games is that as they only go to three sets in the slams, I don't believe they reach the same level of tension as the men's. Also the psychological edge often plays a part in their games. Clear examples of this were seen in Serena v. Maria at the Aussie semi 2005, at Hingis v. Graf French 1999 final and in Monica Seles v. Graf at French 1992 final. Before the Seles stabbing in mid-'92 it just seemed that she had an edge over everyone. During most of the '90s it seemed that Graf had a mental edge over everyone. And during the 2000s (when she could be bothered to turn up) Serena has had a mental edge over all the competition, particularly Sharapova, all of which makes the Safin/Federer Aussie 2005 clash so great.
Neither Safin nor Federer had any sort of psychological edge over the other. Federer had not been around long enough to establish an aura. Of course Safin was so on again, off-again that he was not worried about by the other players. In the 2000 U.S. Open final he dismantled Sampras in straight sets, and everyone thought that he would dominate for years to come, but truth be told, he could probably just not be bothered to go as hard as he needed to stay at the top.

It is a stupid argument that they didn't have a high quality throughout. They had incredible quality throughout, and the shot-making was some of the most unbelievable I have ever seen. At the 2005 Aussie, Safin was on his game, and when Safin was on his game I truly believe that he could beat anyone. He had height, strength and speed, and the power behind his shots was just amazing. There were a number of signature down-the-line backhand winners from Federer, and powerful forehand winners from Safin. And Safin's saving of a match point in the fourth set tiebreak was sheer genius. As Federer hit a carefully placed drop shot to the front of the court, Safin chased it from the back court, and just reached it in time. Rather than hit a safe return to the front and back to Federer, he didn't make a mistake as he hit an awesome lob over Federer's head to the back court. Federer tried to do a between the legs Tweener, but meekly hit it into the net.
As Safin was on his game at the 2005 Aussie, Federer was also at the peak of his powers in 2005. Federer was in the midst of what would be his greatest year (in win/loss percentage), and in fact if he had won the Safin match would have had the greatest year of any player ever. He surely would of beaten Lleyton Hewitt in the final. And if he had he would of he have went onto have a 83-3 record, nevertheless he went on to have a 83-4 record for the year. One match short of the 84-3 record of John McEnroe in 1984.
In 2008, when Federer played Nadal at the Wimbledon final, I don't believe he was at the peak of his powers. As of 2007 he began a slow decline, and this is shown in his match winning percentage, which from 2004-2006, stayed above 90 percent, yet from 2007 dipped into the 80s and has not returned to the 90s since.
Concerning the 2012 Aussie Open final between Djokovic and Nadal, I believe that although this match was of good quality, it simply took too long. At five hours and 53 minutes it was a long match to sit through (which I did, long into the night). Yet both players only hit around 170 points. Why did it take so long then? The reason is because both players are time-wasters between the points, often taking longer than the required 20 seconds between serves. Safin/Federer didn't waste time meanwhile, and the match barely took four hours.
It is the combination of both Safin and Federer being at the peak of their powers in Aussie 2005, the fact that neither had a psychological edge over the other, and that the match was exciting (and quick), that makes it my greatest match of all time.