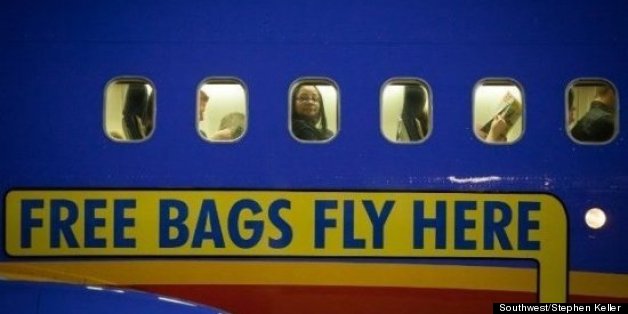 You may be headed to the best biking trails, ski runs, surf breaks or golf courses in the world, but if your trip starts off with a gauntlet of extra fees and restrictions at the airport, your vacation buzz will be killed before you even hit the fresh air. It may not sound glamorous, but picking the right airline is a key part of making your trip a good one.
Click here to see The 11 Best Airlines for Bringing Sports Gear
Not all airlines, it turns out, are created equal--especially for active and outdoors sports travelers. Sure, everyone's bummed if their bag gets lost or a bit beat up in transit. But what about a brand new, $2,000 kayak? Or your custom skis? Or your trusty touring bike? If the very item you planned your whole trip around goes missing, it's a heckuva lot worse than a business traveler going a day without an extra suit and tie.
Mishandled baggage is probably the biggest concern for active travelers, but it's worth taking a closer look at other airline policies, too. United Airlines may offer the cheapest fare from A to B, but by the time you pay $125 extra each way to check your bag and bike--and shell out another $15 on sustenance at the airport, since United provides no free snacks en route--it may be a smarter option to pay for the pricier ticket with, say, JetBlue.
And, of course, you'll have to pay careful attention to your particular sport. Most airlines, for example, will allow you to bring a surfboard for a reasonable fee ($50-75), but Qantas allows you to bring one free, as long as it's no longer than nine feet. US Airways, on the other hand, charges $200 each way. The same variations tend to apply to--in order from least restrictive to most--skis and snowboards, fishing poles, bicycles and, finally, canoes and kayaks (several airlines prohibit them altogether).
In our quest to suss out the best airlines for carrying your prized gear, we looked at baggage policies--including fees and prohibited items--mishandled baggage rates and, of course, destination offerings. It's great to have great baggage policies and no fees, but if it means you can't get where you're going, then you're out of luck. We also perused forums where disgruntled passengers report their busted gear, where we discovered horror stories of ruined $700 skis and $3,000 carbon bike frames somehow snapped like twigs, and even found people who'd gone so far as to start Facebook protest pages. Delta, United and US Airways were the most common culprits, but that's partially a product of the millions of customers they serve. Either way, we dug deep to help guide you.
Here, we take a look at airline policies with outdoors sports and adventure traveler in mind. Study it. It could save you cash--and your gear--on your next big travel adventure.
-The Editors, The Active Times
More Content from The Active Times:
Where to See Incredible Natural Phenomenon
Discover 'America's Best Idea' with Our National Park Finder
Use Yoga (and More) to Stay Fresh on Flights
12 Amazing Races to Run Before You Die
PHOTO GALLERY
Top 5 Airlines for Bringing Sports Gear