By MELISSA BANIGAN - Right before we needed to leave for her cello concert, my daughter came out wearing dark black jeans and combat boots. Her hair was unbrushed. "You look like a mess," I could've said, but I bit my tongue and instead asked, "are you ready to go?" My daughter nodded, waiting for me to command her to first change her shoes and grab a hairbrush. Instead, I surprised both of us by saying, "Darling, you look great. Grab your cello. Allons-y!"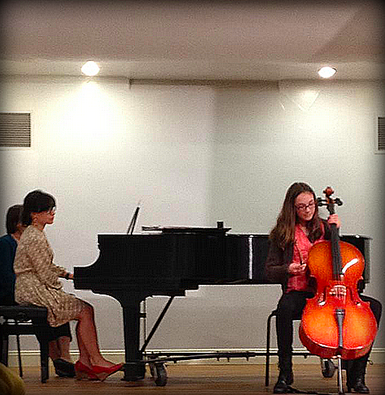 As we walked towards the subway, I glanced at my daughter. Her hair, wild, made me think of mermaids, Woodstock and powerful goddesses such as Kali, Morrigan and Xi Wangmu. Her boots, I noticed, were shiny and clean, and her black jeans fit her perfectly. While she wouldn't be dressed like many of the other girls at her concert, she looked like a million bucks. But it wasn't how she looked that made my mother's heart sing, but rather, it was that I could tell she was happy.
I thought back to last year, when we explored the rainforest in the Tambopata National Reserve in Peru. My daughter spent our days there covered in mud and mosquito repellant. She took showers and washed her face not to make her hair and skin look "presentable," but to cool off and wash off the yuck of the day. She didn't look in a mirror the entire time we were there.
As we boarded a boat leaving the rainforest, my daughter looked back over her shoulder and sighed. "I feel homesick leaving this place," she said.
They say home is where the heart is. And where is the heart but a place that makes a person feel good, strong, smart and adventurous - a place where instead of feeling self-consciousness over looks, a teen can make conscious decisions to do beautiful things?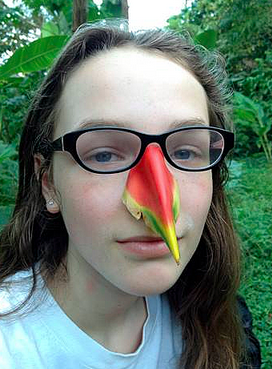 In the rainforest, I let my daughter be, and she was happy. As we got on the plane that would take us back to New York, I vowed that we'd return to the rainforest, and that the next time, we'd be going with a pack of friends. The seed for the 2015 Advice Project Global Leadership and Empowerment Summit for Teen Girls was planted.
This past year, I've read and listened to the stories of countless women, and chosen many of them for the Advice to My Thirteen-Year-Old Self anthology. I've led classes and workshops that build upon the strength and personal choices of the teen girl and women participants. I've tried hard to let my daughter do beautiful things and come up with her own definition of beauty, combat boots included. And next year, I'll head back to Peru with my daughter and a group of teen girls, youth and adult leaders for a two-week journey of self-discovery, writing, projects, empowerment, self-love and... mud.
Yes, mud, both literal and metaphorical. We're going to wade deep and stick our arms in the stuff. This isn't a trip for cleansing the soul, but rather a time to allow it to bathe in ideas - some of them messy - and explore what it means to be global women.
Girls from Cameroon, Canada, New Zealand and the States have already signing up to travel with us for the summit. We're so excited to share time with these budding feminists during two life-altering weeks of adventure and sharing ideas.
Learn more about The Advice Project, here!
Originally posted on Advice to My Thirteen-Year-Old Self (The Advice Project) by Melissa Banigan.