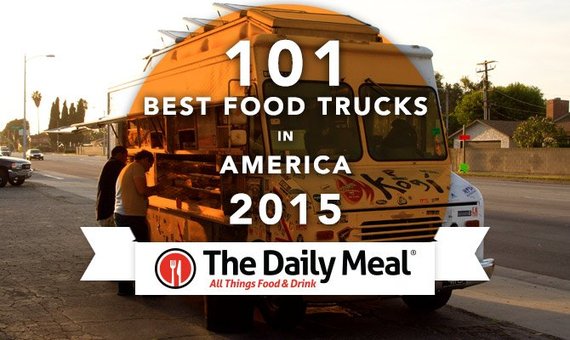 Photo Credit: Eric Shin / Ravi Bangaroo
This year, we let the people decide what America's best food trucks are.
Food trucks are more than just kitchens on wheels. Even if the buzz around the food truck renaissance started off frenzied and then cooled a bit, the resilience of these mobile eateries is a testament to the fact that creative, quite literally chef-driven food need not be limited to wallet-busting restaurants with month-long waiting lists. Here is our fourth annual list of the 101 Best Food Trucks in America.
Click Here to see 101 Best Food Trucks in America 2015
In the past, we decided this ranking by combining factors like Twitter followings, Yelp reviews, and Yelp stars into a weighted algorithm, rounded out by an originality score that took into account menu innovation, overall concept, and geography. This year, we made it simple: We let you decide, via a public survey. To compile our list of food trucks for voters, we expanded on our lists from 2012, 2013, and 2014, asked readers for suggestions, took a look at the winners of the Vendy Awards, and tried to find rookie trucks. This year's ranking is a result of 2,662 responses and a total of 5,634 votes (respondents were allowed to vote for multiple trucks). Thank you to everybody who took the survey -- you made our list more reflective of the general population's tastes. After all, if there's any type of establishment that is most explicitly for the people, by the people, it's a food truck.
There has been talk recently that food trucks are a moribund trend. We beg to differ. While trucks have been waning in popularity in New York -- where most food trends wane in popularity after spurts of growth -- this is hardly the case for the rest of the country. Perhaps it is not a surprise that the cities with the most food trucks on this year's list are Los Angeles and Philadelphia (expectedly) and Boston (not so expectedly). Boston owes its success partly to city laws: "Rather than limiting the number of food truck licenses," reports Galen Moore for BostInno, "Boston limits the number of locations on city streets and other public property." This means more food trucks covering a wider range of the city. However, while some food truck-loving cities benefit from local regulations, others don't. Raleigh and Providence, for example, are excellent food towns that have been unlucky when it comes to zoning laws.
Click Here to See The 101 Best Food Trucks in America 2015 Slideshow
Last year, Los Angeles, New York, and San Francisco led the way with the most amount of food trucks on our list, with 16, 9, and 12, respectively. Chicago (6), Twin Cities (5), and Miami (5) had a good amount of highly rated food trucks as well. This year, Los Angeles (11), New York (7), San Francisco (6), and Austin (4) continue to boast having a good amount of food trucks on our list, but Chicago (3) and Twin Cities (0), not so much. There are a few cities that came up strong this year that weren't on last year's list too much, most notably Boston (12), Philadelphia (8), and Cleveland (5). As for Washington, D.C. (4) and New Orleans (4), they continue to have robust food truck scenes.
Korean fusion, lobster rolls, and tacos seem to lead the way in terms of popular food truck cuisines; vegan food, barbecue, and grilled cheese make up a lot of the most beloved meals on this year's list. A shout-out to the trucks that are serving some more off-the-beaten-path foods: Boston's Sheherazad, which specializes in Iraqi cuisine; Phoenix's Emerson Fry Bread, which enhances a staple of much-forgotten Southwest Native American cuisine; and New York's Snowday, which serves maple syrup-infused grilled cheese sandwiches that are prepared by ex-convicts. That being said, almost every food truck on this list serves something totally out of the box; click through our slideshow to learn what these items are.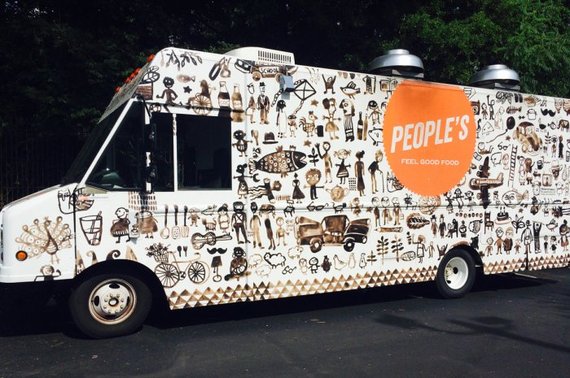 Photo Credit: People's Food Truck
Did we miss your favorite truck? There's always next year. Tweet @thedailymeal or leave a comment below to let us know about trucks that should be on our radar. But before you get too upset, keep in mind that our list only features food trucks, not carts. In other words, if it can't get a parking ticket, it can't be on the list. Some cities (especially much-beloved Portland, Oregon) pained us: many of their food "trucks" didn't make the cut because they weren't, well, trucks. Dessert or coffee trucks were also not considered.
Without further ado, here are the 101 best food trucks that you ought to travel from coast to coast for. Trust us; it's worth it.
#101 Swizzler Gourmet Hot Dogs, Washington, D.C.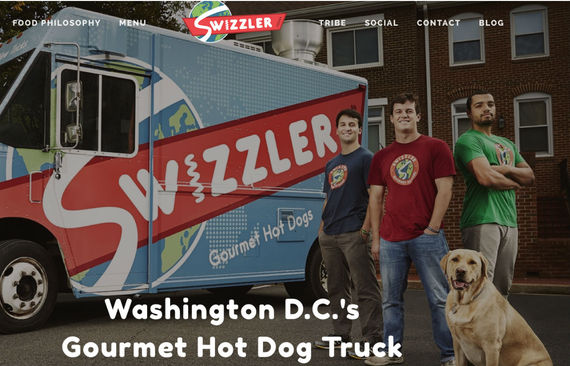 Photo Credit: Swizzlerfoods.com
This truck is brand new on the scene.
In 2012, three juniors at North Carolina's Wake Forest University invented a new fast food concept -- quality hot dogs spiral-cut lengthwise so they could better hold and integrate their toppings, which fall nicely into the grooves -- as part of a class project. The idea was good enough to survive graduation, and in 2014 the trio launched this mobile doggery. The franks are grass-fed beef. The offerings range from the J(ersey) Dawg (sauerkraut, diced onions, and spicy brown deli mustard) to the Acropolis (homemade tzatziki, feta, Kalamata olives, red onion, and cherry tomatoes), with flavors of Italy and the South along the way. We're almost certain that the only reason this gem isn't higher on the list is because they are brand new on the scene.
Click Here to See The 101 Best Food Trucks in America 2015 Slideshow
#100 Foodie Call, New Orleans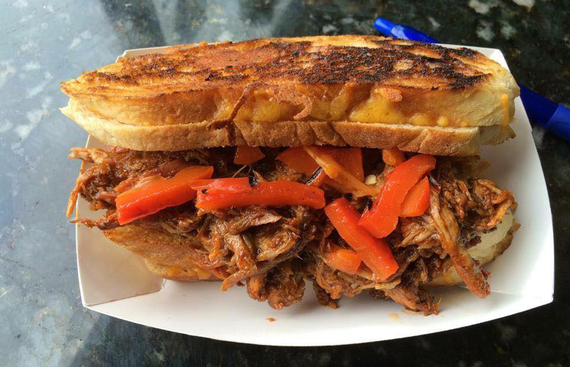 Photo Credit: Foodie Call / Facebook
The sandwiches at Foodie Call make for great late night munchies.
This cleverly named food truck serves burgers, sandwiches, fries, and a mouthwatering crawfish pie made with popcorn rice, local crawdaddies, sweet corn, and mushrooms in a crispy empanada shell. It's all in the details: Their original burger is latticed with Cheddar cheese and caramelized onions, and their ham and brie sandwich is elevated by a complex fig mustard. They can call us anytime. Foodie Call made our list of 101 Best Food Trucks in 2012, but dropped off in the following years. Since we opened our votes up to the public this year, we're guessing fans of the truck have been devoted to their food all along.
#99 Dim Ssäm à Gogo by Sakaya Kitchen, Miami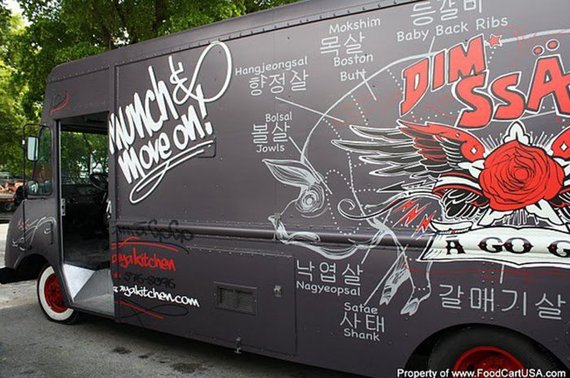 Photo Credit: Sakaya Kitchen / Facebook
Chef and owner Richard Hales has been fighting the good food truck fight for a while now in Miami since launching his food truck in 2010. Having dealt with more permit and event issues than he's likely interested to recall, it's no surprise that he makes his affordable 30-item menu available at brick-and-mortar locations as well as his truck. But you can still get your "popcorn" shrimp ssäm with spicy sticky rice and banchan on wheels -- provided the cops aren't harassing Hales. Also try the kurobuta pork belly "bao" sweet chili bun. Every once in a while, you'll find them at the beautiful Wynwood Art Walk.
Click Here to see The 101 Best Food Trucks in America 2015
#98 Snowday, Brooklyn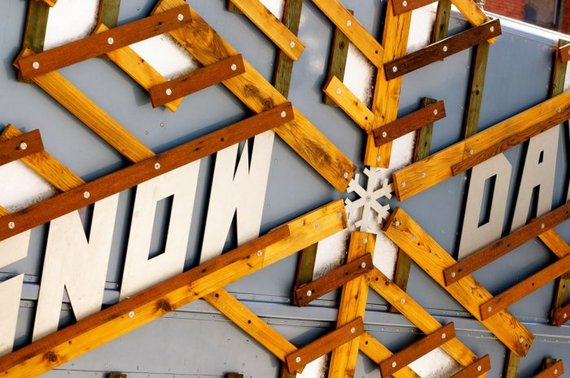 Photo Credit: Snowday / Facebook
Snowday serves self-described "gourmet lumberjack" fare, meaning they take maple syrup and utilize it in some delicious, sweet-meets-savory ways. Exhibit A: their signature grilled cheese sandwiches, which you can order plain or with smoked ham, pea shoot pistou, or strawberry chutney. All the food is sourced from farms in New York. Even better, it serves an excellent cause. The truck employs formerly incarcerated youth, aiding these marginalized individuals through the difficult transition back into society.
#97 Solber Pupusas, New York City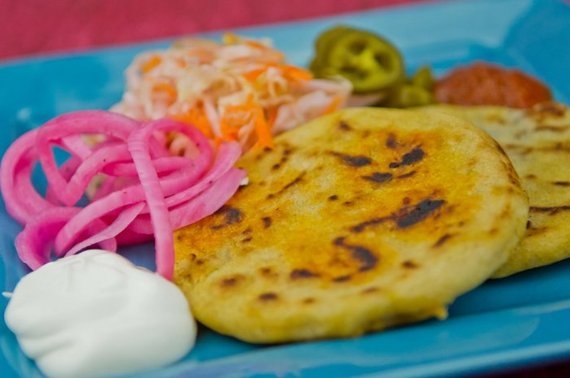 Photo Credit: Solber Pupusas / Facebook
Pupusas, a traditional food from El Salvador, consist of grilled corn masa patties that are hand-shaped and stuffed with cheese, meat (chicharrones, chicken, fish, even pepperoni), and/or vegetables (pumpkin flowers, beans, spinach, zucchini). Winning the Vendys in 2011 was almost like the food world's version of an Oscar for lifetime achievement -- Solber Pupusas has been serving these treats at the Red Hook ballfields for upwards of a decade. Is the 45-minute wait worth it? Customers will almost always say absolutely.
Click Here to see The 101 Best Food Trucks in America 2015
#96 Rigatoni's Mobile Crab Cakes, Prospect Park, Pa.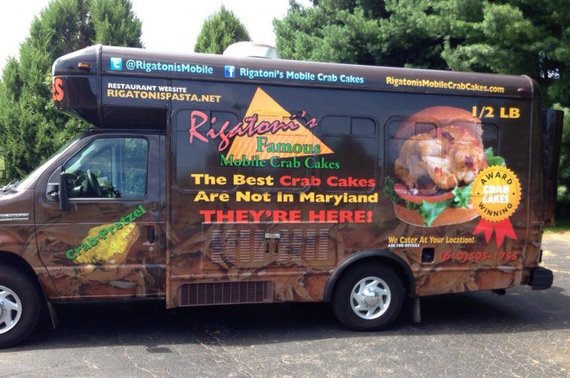 Photo Credit: Rigatoni's Mobile Crab Cakes / Facebook
"The best crab cakes are not in Maryland," boasts the writing on the Rigatoni's Mobile Crab Cakes truck, "They're here." In Prospect Park, Pennsylvania, that is. Don't believe us? Check out the lines outside the truck on their Facebook page. After all, who could resist their delightful take on the specialties of Baltimore and Philadelphia in the form of their crab pretzel, a soft pretzel topped with crab dip and Cheddar cheese? Their crab-stuffed onion ring ain't too shabby either.
#95 Arepa Zone, Washington, D.C.
Voted Best New Food Truck and Food Truck of the Year at the 2014 Curbside Cookoff Food Truck Awards, Arepa Zone also snagged Breakthrough Dish for their sifrina arepa -- a grilled corn patty stuffed with chicken salad, avocado, and shredded Cheddar -- at the same competition. With a menu that boasts authentic Venezuelan cachapas (corn cakes similar to arepas), tequeños (fried cheese-filled breadsticks), and, you guessed it, arepas, we can see why Arepa Zone is finally getting a coveted spot in Union Market. See what all the fuss is about and try a ham and queso de mano cheese cachapa, or tequeños, which come in sets of five, with a side of their house-made AZ sauce.
Click Here to see The 101 Best Food Trucks in America 2015
Additional reporting by Dan Myers, Arthur Bovino, and Colman Andrews
Click Here to see the Original Story on The Daily Meal
Nikkitha Bakshani,The Daily Meal
More Content from The Daily Meal:
101 Best Restaurants in America
101 Best Wineries in America for 2015
The 101 Best Burgers in America
101 Best Pizzas in America
America's 30 Best French Fries
Also on HuffPost:
PHOTO GALLERY
Our Favorite Comfort Foods