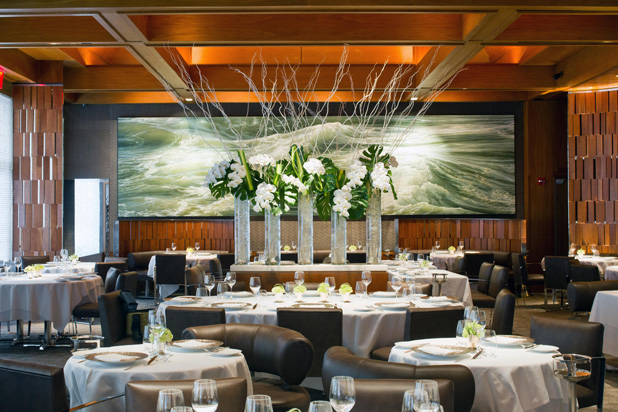 What factors make any given restaurant that much better than another? In a country with so many great eating places to choose from, seeking out the best ones can be a daunting feat and could quite possibly inspire blood-boiling debate. Just how good is that cozy neighborhood spot with the best spaghetti and meatballs you've ever had? What about that impossible-to-get-into sushi bar that serves 20 perfectly executed courses to a handful of lucky diners every night? And who's to say the best restaurant in America isn't a barbecue place so incredible that both visitors and locals are willing to wait in line for three hours for sliced brisket and ribs? Bearing this in mind, we offer The Daily Meal's list of the 101 Best Restaurants in America for 2012 (Photo Credit: Daniel Krieger).
Click here for the 101 Best Restaurants in America for 2012 Slideshow
This is our second annual attempt to acknowledge and rank the multitude of great restaurants, on every level, with which our country is blessed, and it should be noted that while a third of last year's restaurants fell off, 68 of the places that made the cut last year also secured a spot in 2012. That turnover made room for a considerable handful of new, fresh places and familiar spots that didn't show up in 2011.
Click here to see the 101 Best Restaurants in America for 2011
How did we come up with our list of America's best? The first step was a nomination process. An illustrious panel of judges (comprised primarily of restaurant critics, food and lifestyle writers, and assorted bloggers, from across the country) examined the list of 2011's winners and offered nominations for new restaurants to be considered. Next, The Daily Meal's editors added their nominations, ending up with a total of 202 nominations, and prepared a survey that allowed participants to vote for their favorites.
The voting -- based on cuisine, region, and a number of specific factors, including formality (of food and atmosphere), level of "buzz," and price range -- narrowed the list to 101. As was the case last year, the spectrum of restaurants ranged from chef-driven neighborhood spots and avant-garde restaurants to iconic casual establishments. Each restaurant had the chance to be voted on three times during the survey. Finally, the percentage scores from each category were averaged to arrive at the final ranking.
The results were both fascinating and refreshing. Thomas Keller got knocked out of the top spot, and barely made the top five, with the French Laundry coming in at number five and Per Se falling to number seven (they placed first and second, respectively, in 2011). Interestingly, but perhaps not surprisingly, Le Bernardin took the list's top spot -- with an extensive dining room renovation and a revivified menu, the restaurant had the industry elite and devoted diners alike abuzz all year. Two newcomers to the list, Eleven Madison Park and Gramercy Tavern, both placed in the top 10 in 2012.
Geographically speaking, New York City restaurants took top billing, taking five seats in the top 10. California, especially restaurants in the areas surrounding Los Angeles and San Francisco, came in second place regionally. Citronelle topped the list for D.C. for the second year running and Alinea owned Chicago (and claimed the number two spot overall).
The regional breakdown is just as interesting. For instance, our judges deemed Franklin Barbecue (which wasn't even on the list last year) to be the highest-ranking restaurant in the South, and Pok Pok, another newcomer to this list, was rated the best restaurant in the Northwest. Not including the restaurants that made the list from New York City (there were so many nominated that restaurants in Manhattan were divided by neighborhood in the survey), Blue Hill at Stone Barns topped the list for Northeast restaurants.
Looking at The Daily Meal's list of 101 Best Restaurants in America for 2012 by cuisine proves less surprising. Restaurants serving American fare, both standard traditional and modern, dominated -- especially those that focus on seasonal ingredients. When it comes to the list's newer restaurants, the ones that offer an edgier (and often more casual) approach to ethnic cuisine, California was the home of the most winners.
The list includes all kinds of restaurants -- there are pizza places (such as Frank Pepe Pizzeria Napoletana in New Haven, Conn., and Pizzeria Bianco in Phoenix), taco joints (like La Taqueria in San Francisco) and a handful of real down-home spots serving up food without frills (like Ben's Chili Bowl in Washington, D.C., and Arthur Bryant's in Kansas City, Mo.). Right beside those more casual eateries are fine dining restaurants that are constantly bringing innovation to the culinary scene, and ones that stand as iconic beacons of light that have guided the industry for decades. It appears that The New York Times' revered dining section would agree with this philosophy, given Pete Wells' review of Shake Shack this week.
You may question the final results ("Katz's Deli is better than Next?"), and wonder aloud how on earth one restaurant made the list when it's so clear to you that another one that didn't is much more deserving ("Ben's Chili Bowl made it but Meadowood didn't?"). But given the nature of the content being ranked, with restaurants and dining experiences as subjective as they are, it would be surprising if there weren't some disagreements. Please do let us know what you think we've missed or misranked, though. We'll publish a follow-up with your comments and opinions -- and, hey, if you turn us on to some great places we've somehow missed, so much the better. There's always next year.
- Molly Aronica, The Daily Meal
More from The Daily Meal:
10 Optical Illusion Dishes
Ridiculous Bacon Products
Most Memorable Meals of 2011
10 Crazy Chip Flavors
Kate Upton's Most Delicious Food Moments
PHOTO GALLERY
20 Best Restaurants in America