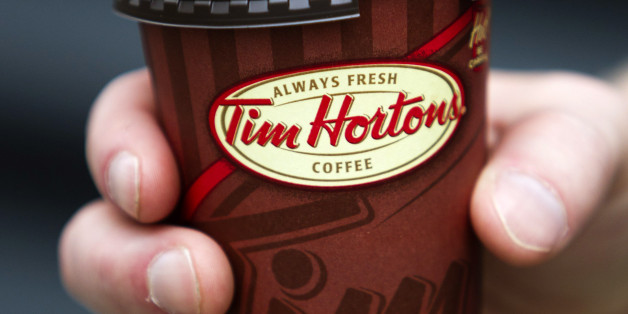 Up in the Great White North, there's a behemoth lurking. It's already successfully conquered its native land, but now it casts its gaze across the southern border, dreaming of overtaking the U.S. as well. And while we've been distracted by our Starbucks and Dunkin' Donuts, it's been slowly making major inroads, most likely preparing for a full-scale invasion. Its name? Tim Hortons. Its weapon of choice? Doughnuts. And coffee.
Click Here to see the Complete List of 13 Things You Didn't Know About Tim Hortons
Tim Hortons currently has more than 4,500 locations in Canada, along with more than 800 in the United States. And while we haven't needed to give it much attention until now, there's one major reason why now is the ideal time to brush up on your Tim: Last month, Burger King agreed to purchase the company for a whopping $11.4 billion, move its own headquarters up to Canada, thereby creating what will be the third-largest fast-food conglomerate in the world.
The chain's first store opened in Hamilton, Ontario, in 1964, and since then has been expanding all over the map. By 1974, 40 stores were in operation, and by 1991 there were 500. Largely due to the chain's rapid growth, many small Canadian doughnut chains and independent shops were driven out of business; at the same time Canada's ratio of doughnut shops to residents surpassed that of all other countries. In short, when it comes to doughnuts and coffee in Canada, Tim Hortons has the market cornered.
But who exactly was Tim Horton? How long have his outlets been sneaking over the border? And what happened to the apostrophe? For the answers to these questions, as well as a whole lot of more fascinating facts about this mega-chain, read on.
Click Here to see the Original Story on The Daily Meal
PHOTO GALLERY
5 Things You Didn't Know About Tim Hortons (LIST)

-Dan Myers, The Daily Meal
More Content from The Daily Meal:
24 Fast-Food Restaurants We Wish Were in the U.S.
11 Things You Didn't Know About Ben & Jerry's
22 Best Amusement Park Restaurants
13 Things You Didn't Know about Chipotle Mexican Grill
10 Things You Didn't Know About Jimmy John's