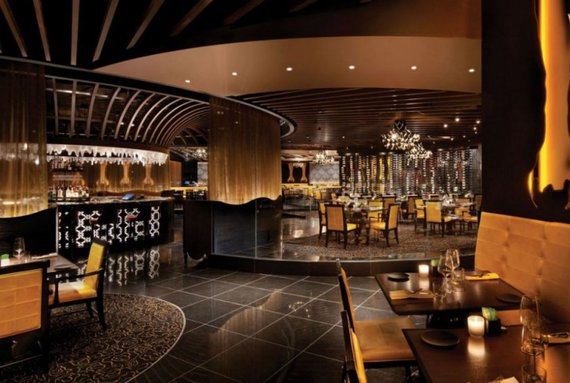 Photo Credit: Jean Georges Steakhouse/ Facebook
If you want to dine at these temples to dry-aged steaks, you're going to have to shell out some big bucks.
It should come as no surprise that steakhouses are among the most expensive a la carte restaurants in America. But some steakhouses offer menu items that only the wealthiest can afford. These are the 15 most expensive steakhouses in America.
Click Here to see America's 15 Most Expensive Steakhouses
There's a good reason why steakhouses are so expensive: High-quality beef is one of the priciest foods a restaurant can buy, even at wholesale, and it becomes even more expensive once it's been dry-aged, which most top-notch steakhouses do. Luxury cuts like wagyu and Kobe beef, which many of the finest steakhouses now offer, is also insanely expensive. Add on pricey appetizers like oysters, shrimp cocktail, and crab cakes, as well as dessert and wine, and you've got a recipe for a very, very expensive night out.
In order to assemble our ranking, we started by combing through Zagat's average meal prices for steakhouses in major metropolitan areas (their number includes the price of dinner per person with one drink and tip), but took it one step further by also including steakhouses that offer insanely expensive entrée options, like real Kobe beef from Japan. Perhaps not coincidentally, many of these steakhouses can also be found in our ranking of America's Best Steakhouses; in most of these cases, you get what you pay for, and you're paying for a meal you're not likely to forget for a long time.
Click Here to see America's 15 Most Expensive Steakhouses Slideshow
If you're in the market for an expense-account-only once in a lifetime steakhouse experience, read on to learn which restaurants should be on your list. Or if you're like most of us and these restaurants are well outside of any conceivable price range, read on for a glimpse into the kind of restaurant that only the most fortunate can afford to dine at. If you're given the opportunity to have a steak at any of these lavish restaurants, don't let the opportunity pass you by.
#15 American Cut, New York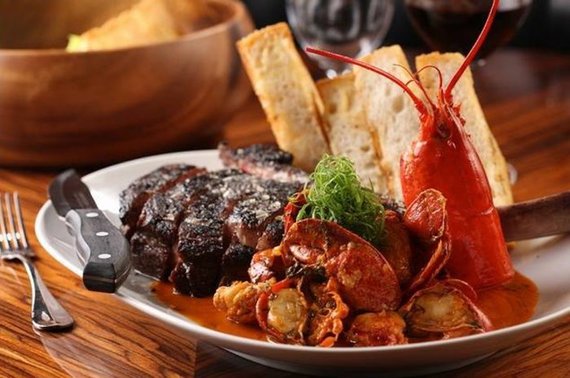 Photo Credit: American Cut / Facebook
American Cut, which is chef Marc Forgione's temple to steak, has locations in New York and Puerto Rico, with one in Atlanta coming soon. The most expensive menu items include a seafood tasting for $142, an appetizer of Forgione's famous chili lobster for $34, a $145 42-ounce tomahawk ribeye chop for two, a $109 40-unce porterhouse for two, and a "surf and turf" pairing of the tomahawk ribeye and chili lobster for $175. Miyazaki wagyu beef is also available at market price. The average cost per guest? $89.
#14 Barclay Prime, Philadelphia
This Stephen Starr steakhouse on Rittenhouse Square might boast a selection of as many as seven different steak knives and a $120 wagyu ribeye and foie gras cheesesteak that comes with a half-bottle of Perrier-Jouët, but that doesn't mean it's gimmicky. It is very expensive, however. Steaks include a $65 bone-in filet, a $77 eight-ounce American wagyu filet, a $115 10-ounce Japanese A5 wagyu New York Strip, a $130 50-ounce tomahawk ribeye, and a $195 18-ounce Japanese A5 wagyu ribeye, one of the most expensive steaks in America. If you feel like dropping even more money, you can opt for an ounce of Royal Ossetra caviar for $125. The average per-person cost here is $91.
Click Here to see America's 15 Most Expensive Steakhouses
#13 David Burke's Primehouse, Chicago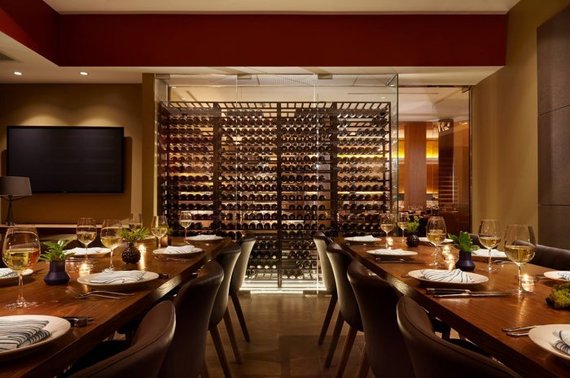 Photo Credit: David Burke's Primehouse / Facebook
One of the highest-grossing restaurants of 2015, chef David Burke's flagship Chicago restaurant has an average per-person cost of $92. It's easy to rack up a massive tab here; pricey menu items include a lobster, shrimp, and lump crab cocktail trio for $34; a shellfish tower for $175; a 55-day dry-aged ribeye for $68 and a 75-day dry-aged ribeye for $79; and a porterhouse for two for $120. If you want to top your steak with a grilled split lobster, it'll cost you an additional $35.
#12 Sparks, New York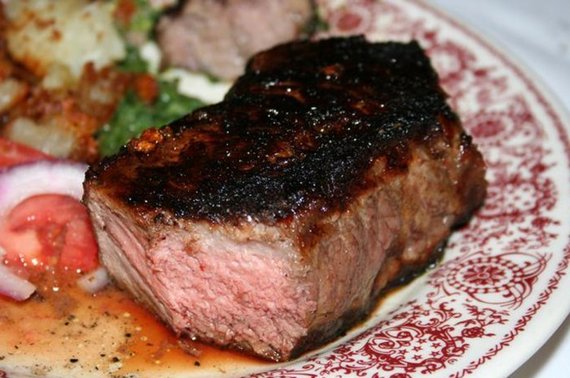 Photo Credit: Sparks: Yelp / Wonjae Y
It's been 30 years since Gambino Family crime boss Paul Castellano and an associate were shot to death outside Sparks, but martini-swilling first-timers can still be heard here joking about preferring to sit in "the no-shooting section." Well, never mind. Sparks is a great, old-fashioned steakhouse in the classic Manhattan style, meaning that it's very expensive, with a meal averaging $93 per person. Menu prices aren't listed online, but high-ticket items include prime sirloin, filet mignon, and an extra thick veal chop.
Click Here to see America's 15 Most Expensive Steakhouses
#11 Bourbon Steak, Washington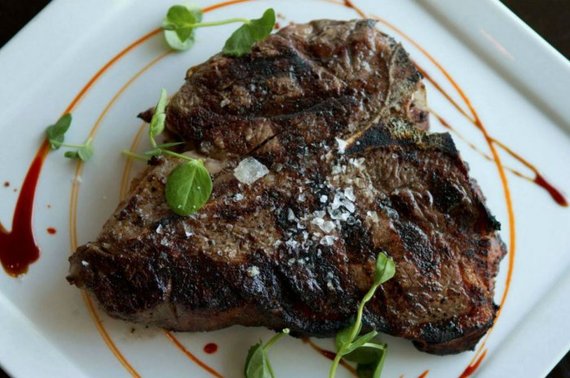 Photo Credit: Bourbon Steak/ Facebook
Chef Michael Mina's steakhouse has several locations across the country, but the Washington location racks up the highest tabs, averaging $94 per person. A seafood tower costs $140, Japanese A5 Miyazaki wagyu costs $36 per ounce (with a minimum order of three ounces), a 14-ounce Colorado waygu ribeye costs $89, a 38-ounce bone-in porterhouse costs $130, and if you'd like white Alba truffles shaved over your dish, it'll set you back $60.
Click Here to see the Original Story on The Daily Meal
Dan Myers, The Daily Meal
More Content from The Daily Meal:
America's 50 Best Steakhouses
50 Recipes for Your New Year's Weight-Loss Resolution
101 Cookie Recipes
America's 35 Best Burritos 2015
50 Best College Bars in America 2015