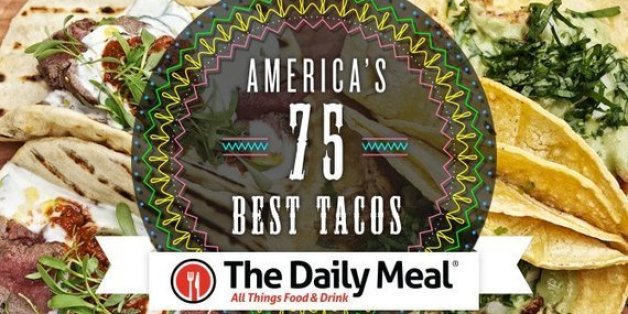 So what makes a taco great, exactly? It all depends -- but here are 75 from around the country.
The taco inspires fierce passion and loyalty throughout the United States. Ask a resident of Texas (Austin and Houston in particular) where the country's best tacos are, and they'll say you're certain to find them in their city, full of pulled and smoked meat. Head to San Diego and you're sure to meet some people who are absolutely convinced that there's nothing better than the fried fish tacos that are ubiquitous there. Elsewhere, purists say there's nothing like a carnitas taco, or a taco al pastor.
Click Here to see America's 75 Best Tacos

And you know what? They're all right. New Yorkers have complained for years that it's tough to find a great taco in their city, but in recent times, several have been introduced that rival the best you'll find in Mexico. And, up in Chicago, a town that has never exactly been a taco paradise, Maxwell Street Market has arguably become a world-class taco destination.
We've tackled the task of ranking the country's best twice before, and this time we looked to our readers to help us identify more of the best. We put out a call to action, asking them to comment on our site or our social media pages, or to email us with their nominations for the best tacos in the country. Additionally, we asked our knowledgeable Daily Meal staff and City Editors to weigh in with their picks. We gathered these nominees together and added them to all the tacos that were considered last year.
In the end, we had a list of about 330 tacos, which we then compiled into a survey and sent to our distinguished panel of taco experts -- food and restaurant personalities who know a superior taco when they taste one. They voted, we tallied the results, and then put together America's 75 Best Tacos for you, our readers, to enjoy:
75) Torres Taco Haven, San Antonio: Ralphie's Special
Owned and operated by the Jerry Torres family, the two locations of Torres Taco Haven in San Antonio are regarded as great places to get authentic Mexican food made by the locals. The Ralphie Special is a crowd favorite: it's made up of three tacos filled with marinated chicken, topped with grated cabbage and sliced tomato and garnished with lemon.
74) FUEL Charleston, Charleston, S.C.: Braised Pork
FUEL Charleston offers Caribbean-influenced food with a menu that boasts house-ground burgers, jerk chicken, a bevy of salads, and -- you guessed it -- tacos. Their braised pork taco comes with green chile aïoli, green slaw, and sweet onion relish, and was one of Guy Fieri's top picks when he visited FUEL on Diners, Drive-ins, and Dives.
Click Here to see the Original Story on The Daily Meal
Kate Kolenda, The Daily Meal
More Content from The Daily Meal:
101 Best Cupcakes in America
America's Best Steakhouses
50 Best Burger Recipes
America's 50 Best French Fries
101 Best Restaurants in America