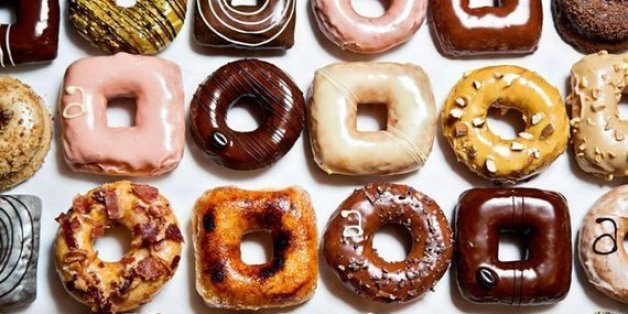 While some doughnut shops keep it strictly traditional, for others the sky's the limit.
There are few treats more delicious than a doughnut fresh out of the fryer. And from a Nashville institution to a California bakery helmed by one of the country's most renowned chefs, we've tracked down America's 35 best.
Click Here to see America's Best Doughnuts
Before we get to our list, though, there's one important question worth asking, and it's a trickier one than you might think: What, exactly, is a doughnut? It is any sort of sweetened, fried pastry? Well, not exactly. For our purposes, we're defining a doughnut as an item that you would expect to see in a doughnut shop: the familiar ones we know and love (of both the raised and cake varieties), crullers, apple fritters, and other doughnut-shop classics -- you know them when you see them.
For this reason, the cronut, an invention that's really only 50 percent doughnut (the other half is a croissant), and regional specialties like the sopapilla and the beignet, which are completely distinct foods that you don't find in everyday doughnut shops, weren't considered for our ranking. There are plenty of amazing true-to-form doughnuts out there, so we hewed as closely to tradition as possible (while keeping room for wild creativity, of course). We also stuck to doughnuts from non-chain bakeries and doughnut shops, as opposed to the dessert menus at restaurants.
In order to assemble our ranking, we incorporated doughnuts from our own previous rankings as well as existing rankings both in print and online; we also combed regional guides and review sites to track down beloved local institutions that haven't gotten much ink. We stuck to strict criteria in looking for the best individual doughnuts in America: Freshness is key, as great doughnuts need to be served right out of the fryer. Are these legendary doughnuts that have become things of cultish devotion at the shop that sells them? We considered both glazed and extravagantly topped creations, but there needed to be a balance between all the components, be it bacon or blueberry jelly. Most importantly, these doughnuts need to be groan-inducingly good: fresh, soft, gooey, perfectly proportioned, and intended to leave you wanting just one more bite.
Another quality that makes doughnuts such a wonderful food is the fact that they're usually inexpensive: World-class doughnut shops are oftentimes humble, family-run operations, selling their wares for sometimes less than a dollar. Anyone can experience a world-class doughnut for pocket change, which means it's a truly democratic treat.
#35 GBD, Washington, D.C.: Maple-Bourbon Glazed with Bacon
A relative newcomer to the doughnut world, GBD (short for "Golden Brown and Delicious") was opened last year by the husband-and-wife duo of chef Kyle Bailey and pastry chef Tiffany MacIsaac, and they've already raised the bar when it comes to D.C. doughnuts. Open from early in the morning to very late at night, they serve some insanely delicious fried chicken, but the crowds flock there for the doughnuts. With a brioche base created by the deft hand of a truly skilled pastry chef, available varieties include grapefruit Campari, coffee cake, and peanut butter and jelly, but the award goes to the square maple-bourbon glazed doughnut topped with crumbled bacon. It's airy, sticky, and perfectly balanced -- and the bacon is no gimmick: It perfectly complements the maple and bourbon and makes for a truly craveable doughnut.
#34 Francesca's Bakery, Pequannock, N.J.: Jelly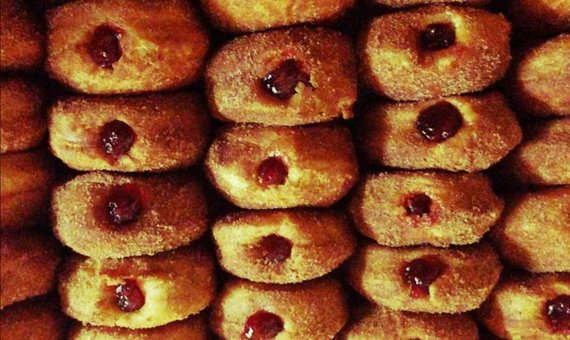 Photo Credit: Francesca's Bakery
This cult favorite bakery sources as many of its ingredients as possible from local farmers, much to the benefit of its doughnuts. The apple cider doughnuts are a real autumn treat, but the raspberry jelly doughnuts, made with fresh raspberries, are soft, perfectly sweet, not greasy at all, and freshly fried every morning.
Click Here to See America's Best Doughnuts Slideshow
#33 Dinkel's Bakery, Chicago: Chocolate Cake Donut
German immigrant Joseph Dinkel opened this Chicago institution in 1922, and it's remained in the family ever since. It's changed very little in the past 93 years, and the non-doughnut baked goods are legendary in their own right. But you haven't truly experienced Dinkel's until you've tasted their handmade doughnuts. While they've jumped on the maple-bacon bandwagon, you're best off sticking with the classics: The chocolate cake doughnut will make you go weak in the knees.
#32 Neils Donuts and Bake Shop, Wallingford, Conn.: Old-Fashioned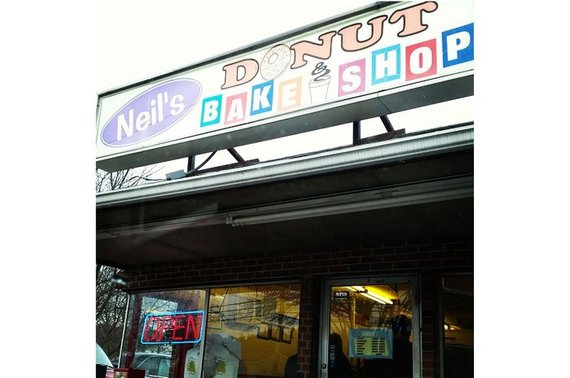 Photo Credit: Instagram/ @sammstadz
There are more than 30 varieties of doughnuts on offer at this roadside shop, which has been racking up the accolades since opening in 2001. While their giant crullers, Bismarks, and long johns are all worthy of praise, the true work of art on the shelf is the simple old fashioned: slightly crunchy (but not greasy) on the outside, rich and cakey on the inside, and coated with ample amounts of cinnamon and sugar. Owner Neil Bukowski arrives every morning before 3 a.m. to begin churning them out, and they're often sold out by the time he closes up shop mid-afternoon.
Click Here to see America's Best Doughnuts
#31 Bob's Donut & Pastry Shop, San Francisco: Apple Fritter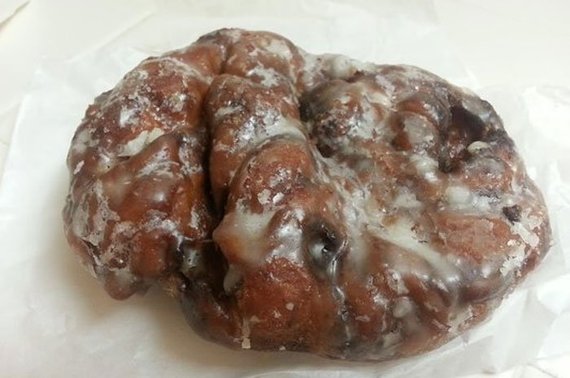 Photo Credit: Yelp/ Emmalouise B
Bob's, a San Francisco landmark, serves world-class doughnuts 24 hours a day, but the best time to visit is in the late evening, when the doughnuts are at their freshest. The friendly staff will walk you through their selection of freshly fried rings of gooey deliciousness, but forgo the giant glazed doughnut in favor of the apple fritter. Big, crispy on the outside, soft on the inside, and filled with apple and cinnamon, it's nothing short of crave-worthy.
Click Here to See America's Best Doughnuts Slideshow
Click Here to see the Original Story on The Daily Meal
Dan Myers,The Daily Meal
More Content from The Daily Meal:
9 Slow-Cooker Desserts That Are Perfect for Summer
Beyond Funnel Cake: 6 Doughnuts You Had No Idea Existed
28 of the World's Best Desserts Worth the Calories
Someone Actually Made a Bacon Mac n' Cheese-Stuffed Doughnut
Dunkin Donuts Nutrition: Which Donuts Are Healthiest?