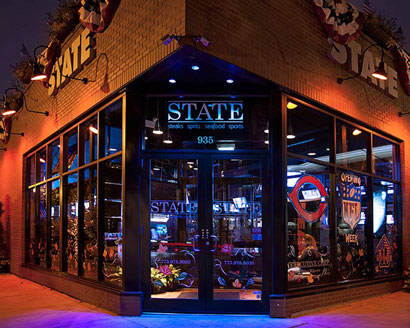 The only thing that's more red-blooded American than watching a game in a stadium is gathering your friends, drinking beer and watching the game at your local watering hole. The sports bar holds a special place in a spectator's heart -- it's where you can collectively experience the triumphs, the heartaches, and the last-minute surprises of any game.
Photo Credit: © Jason Barnes
Click here to see America's Best Sports Bars
The American sports bar dates as far back as the early 20th century, writes Kevin Roose for ESPN. It began when runners would take the scores of the games from the stadiums and "run" them back to patrons. While Prohibition effectively killed the then-sports bar, the advent of television, and televised games, brought the sports bar roaring back.
Click here to see the Best College Football Bars
But what's made the American sports bar what it is today goes far past the TV (though it certainly helps to be watching games on a 10-foot projector screen). Today's best sports bars reimagine what the collective sports experience really is. Some fans may want the loud, rowdy, in-your-face game-watching that you can get at bars like Dallas' Frankie's or Atlanta's Stats. Others may want the updated bar food that brings the comfort of home-cooking to the game, like at Philadelphia's Chickie's and Pete's or Brooklyn, N.Y.'s Red Star. Still others may want a more plush experience than the average watch party, for which Emeril Lagasse's Las Vegas outpost, Lagasse's Stadium, fits the bill. And then there are those that may just want to feel surrounded by the sports legends of the past, for which we recommend the "sports museum" in Kansas City, Mo., Chappell's. 
Click here to see the Best Athlete Drink Endorsement Ads
But no matter the amenities, a sports bar is not truly a sport bar without the fans. Better get there yourself and see. 
 
- Marcy Franklin, The Daily Meal
More from The Daily Meal:
Best and Worst Pre-Workout Drinks
Sports Drinks: Myths Busted
Ultimate Guide to Starbucks Secret Menu
Pumpkin Ale Taste Test
PHOTO GALLERY
America's Best Sports Bars